Police in London stood down after Oxford St shooting scare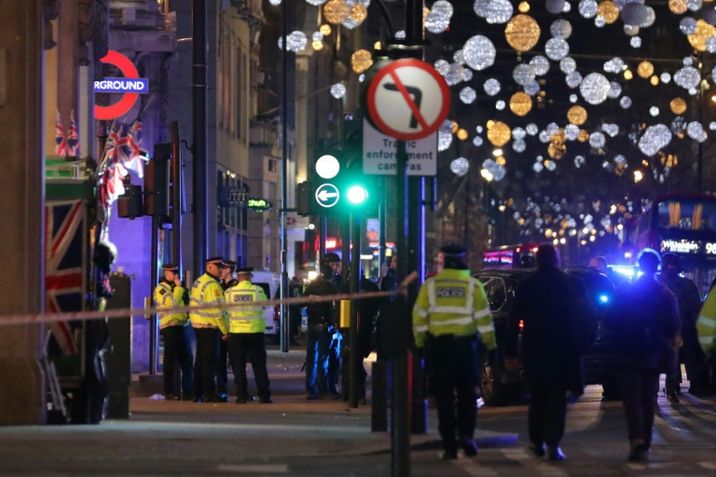 Des officiers de police devant la station "Oxford Circus" à Londres, le 24 novembre 2017
Daniel LEAL-OLIVAS (AFP)
Police urge pedestrians in London's busiest shopping precinct to take shelter inside buildings
Police rushed to London's busy Oxford Circus on Friday, sparking fears of a terror attack, but they have now stood down after finding no evidence to support reports of shots fired, the Metropolitan Police said.
"Our response on #OxfordStreet has now been stood down. If you sought shelter in a building please now leave, and follow the direction of police officers on the ground if you need assistance," the force said on Twitter.
In a statement, police said they had received "numerous" calls reporting shots fired in the Oxford St area, crammed with shoppers for the Black Friday sale.
"Police were called at 4:38 pm (1638 GMT)... to a number of reports of shots fired on Oxford Street and underground at Oxford Circus tube station," London's Metropolitan Police said in a statement.
Earlier, police said they were dispatching forces to the scene "as if the incident is terrorist related."
"Armed and unarmed officers are on scene and dealing along with colleagues from British Transport Police," the statement said.
"If you are on Oxford Street go into a building and stay inside until further direction," it said.
However police later said in a statement that "to date police have not located any trace of any suspects, evidence of shots fired or casualties."
Several witnesses posting on social media said police were locking them inside shops.
One, identified as Greg Owen, said police told him that "We can't give you specifics. But there's been shots fired and explosives. So please stay in the shop and move to the back."
London is on high alert following a string of terror attacks in Britain this year.
Transport for London said: "Oxford Circus Station is closed while we investigate a customer incident."
A Metropolitan Police spokesman contacted by AFP said the details of the incident were not known yet.
Oxford Circus station is in the heart of London's shopping district, which is particularly busy because of stores offering Black Friday discounts.
People were seen running from the scene, the BBC reported.