Fear of far-right poll gains in Hungary spurs summit on anti-Semitism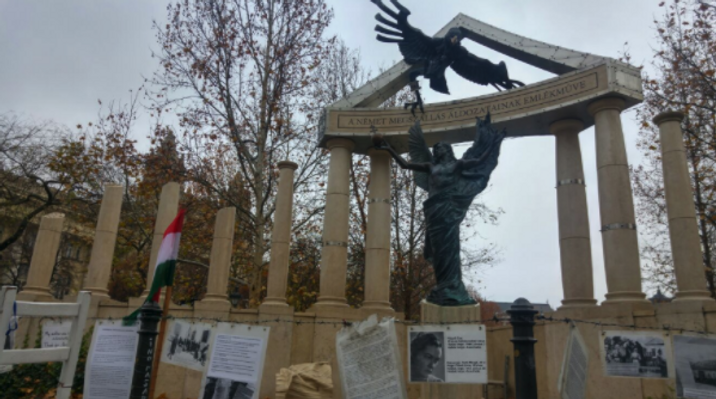 Government commissioned memorial depicting an eagle attacking Archangel Gabriel
POLINA GARAEV/i24NEWS
The populist far-right party Jobbik could make significant gains in the upcoming elections
Less than six months before Hungary holds parliamentary elections, politicians, experts, and representatives of the Jewish community gathered in Budapest to debate whether, in 2017, Jews are safe in Europe, and in Hungary in particular.
The high-level meeting was organized by The Action and Protection Foundation (TEV) and was hosted by Hungarian interior minister Sándor Pintér.
Fear that the populist far-right party Jobbik could make significant gains in the upcoming vote dominated discussion, as they stand to become the second largest political force in Hungary despite a history of forthright anti-Semitism.
The ultra-nationalist group has openly vilified Jews, gays and foreigners. In 2014, chairman Gabor Vona vowed in an interview to "immediately resign if somebody found out I had Jewish ancestry."
As Jobbik aims to challenge Hungary's ruling Fidesz party for power in the 2018 vote, however, it has attempted to atone through pointed overtures such as sending Hanukkah greeting cards to members of Hungary's Jewish community.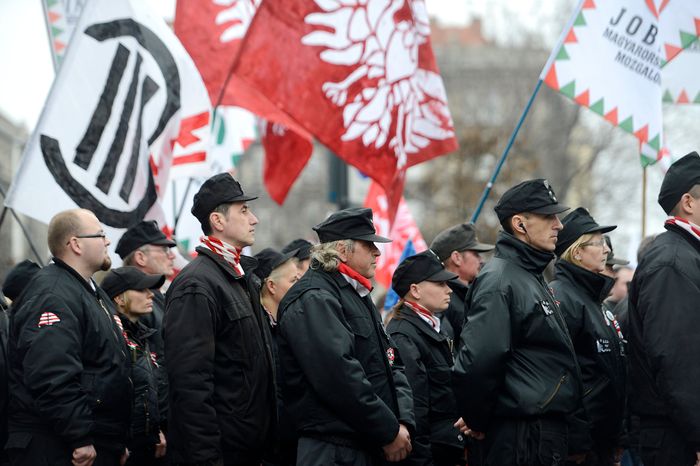 Yet Dr. Daniel Rona, a political scientist from the Cornivus University of Budapest, told i24NEWS that such gestures only give the illusion of change.
"On the surface you can see a very strong shift towards [a] liberal approach -- but that's only the surface," Rona said.
"They still have the same membership. The same members who used to make outrageous statements about Jews, they're still members of the party."
Jobbik has also scaled back its anti-Semitic and anti-Zionist rhetoric against Israel, with Vona vowing in January that his party would no longer single out the Jewish state for criticism.
"If we disagree, we want to be able to criticize Israel like we criticize Sweden or Germany, but naturally we respect its right to exist, form its own identity, opinions and articulate its interests," Vona said in an interview with Reuters.
Eli Hazan, director of foreign affairs for Israel's ruling Likud party, said that despite their repositioning, Jobbik's rise to power would undoubtedly impact relations with Hungary.
"We cannot work with anti-Semites and we don't like Jobbik," Hazan told i24NEWS. "This is an anti-Semite party. We see the leadership, we see the members. They don't like Israel and they don't like Jews."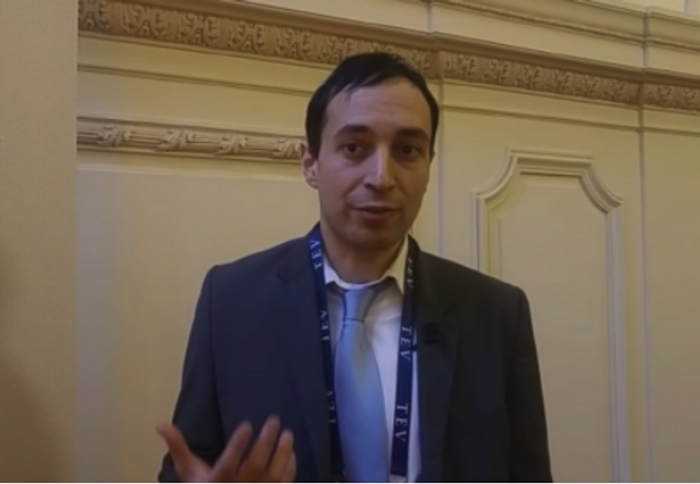 Hazan said that Israel will continue to engage in "public diplomacy" and work with Hungary's mainstream parties to dismantle the rise of the far-right.
But Hungary's current government, led by Prime Minister Viktor Orbán, has not been without criticism, including from Israel.
After a government campaign targeting Jewish philanthropist George Soros was panned as anti-Semitic, Israel's ambassador in Budapest said that "it's our moral responsibility to raise a voice and call on" the authorities to put an end to it.
In 2014, a political scandal erupted over the government's commissioning of a Holocaust monument which depicted an eagle attacking the Archangel Gabriel, a Hungarian symbol.
The statue was meant to convey Hungary as a victim of the Nazi occupation, despite the complicity of local gendarmeries in the deportation of some 600,000 Hungarian Jews to Nazi death camps, chiefly Auschwitz, during the Holocaust.
"Hungary was one of the first countries in this region to establish a first rate Holocaust museum with a very clear and critical narrative. And yet you have in the current government efforts to … re-write that clear narrative," Rabbi Andrew Baker, director of international affairs at the American Jewish Committee (AJC), told i24NEWS, making reference to the controversial statue.
Zoltan Kovacs, a spokesperson for Hungary's current government, defends its efforts to mend ties with the Jewish community and says that under Orban's leadership, the community is thriving.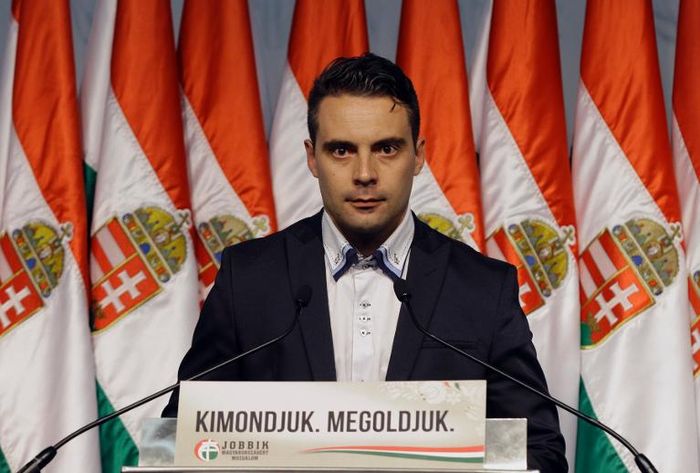 "There is a Jewish renaissance in this country," Kovacs said in an interview.
"Take a look at the actual concrete steps on behalf of the government towards the Jewish community, concerns that the community had … It was this current government that introduced commemoration of the Holocaust into the Hungarian public sphere."
Both Jobbik and Orban's government have also attempted to frame their harsh anti-migrant rhetoric as part of an attempt to protect the country's Jewish community. The government credits Hungary's low rates of anti-Semitic violence to its opposition of Muslim migration.
"We have experience with those who come in," Kovacs says, estimating that "95 to 99 per cent of those that arrive are Muslims. And they're coming from conflict zones in which anti-Semitism is endemic."
"With those Muslims that arrive to Europe over the past two and a half years, anti-Semitism is coming in ... it should be a concern," he says, conjecturing that "the number of [anti-Semitic] incidents on the rise in the rest of Europe are partly due to new arrivals and the culture that is coming with it."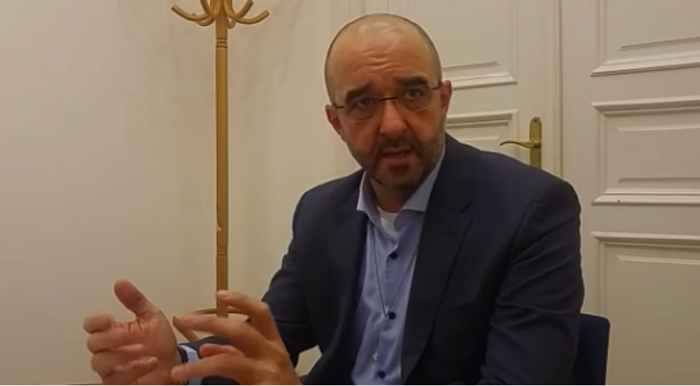 But experts say that despite low numbers of violent incidents, anti-Semitism in Hungary is also on the rise, describing it as a cultural phenomenon in which anti-Semitism is primarily verbal not physical.
"We've seen how the issue of this migration and the fear, whether real or imagined, of these large numbers of migrants plays a political role," Baker says, adding that, ironically -- despite the country's near total rejection of Muslim migrants in the country -- some of the highest levels of anxiety of any Jewish community in Europe exists in Hungary.
"This predates any issue of migrants," Baker says. "Frankly, it existed alongside very few actual incidents of anti-Semitism."
"In a general way, yes there are terror threats throughout Europe … no one is immune. But I think what has been the source of this outsized anxiety that Hungarian Jews have felt is clearly not [related to] this issue," Baker adds. "I think it's easy for the government to stand strongly against a problem that's largely in someone else's backyard."
Polina Garaev is the Germany correspondent for i24NEWS. Editing by Emily Gatt.