Germany 'ashamed' over flag burning anti-Israel protests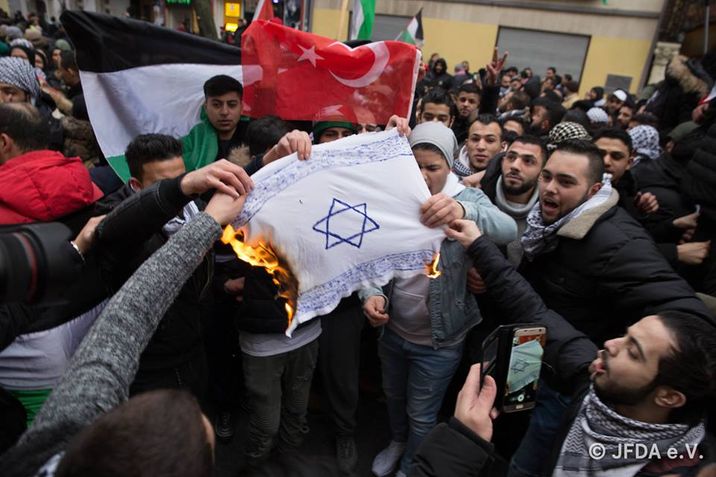 Anti-Israel protesters in Berlin
The Jewish Forum for Democracy and against Antisemitism e.V. (JFDA e.V.)
Police confirmed the reports and stated that the arrested were brought up on 12 criminal charges
The German government said Monday that it was "ashamed" of the conduct of protesters who staged an anti-Israel protest in front of the American embassy in Berlin on Friday, which saw some demonstrators chanting anti-Semitic slogans and burning flags with a Star of David painted on them.
Government spokesman Steffen Seibert said that while Berlin opposed US President Donald Trump's move last week recognizing the disputed city of Jerusalem as capital of Israel, the German government strongly condemned expressions of "hatred" of Israel and Jews during protests in the migrant neighborhood of Neukölln.
"At certain rallies over the weekend, slogans were chanted, Israeli flags were burned and slander against the state of Israel and Jews in general were spread which were shameful," Seibert said. "One has to be ashamed when hatred of Jews is put on display so openly on the streets of German cities."
Seibert added that Germany has a "particular responsibility toward Israel and Jewish people in general" because of the atrocities committed by the Nazis against the Jews during the Holocaust.
He said that while Germany protected a constitutional right to free speech and assembly, that freedom did not cover incitement of racial hatred or violence.
"It is important that we continue to stand up to all of that," he said.
At least 10 people were arrested following anti-Israel protests in Berlin and Neukölln, where thousands of people took part in the demonstrations.
Protesters that gathered Friday outside the embassy, located next to the iconic Brandenburg Gate, were shouting Allahu Akbar, and "in spirit and in blood we will redeem you, Palestine" and cursing Trump. Several waived flags of Hamas and Fatah movements, and a banner calling "Zionism get out."
Activists with the Jewish Forum for Democracy, who documented flag burning at the protests, also reported hearing calls "Death to Israel," "Israel murders children", and "Jews, remember Khaybar - the army of Muhammad is coming again!"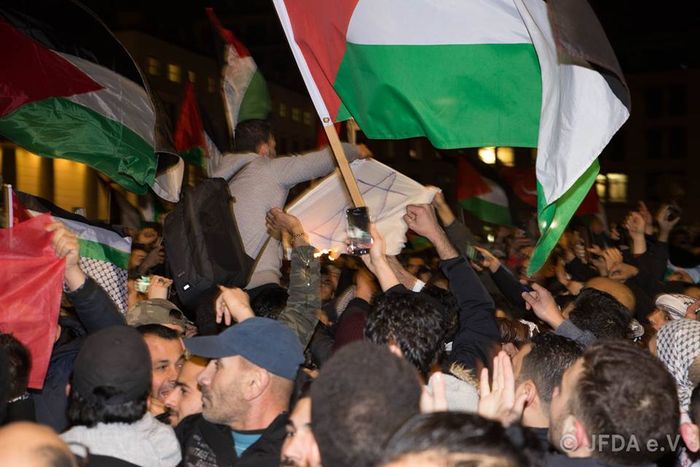 In Neukölln, protesters waved banners that read "Jerusalem will always be the capital of Palestine." They also held signs in support of the anti-Israel BDS movement and brandished photos of the late Palestinian leader Yasser Arafat. Anti-Semitic calls in Arabic and German were also heard. Many children took part in both demonstrations, with at least one dressed up as a Hamas terrorist.
"When Israeli flags are burned in the heart of Berlin, it requires an unequivocal political response," stressed Deidre Berger, director of the American Jewish Committee's Berlin branch. 
Following the protests, German Justice Minister Heiko Maas stressed that any kind of anti-Semitism is an attack on all of German society. "Anti-Semitism must never be allowed to have a place (in society) again," he told the daily newspaper Bild.
Berlin's mayor Michael Müller underscored that his city will not tolerate anti-Semitism and racism at demonstrations. Those who abuse the right of free speech and sow hatred by burning flags cannot claim the protection of the right to demonstrate, he said.
i24NEWS Germany correspondent Polina Garaev contributed to this report.