Berlin cabaret show explores links between German, Israeli third generations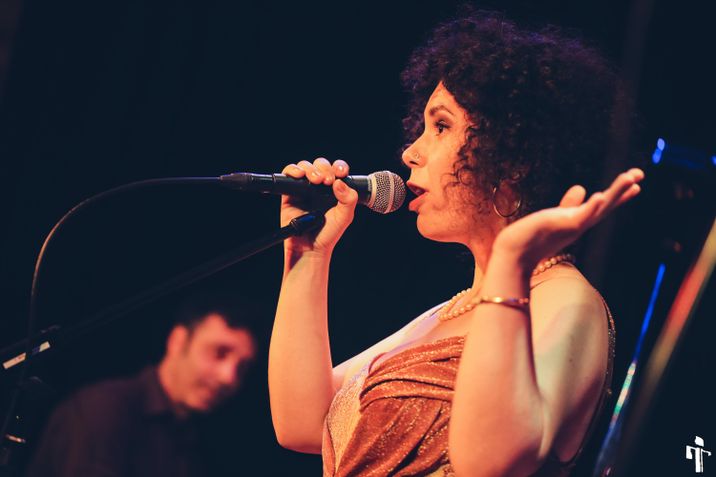 Israeli singer Nitsan Bernstein performs her cabaret show in Berlin
© Anton Tal
'Germans still feel so uncomfortable talking about [the Holocaust], but I do it naturally, even on dates'
Nitsan Bernstein sings about anti-Semitism, immigration and circumcision, unafraid to shock the audience with her provocative repertoire. She alternates between Yiddish classics, 1930's German anti-Nazi satire and original songs in Hebrew, poking fun at Israelis that attribute anti-Semitic views to any rude foreigner or a hostile Eurovision judge.
This is Berlin's Third Generation Cabaret, a show created by Bernstein, an Israeli singer, together with musician Ittai Rosenbaum, who both live in the German capital.
On stage, Bernstein is Sarah Goldberg, an Israeli-born singer of German-Jewish descent who is now returning to Berlin after a visit to Israel, to the home of her recently deceased grandmother.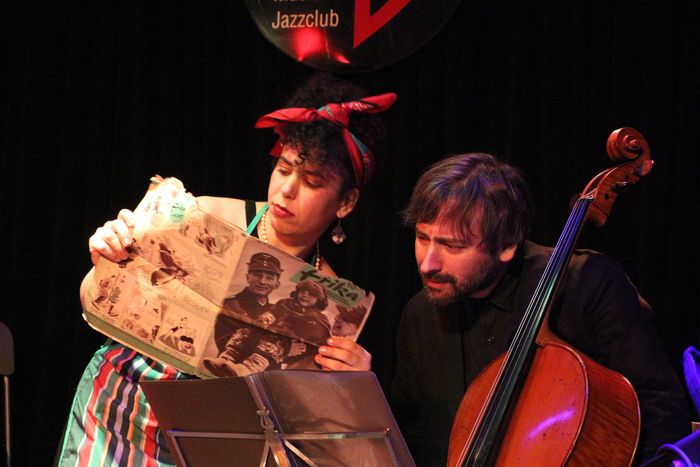 "Grandma always insisted on looking elegant, even during the war," Bernstein tells the audience as she drags on stage a suitcase filled with precious heirlooms. Out of the suitcase she pulls additional characters, including that of her grandmother, of a Berliner diva trying to make it on Broadway, and of Nazi Franzi, the wife of a German officer.
In real life, Bernstein has no family ties to Germany. "My mother's family is from Eastern Europe and my father's -- his father is from the Ukraine and his mother was born in Israel, but we always felt some connection to Germany," she noted.
"Especially my mother's parents -- even though they lost family members in the Holocaust, they always had some kind of admiration for the German culture. My grandmother read fashion magazines in German, they listened to classical music by German composers, they even visited Germany after the war. To me they read Grimm brothers' fairy tales, and I always loved cabaret and German expressionism."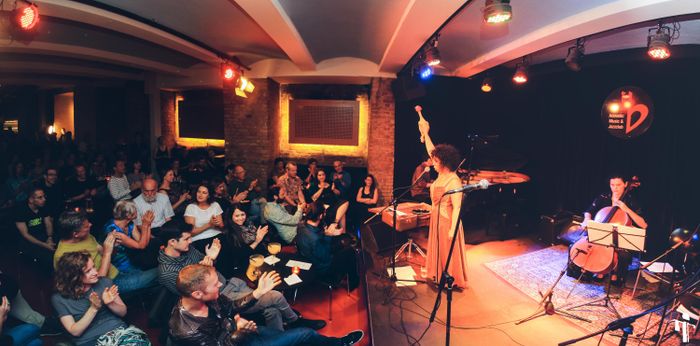 Bernstein moved to Berlin four years ago, to pursue her music career. But here, like Rosenbaum, she was confronted with new questions regarding identity, migration and the German, Jewish and Israeli culture clash.
Unable to find answers, the two musicians translated these dilemmas into a musical odyssey through the German-Jewish history of the twentieth century, capturing the perplexity, the absurdity and the humor of their situation.
"When I got here, I began to wonder what is my connection to Germany and whether it isn't weird that of all cities, I am choosing to live here," told Bernstein. "And while working on the show, the idea of this grandma was created, that left to Israel before the war and that never felt so connected to Judaism but rather to Germany and the German culture."
Such feelings were common among Jews living in Germany before the Second World War, most of them being secular and deeply engaged in society, says the performer. "But the Holocaust stories I came across are always about Jews vs Germans, good vs bad. Only here in Berlin I began to understand how complex this whole thing is."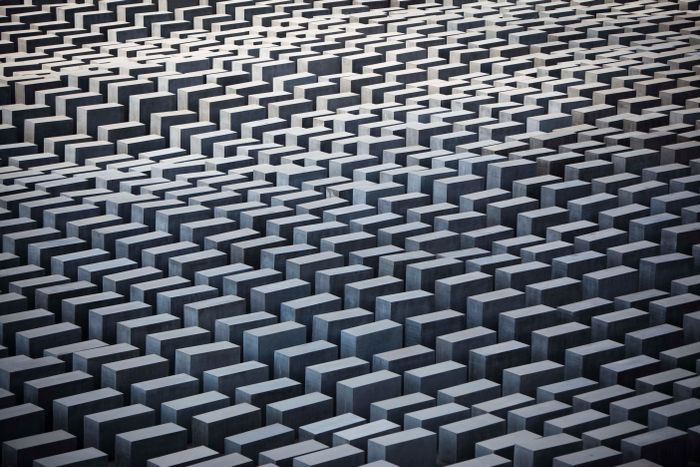 Involving Germans in this debate remains challenging, but Bernstein hopes to break the taboo, as cabaret often does.
"Germans still feel so uncomfortable talking about it, but I do it naturally, even on dates with German men. We can try to repress it, but this topic is always around all of us, both the Germans and the Israelis that came to live in Germany."
The show, therefore, is as much about the German third generation as it is about the Israeli one, insists Bernstein.
"The goal is to understand this connection, to see how we are different and how we are the same. If there are so many Israelis moving to Berlin these days, there must be something that binds us together."
Polina Garaev is i24NEWS' Germany correspondent.