Far-right extremists behind majority of anti-Semitic crimes in Germany: report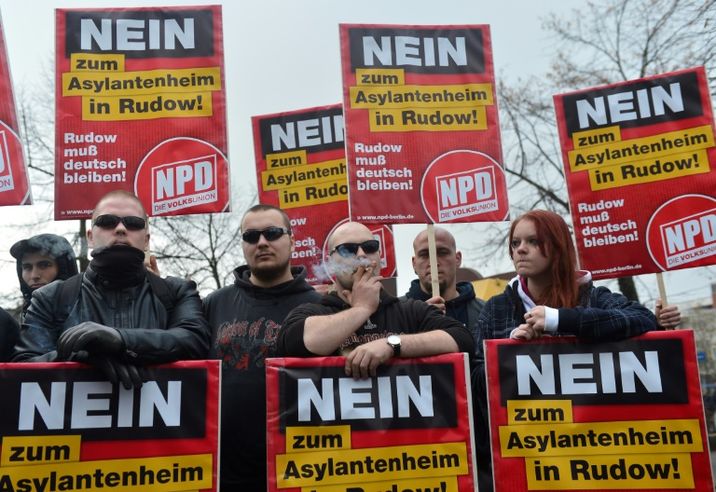 The neo-Nazi NPD was founded in 1964 and advocates 'Germany for the Germans'
ODD ANDERSEN (AFP/File)
New figures appear not to validate concerns that Muslim migrants would import violent anti-Semitism
An average of four anti-Semitic incidents take place each day in Germany, according to new statistics published Sunday, and in the majority of cases far-right extremists are to blame.
In 2017, German police registered a total of 1,453 cases in which Jews were targeted – and in 95 percent of cases, far-right right extremists were responsible.
In 2016, Germany recorded 1,468 anti-Semitic incidents, an increase from previous years. The updated statistics was published Sunday by the federal government in response to an inquiry by Vice President of the Bundestag (Germany's parliament) and member of the German-Israel parliamentary friendship group, Petra Pau.
The German daily Tagesspiegel, which reviewed the data, reported that 32 of the reported incidents were violent crimes and 160 involved damage to property. Another 898 cases involved charges of sedition, including online hate.
The newspaper noted that the figures could still rise, as some offenses are reported months after the crime.
In a survey published late last year by Bielefeld University in western Germany, 62 percent of Jewish respondents said they experience anti-Semitism in their daily lives, while 28 percent said they were victims of verbal attacks or harassment in the past year.
Increased anti-Semitism imported by Muslim migrants and strengthened nationalistic sentiments among right-winger were mentioned as causes.
A recent study conducted by the American Jewish Committee (AJC)'s Berlin branch, based on interviews with 68 refugees from Syria and Iraq, found wide-spread anti-Semitic thought patterns and stereotypes, even when the interviewees emphasized their "respect" for Judaism or the importance of the peaceful coexistence of Muslims, Christians and Jews in their home countries.
However, the figures do not seem to validate concerns that such views would lead to increased violence.
In 1,377 of the anti-Semitic crimes in 2017, police identified right-wing extremists as the perpetrators.
Another 33 incidents were attributed to foreign-born attackers, excluding Islamists, and 25 cases were deemed "religiously motivated," meaning likely committed by Muslim extremists.
In 17 cases, the motivation could not be ascertained, and only once case – a charge of sedition – was linked to the far-left, the Tagesspiegel reported.
Pau noted that many anti-Semitic crimes still go unreported, as victims fear turning to the police.
"The number of cases could be considerably higher," she told the newspaper, calling for a comprehensive and long-term social action against any sort of anti-Semitism.
Polina Garaev is i24NEWS' correspondent in Germany.