African refugees spurned by Israel find asylum in Germany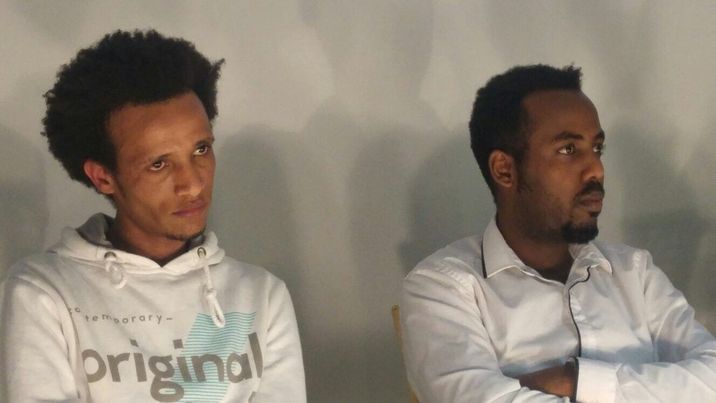 Simon (L) and Shikur, two Eritrean asylum seekers who agreed to leave Israel for Rwanda, photographed in Berlin
Polina Garaev/i24NEWS
In Berlin, Eritrean refugees tell i24NEWS that jail is a better option than being deported to Rwanda
Two Eritrean asylum seekers who voluntarily left Israel for Rwanda have a message for their compatriots now facing deportation: jail is better.
In interviews in Berlin, where they are have found refuge, the two men paint a bleak picture of the fate awaiting the tens of thousands of Eritreans and Sudanese asylum seekers to whom Israel have offered a choice of either deportation to Rwanda or imprisonment.
"In Israel they told us, in Rwanda there will be a place for you. There will be work. That's why I came," said Shikur, who was in Israel for five years.
"There, they took us to a hotel and after three days we asked, where is the place for the refugees? They told us there is no such thing."
Earlier this year Israel enacted legislation -- after securing the High Court's blessing -- that enables the government to deport all of the almost 40,000 Eritrean and Sudanese asylum seekers in Israel to Rwanda, although the government in Kigali has said it will not accept anyone deported by force.
Only those who have asylum claims pending will be exempted, although until recently Israel told asylum seekers they did not need to apply.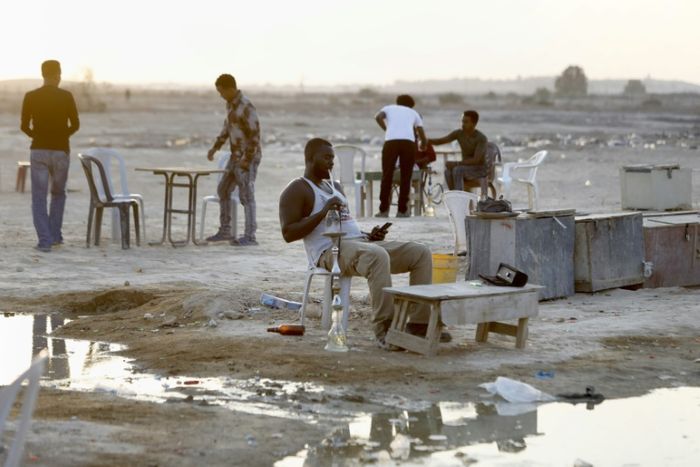 The only alternative to deportation is imprisonment. Speaking at an event in Berlin organized by Israeli activists, Shikur and another Eritrean, Simon, insisted that is the better option.
"It's better for them to stay in jail, not to go back to Africa. We are not from Rwanda or Uganda. We are from Eritrea," said Simon, who was granted refugee status by Germany just three months after he arrived.
"And if they will go back [to Eritrea], the president will put them in jail or worse. If [they] go to Rwanda or Uganda, that's also worse. I say, it's better to stay in Israel, in jail, until they find a solution or maybe the situation in our country will change, God willing."
Simon and Shikur ("sugar" in his native tongue) made their way to Germany after they were cajoled to leave Rwanda. As i24NEWS has previously reported, Rwanda has no system in place to incorporate the new arrivals and the overwhelming majority were put under immense pressure to swiftly cross into Uganda.
From there, many dispersed, often to Libya where they hoped to board people smuggling boats bound for Italy. On the way they had to pass through South Sudan and Sudan, where many reported being robbed and assaulted, or betrayed by agents of the Eritrean regime.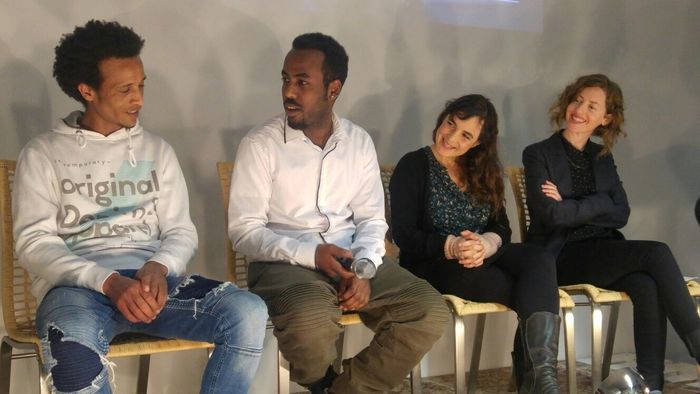 "Most dangerous was South Sudan," Shikur told i24NEWS. "It's too hard. People there think that if you come from Israel, you are [made of] gold. They just want to get you and get money. If you don't pay, they also want to kill you."
Simon, speaking at an event organized by Israeli activists living in Berlin, said 30 people were crammed into a small truck hurtling from Sudan to Libya.
"I fell and hurt both of my legs. Some people also died there. Some get seriously hurt … We were driving five days, I fell on the fourth. That's why they took me, but if I would have fallen in the first three days, they would have left me [to die]. My friends carried me to the car, I couldn't walk myself."
After arriving in Italy he was hospitalized for three weeks and then decided to continue north.
"No one stopped me so I continued all the way, and got here. I did not know where I was going, I don't know European countries," he recalled.
Israel has accepted less than one per cent of Eritreans as refugees and the processing times for applications has ballooned into years. However in Germany, the acceptance rates for Eritrean asylum seekers are above 90%.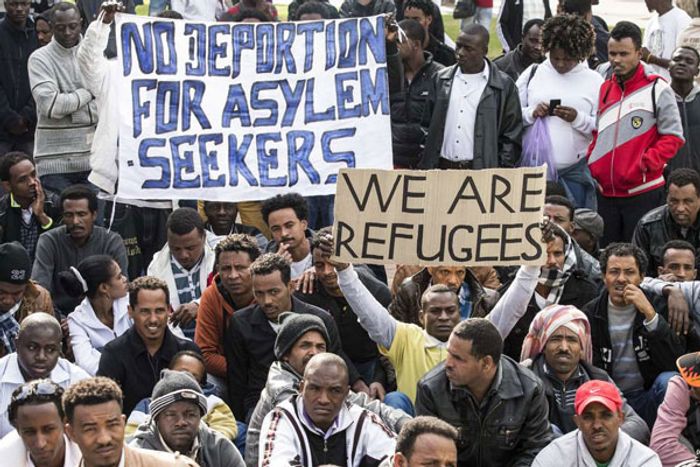 Campaigners against deportation in Israel have recently begun showcasing asylum seekers who were rejected by Israel but subsequently had their claims investigated and accepted by Canada, the United States and countries in Western Europe.
When Simon arrived in Israel in 2008, he worked illegally as a street cleaner and in Ayalon Mall. After he learned Hebrew he found work in a kibbutz factory near Rosh HaAyin.
The 26-year-old is now studying German and doing an apprenticeship in warehouse logistics and lives in a small flat in Dresden, although he longs for home.
Shikur is still waiting on the outcome of his application and in the meantime works for the Israeli-owned BBB burger chain in Berlin.
"In Germany I'm not thinking all the time about whether I will be sent back. In Israel I was scared all the time, constantly hearing on the news that they want to send us to Eritrea. That's why I ran, like from my country -- also from Israel."
"If we would cause problems for Israelis, if would do terror attacks and kill people, we would say -- yes it's a problem. But have not done nothing. We are working, taking care of ourselves."
Polina Garaev is i24NEWS' Germany correspondent.
Read more:
African migrants opt for jail over deportation, protest outside Rwanda embassy