Meet Jonny Daniels. The man behind the 'Polish Holocaust law' media frenzy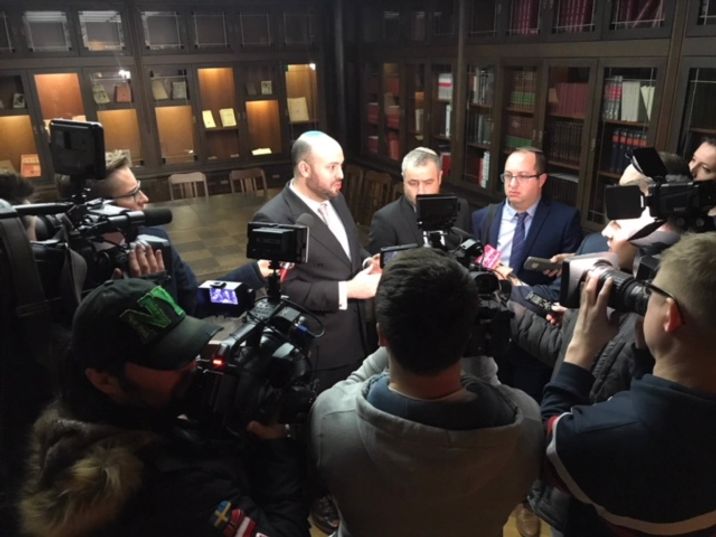 Who does he work for? The Mossad? CIA? The Russians? Jonny Daniels insists he's just a 'hard working person'
Hardly a day has gone by, certainly over the past month, without the name "Jonny Daniels" popping up in Polish, Hebrew, or English media. And yet despite an unusual avalanche of radio and television interviews, written profiles, or photos carefully handpicked by him plastered over the media –people are asking the same question in three different languages: Who are you, Jonny Daniels?
Unbeknownst to many, Daniels played a pivotal role in the crisis between Israel and Poland following what is being called the "Polish Holocaust law". He was instrumental in organizing the interviews of a number of Israeli journalists with the Polish Prime Minister, and explaining, mainly on Polish television, why Israelis are right to be deeply offended by the legislation. Or, on the other hand, why the Poles have the right to feel hurt. It depends on the circumstances, or perhaps more so on the medium.
The question who Daniels really is remains open.
Officially, Daniels is the chair of "From the Depths", a tiny foundation dedicated to preserving the memory of the Holocaust in Poland. No one can name other members of the Foundation. And there are many, much larger, organizations doing exactly the same thing. But none of them gets as much exposure as "From the Depths".
Some undisputed biographical details about Daniels indeed exist. He was born in 1986 in London to a religious Jewish family. At the age of 18, he moved to Israel, served in the Israel Defense Forces (IDF) as a paratrooper. When still a political science undergraduate at Israel's Bar Ilan University, he became advisor to then Israeli Deputy Minister of Defense, Danny Danon (now Ambassador to the UN) and some other Israeli politicians. His official professional self-definition is "PR consultant", with offices in both Israel and Poland. One of the mantras he preaches on his website is "stand out in the crowd". And Daniels certainly does.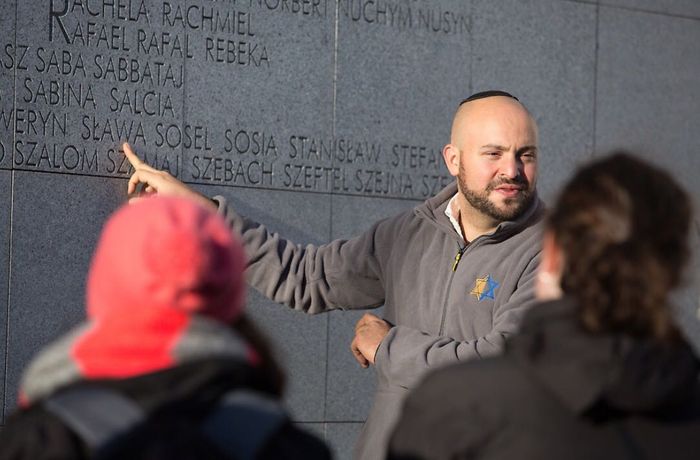 Yet while you were sleeping, Daniels spent two days in the US this week attending some conference and other meetings rather undiscussed by the media. He returned, surprised again, by how much the Americans hate the Poles.
Daniels is constantly on the move between Poland, Israel, and the US. This is probably how he earned the reputation as Trump-boosting, Bibi-boosting, and anti-Semitic priest.
Trump, you ask? Yes. The first picture on Daniels' PR site shows him with pre-Presidential Trump and Danny Danon. According to Daniels, he met Trump 8 years ago through a good friend, and he showed a lot of interest "in Israel and Iran". Since then he has visited Trump several times in the countryside in New Jersey, in Florida, and in New York.
"Now I meet mainly the close circles around him," Daniels tells i24NEWS, in a 1.5 hour interview which helped little in resolving the aura of mystery surrounding him.
And why should Daniels give up this air of mystery? He is having too much fun nourishing it. Even when he is challenging you to solve the enigma, he really intends to intensify and glorify it. Small wonder many adjectives have been associated with his name on record – "imposter, fake, a director casting himself in the main role, crook" etc.
Offensive? Not really, according to Daniels.
"You cannot break my code," he concludes our interview. "Nobody can. This, despite the fact I am an open book and answer all questions honestly and truthfully".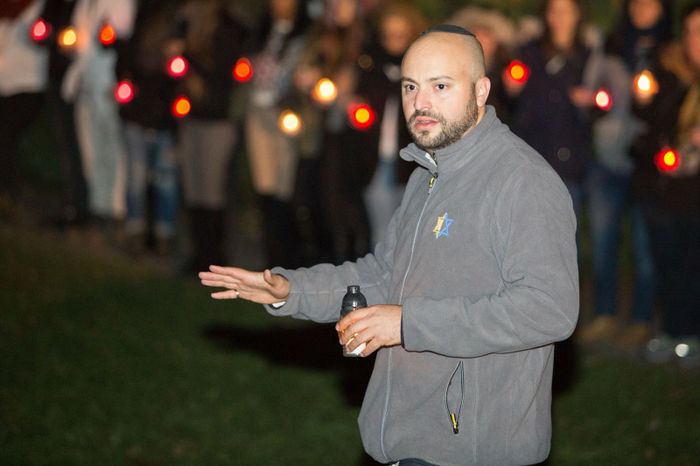 Daniels' career breakthrough came when in 2014 when he organized a mega-event to mark 69 years to the liberation of Auschwitz. Then 28-year-old Daniels, out of nowhere, managed to bring half of Israel's members of parliament to the event.
Inevitably, the question as to who financed the grandiose event was raised, and the answer hardly surprising. The man with the money was an American billionaire Stewart Rahr, Trump's golf partner.
One notorious picture shows Rahr, nicknamed the "King of all Fun", fooling around with half naked young women in the back of a limousine. Hardly the kind of sponsor one wants for an Auschwitz event.
"Contrary to the publications, Rahr only gave $400,000" Daniels told i24NEWS. "The rest, about half a million, I raised from small donations from Jews and Christians. I once appeared on Fox News; other important media followed. That was kind of a starting point," he says.
Media wasn't the only thing to follow. Daniels' main asset is his close affinity to the new right-wing political elites of Poland, mainly from the ruling PIS party. One of the many ways he got there was through monthly intimate Shabbat dinners organized by Daniels at his private apartment in Warsaw.
"This ambiance provides the right atmosphere for members of parliament and Polish politicians to discuss issues they do not discuss in the office. Then comes the food. It fascinates my Polish guests to see how similar Jewish food is to Polish food. That creates a bond," he tells i24NEWS.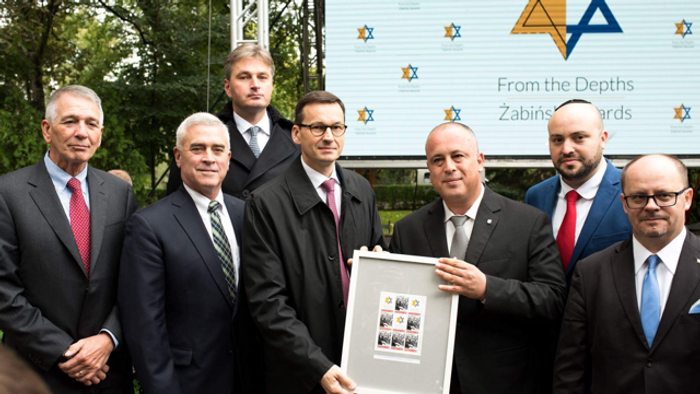 In one of the many items published about him, a kippah wearing Daniels is described as one who "put kippahs" (traditional Jewish prayer caps) on the heads of Polish politicians.
Less romantic are his relations with the Polish Jewish community.
"They don't want me, they don't like me, and they don't trust me," he says. "Mainly they envy me. It is only natural."
What he does not say is that some in the community think he causes real damage by letting the Polish establishment off the hook whereas others make financial claims for restitution, for instance.
It is not only Jews who dislike Daniels. Polish liberal circles do not like him either and suspect him. They wonder: Who is behind him? Who sent him? Who finances him? They admit he has surprisingly good contacts with political and influential circles, but according to them, with the wrong ones.
Daniels does not refute this assumption, but is eager to prove that his post-Holocaust law public statements were attacked mainly from the radical right.
"I had to block 500 followers on social media," he brags. That depends on definition of "right". His biggest media protector was, and still is, the right-wing media including radio Maryja.
Complicated? There is more. Some time ago, Daniels declared that "Poland is the safest place for Jews." Meanwhile, just three months ago, he warned Poles that "attacks on Poland come from the leftist Jewish media".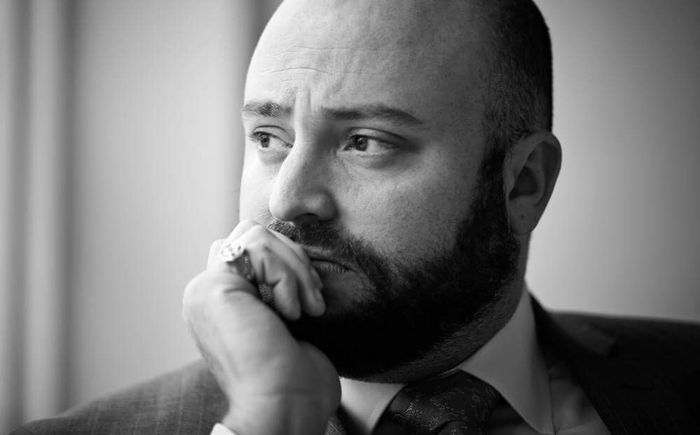 Daniels himself complains in our interview that he feels bad these days.
"I find myself attacked by Israel for helping the Poles and by the Poles for helping Israel. I am stuck in the middle."
Still, he says he believe the crisis between the two countries will be resolved.
"There are too many mutual interests. There might even be an upside to this crisis: there have been many venues of Polish – Israeli dialogue, but there has always been an elephant in the room. Finally, the elephant is directly addressed."
In the end, the question remains: Who are you, Jonny Daniels?
"I hear many versions to this question: I work for the Mossad, for the Russians, for CIA. However, what I really am is a hard working person. I understand people, I know what they want," he says.
It must therefore be the people who do not understand exactly what it is that Jonny Daniels wants.
Lily Galili is a feature writer, analyst of Israeli society and expert on immigration from the former Soviet Union. She is the co-author of "The Million that Changed the Middle East."