France's Macron vows crackdown on online anti-Semitism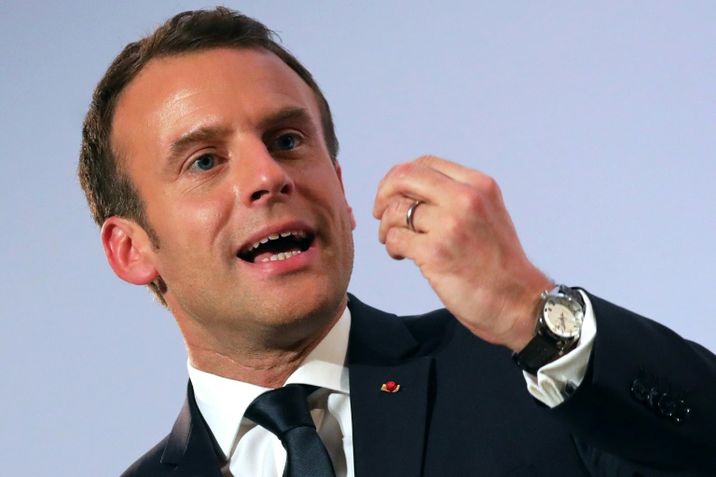 French President Emmanuel Macron says more needs to be done to crack down on cyber hate
ludovic MARIN (POOL/AFP)
Macron rejects call by CRIF leader to move embassy to Jerusalem, calling it an 'error' that threatens peace
French President Emmanuel Macron vowed to tackle anti-Semitism in the country, telling a gathering of the country's Jewish leaders that he would be "unforgiving" on the issue, while also reiterating support for the State of Israel.
"We have understood, with horror, that anti-Semitism is still alive. And on this issue our response must be unforgiving. France would not be itself if Jewish citizens had to leave because they were afraid," Macron told delegates of the Representative Council of French Jewish Institutions (CRIF), an umbrella groups representing France's Jewish communities.
Macron vowed continued protection for French Jewish institutions, including schools and synagogues, which have been the targets of anti-Semitic incidents of violence and vandalism over the past years.
He also denounced the "despicable murder" of an orthodox Jewish woman in Paris last year, which was only last month ruled an anti-Semitic act after an intensive campaign by the victim's family to draw attention to the crime.
"We took months to see what was obvious," Macron lamented, calling it "the first time a Jew dies in France because they are Jewish since the Second World War."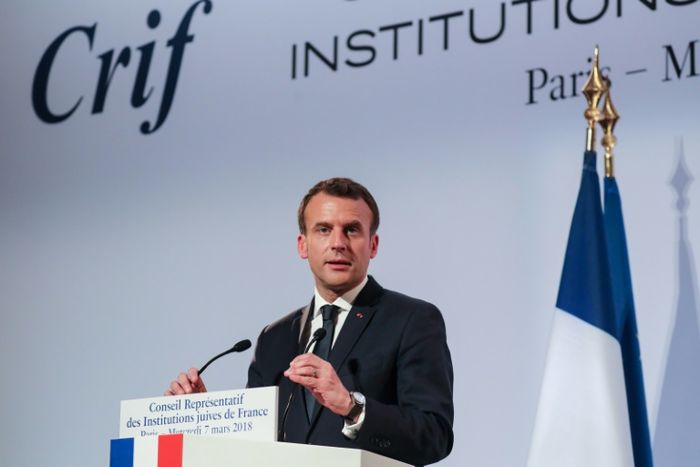 Macron called for a new government plan to fight racism and anti-Semitism online.
"No course will be ruled out, including the possibility of legislating in this area," he said.
"We need to go further," he said, announcing that he will lead a Europe-wide push this year to "fight to legislate to compel (web) operators to withdraw as soon as possible" content that is hateful."
He said that a recent law in Germany punishing web platforms which fail to delete hateful content could be a blueprint to follow.
That law that came into force on January 1 and requires social media giants to remove hate speech and other illegal content, or risk fines of up to 50 million euros ($57 million).
Germany adopted the measure, one of the toughest in the world, after a surge in racist and incendiary speech online, particularly since the arrival of more than one million asylum-seekers since 2015. Critics of the law say it stifles free speech.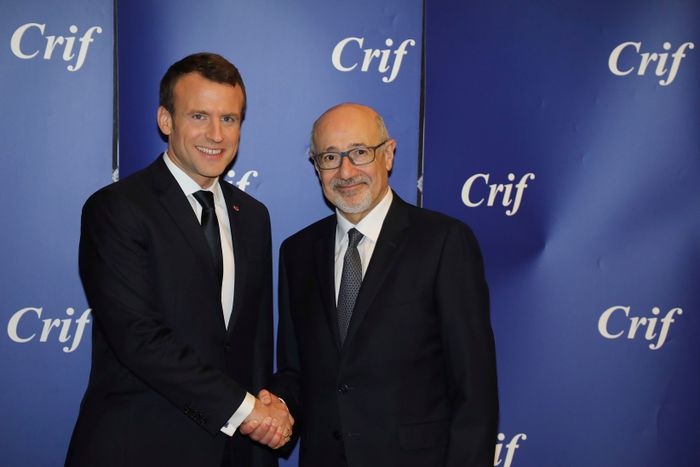 On Israel, Macron said that he is in regular and direct contact with Prime Minister Benjamin Netanyahu.
"The security of our Israeli ally is not negotiable," Macron said, acknowledging concerns fueled by Iran's growing influence in the region.
He rejected, however, a call by CRIF leader Francis Kalifat to follow US President Donald Trump in recognizing Jerusalem as Israel's capital and moving France's embassy to the city.
Calling the move an "error" that jeopardized peace prospects, Macron said that if France were to do the same it would, like the US, "lose this status of honest broker, which is the only useful one for the region."
A record 7,900 French Jews emigrated to Israel in 2015 following the deadly jihadist shooting at a Parisian kosher supermarket two days after the attack on satirical magazine Charlie Hebdo.
That exodus has since slowed, but a spate of anti-Semitic attacks since have continued to frighten one of Europe's biggest Jewish communities, numbering an estimated half a million.
AFP contributed to this report.