Pro-government Hungarian magazine publishes 'Soros mercenary army' article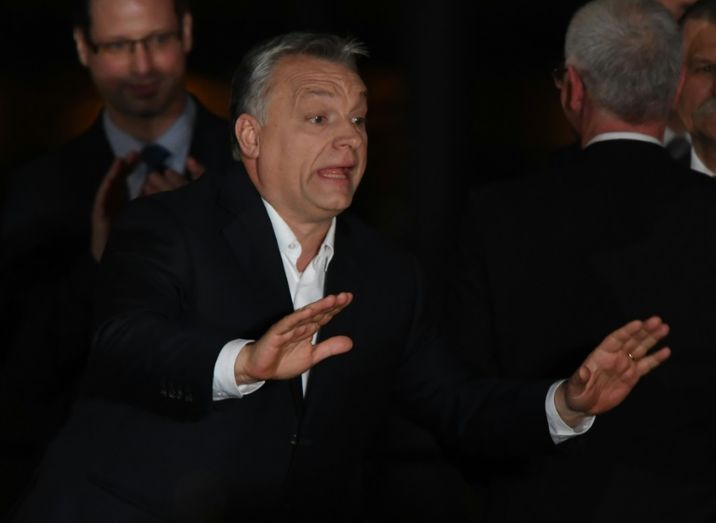 Orban has been defiant in the face of EU criticism
ATTILA KISBENEDEK (AFP)
Attacking George Soros has become a bit of a cause célèbre among supporters of Prime Minister Viktor Orban
Furthering a campaign against the billionaire philanthropist George Soros, a pro-government periodical Figyelo published a list of people whom the magazine refers to as "mercenaries" for Soros, claiming that they were paid in order to topple the government.
The allegation published by Figyelo included the name of 200 people whom the magazine claims were part of a vast conspiracy to undermine the government. The list included the names of members of human rights organizations, journalists, university faculty and officials, several of whom are deceased.
All this comes after Orban, last month, declared that he was in possession of approximately 2,000 names that he claimed was part of the "Soros mercenary army."
Attacking George Soros has become a bit of a cause célèbre among supporters of Prime Minister Viktor Orban and his far-right Fidesz party, because of Soros' pro-immigration stance and support for various liberal causes.
Orban, who won his fourth consecutive election on Sunday, ran a campaign that featured strong anti-immigration themes and populist appeals to the conservative, Christian population of Hungary. This included criticizing the migration of Muslim into Hungary and attacking forces that Orban believed were trying to push a pro-immigration agenda, including Soros.
Soros, through his Open Society Foundations initiative, has pushed for pro-immigration policies and has attracted the ire of Orban. While Soros and Orban where once close, with Soros funding Orban's education, they parted ways as Orban drifted rightwards politically.
The conflict became more contentious when a billboard financed by the Hungarian government, showed a picture of Soros laughing, with the caption,  "Let's not leave Soros the last laugh." This poster was roundly criticized by the Jewish community as utilizing anti-Semitic imagery.
This has been matched by Orban's rhetoric in his campaign regarding the issue. "We are fighting an enemy that is different from us. Not open, but hiding; not straightforward but crafty; not honest but base; not national but international; does not believe in working but speculates with money; does not have its own homeland but feels it owns the whole world," Orban was reported to have said at one rally.
Orban's rhetoric has been lending itself to legislation, as now that Orban's Fidesz party has a two-third majority, they will now be able to change constitutional amendments. Among one of the first measure that the party was planning to legislate was a  "Stop Soros" law, which targeted NGOs that support migration into Hungary.
Soros has remarked that the Hungarian government was attempting to slander him by pushing "distortions and lies."