'Three billboards outside UK's Labour HQ' against failure to stop antisemitism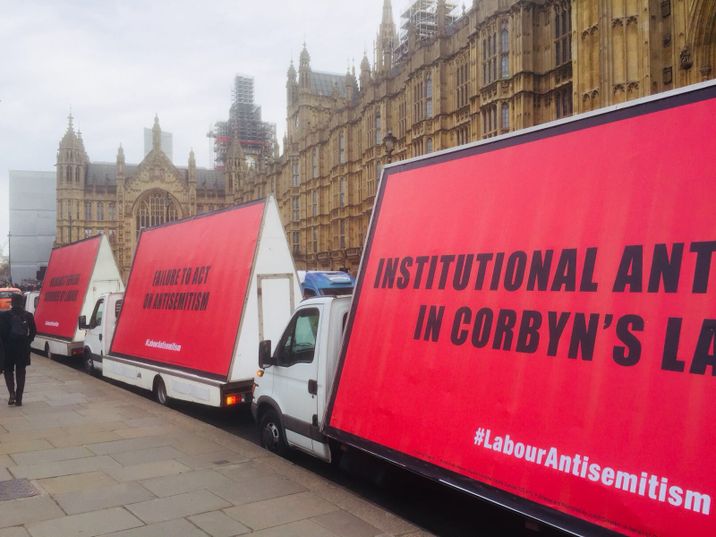 Three billboards outside UK's Parliament as protest against inaction over antisemitism, April, 17 2018
Corbyn has had a tumultuous relationship with British Jewry since he assumed leadership of the party
Three billboards were erected outside the UK's Labour head office on Monday in a graphic protest against the burgeoning antisemitism that appears to have taken root in the party under the leadership of Jeremy Corbyn.
Capitalized bold black letters daubed on three huge red placards read: "Holocaust deniers harboured by Labour", "Failure to act on antisemitism" and "Institutional antisemitism in Corbyn's Labour."
Inspired by the Oscar-nominated film 'Three Billboards Outside Ebbing, Missouri' that tells the story of a bereaved mother who, after her daughter is raped and murdered, assembles three billboards outside of her home, publicly shaming the sheriff for his inaction for not identifying the attacker.
Like the film, the 'Community United against Labour Party antisemitism' (Culpa) responsible for constructing the visual protest, hopes to have a public impact and will be ferrying the placards around a number of notable London landmarks until 4pm. Display sites include Parliament Square, Westminster Bridge and Whitehall.
"This grassroots initiative reflects frustration at how little has been done by Labour to tackle antisemitism," Culpa said, according to the UK's Jewish Chronicle. "Every day seems to bring new revelations...these are unprecedented times which call for unprecedented action."
The initiative was crowdfunded by approximately 130 donors.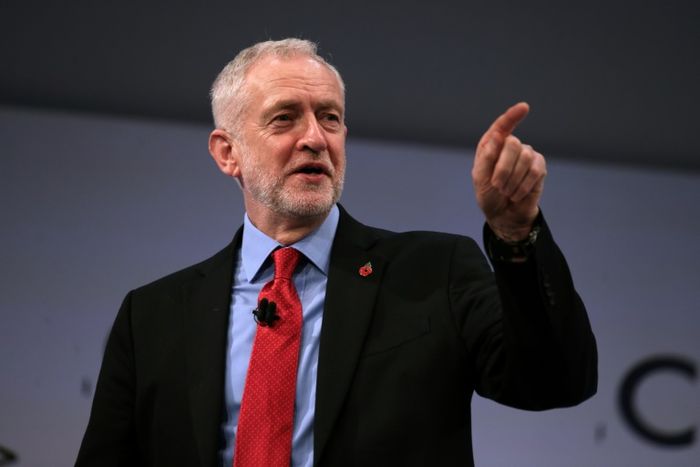 Since Corbyn assumed his role as leader of the opposition a series of controversies relating to his seemingly one-sided pro-Palestinian rhetoric, failure to stamp out anti-Semitism in his party and past actions, have led to a tumultuous relationship with British Jewry.
The past month has seen criticism of the Labour leader reach a crescendo when 1500 vocal demonstrators took to the grasses of Parliament Square in central London chanting "enough is enough" and urging the embattled leader to match his public discourse with action.
The protest was triggered by revelations the week prior that in 2012, Corbyn offered his support to a street artist who painted a mural -- depicting a group of bankers playing Monopoly on the backs of the poor --- which was widely deemed as having antisemitic undertones.
Acknowledging that "antisemitism has surfaced within the Labour party", pledging to redouble efforts and promising to "bring this anxiety to an end", British Jewry's anger did not end there.
Over the Passover holiday Corbyn, in what he claimed was in a 'personal capacity' attended a Seder ceremony hosted by a far-left Jewish group named "Jewdas" that is well-known for it's vociferous criticism of the state of Israel. In the past it tweeted "Israel is a steaming pile of sewage which needs to be properly disposed of."
Revelations about Corbyn's conduct also emerged when UK-based blogger David Collier produced a 280-page report detailing the leaders past Facebook activity and membership of groups purporting antisemitic agendas. One group 'Palestine Live' included one member stating that he was reading "Mein Kampf", whilst others used derogatory terms such as "ZioNazi" and "JewNazi" and debated whether Israel was involved in the 9/11 and Paris terror attacks.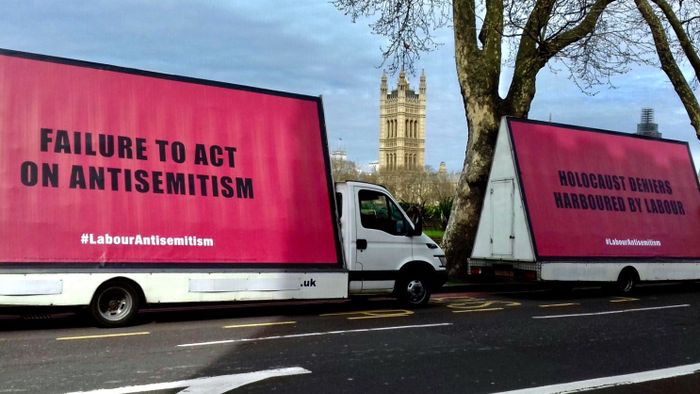 This all comes to the background of Corbyn's history as a backbench rebel member of Parliament, promoting his long standing support for Palestinian rights and vocal condemnation of Israel. He has, in the past, been criticized for the company he keeps and has come under fire for referring to Lebanon's powerful Shiite militia Hezbollah and Gaza-based Islamist group Hamas as "friends" urging dialogue with the latter, as well as meeting representatives of both organizations.
Although he launched a government-wide inquiry "The Chakrabarti Inquiry" aimed to investigate rising anti-Semitism within the party in April 2016, many have rebuked it as merely "whitewash", leading to little or no visible change.
The leader has also been slammed for his inadequate disciplinary action for party members accused of engaging with anti-Semitic rhetoric. Former London May Ken Livingstone, suspended from the party in 2016 for claiming that Adolf Hitler once support Zionism "before he went mad", is set to return to the party.
Last week, Israel's Labor Party leader Avi Gabbay suspended relations with Corbyn stating an inability to "retain relations with you...while you fail to adequately address antisemitism in the party."
You need to be logged in in order to post comments. Sign up or log in
Labour without antisemitism is not Labour. Socialism is fundamentally antisemitic no matter how many Jews join. The same goes for the US crypto-socialists who consider themselves "Dimms". Their antisemitism becomes more apparent every day in spite of including 70% of US Jews.