UK mourns victims of London Bridge attack one year on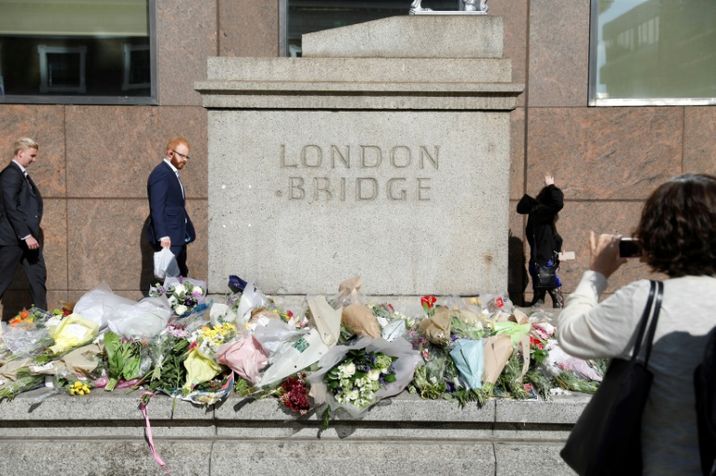 People walk past floral tributes at London Bridge for the victims of the June 3 terror attack
Odd ANDERSEN (AFP)
The words #LondonUnited will be projected onto the bridge following a minute of silence at 4:30 p.m.
Britain mourned the victims of the London Bridge terror attack on Sunday, one year on from the deadly incident that killed eight people and injured dozens more.
Flowers were laid, candles lit and a religious service held at Southwark Cathedral -- the spot where three terrorists crashed after using a van to careen into crowds, before launching a stabbing spree at nearby Borough Market.
Dean Andrew Nunn was first to address the crowd of bereaved family members, politicians, charity workers and emergency service staff.
"Love is stronger than hate, light is stronger than darkness, life is stronger than death - it was true a year ago, it's as true today," Nunn said in his sermon, followed by an address by London Mayor Sadiq Khan who recited an extract from Psalm 77.
One year on from the London Bridge attack, I'm proud of how we've responded - staying true to our values and way of life. Add your message to our tribute by using #LondonUnited. pic.twitter.com/uidTja8LU6

— Mayor of London (@MayorofLondon) June 3, 2018
Local resident and actor Theo Ancient paid tribute to the first responders and lauded their courage in risking their own safety. "More than skill, more than professionalism, there was kindness," he said.
Southwark council leader Peter John described the incident last June as "one of the darkest days in our borough's history."
London Bridge was closed down ahead of the service, cut off by crowd-control barriers and police vehicles, and swarming with watchful officers and private security.
Before the ceremony an impromptu service was held on the structure by the Islamic non-profit London Fatwa Council, with members carrying placards reading "One year later, London more united than ever" and framed pictures of the dead.
"Let not those who hijack people's faith triumph," leader Imam Yazdani told a small crowd.
"Let peace and prosperity come to the hearts and minds of everyone around us."
Flags representing the five nationalities of the eight victims were hung for the cathedral ceremony, where London Mayor Sadiq Khan, locals and city dignitaries delivered readings. 
The church still bears scars from the attack -- with doors dented by police who broke in during the manhunt for the attackers.

But the order of service contained advice for psychological support aimed at those still traumatized, a reminder that some of the deepest scars from the night remain invisible.
A stone sculpture of PC Wayne Marques, who took on the three attackers solo with his baton and was stabbed in the head, was also blessed and will be installed in the cathedral later.
On Friday Marques revealed he was planning to return to work next month after a year of rehabilitation.
"I'm just basically trying to get as much of me back as possible," he said in a video released by the British Transport Police.
Afterwards an olive tree -- known as the Tree of Healing -- was planted in the cathedral grounds using compost from floral tributes left on the bridge in the aftermath of the murders, before a procession to London Bridge where the national minute of silence took place at 4:30 pm (1530 GMT).
The words #LondonUnited projected onto the bridge following the minute silence.

- London United -                  
"Today we remember those who died and the many more who were injured, and also pay tribute to the bravery of our emergency services and those who intervened or came to the aid of others," May said in a statement released earlier in the day.
She branded the June 3, 2017, attack "a cowardly attempt to strike at the heart of our freedoms by deliberately targeting people enjoying their Saturday night with friends and family" and noted that seven of the victims were foreign nationals.
"This is a reflection of our great cosmopolitan capital, whose energy and values bring together people from across the world, and a tragic reminder that the threat from terrorism transcends borders and impacts us all," she said.
"Today we remember those who died in the London Bridge attack and the many more who were injured, as we pay tribute to the bravery of our emergency services and those who intervened and came to the aid of others." – PM @theresa_may

— UK Prime Minister (@10DowningStreet) June 3, 2018
Khan, who attended the ceremony, said the city would honor the victims of terror attacks "through our actions and standing united against terrorism and in hope for the future".
"The cowardly terrorists who commit these horrific acts do so to try to divide us, to fuel fear and to change how we treat one another. I'm proud of the way we have responded: standing united in defiance and staying true to our values and way of life," he said in a statement.
On Sunday morning Home Secretary Sajid Javid announced that a new review of counter-terrorism legislation in Britain would be launched on Monday -- including a provision to recruit up to 2,000 extra security officers in Britain's intelligence services.
The attackers were shot dead outside Borough Market eight minutes after the first emergency call was made.
The Islamic State (IS) jihadist group claimed responsibility for the attack, one in a six-month campaign of atrocities that swept Britain last year, claiming a total of 35 lives.