Trump-Kim agreement 'just one percent' of process: Clinton's ex-N.Korea adviser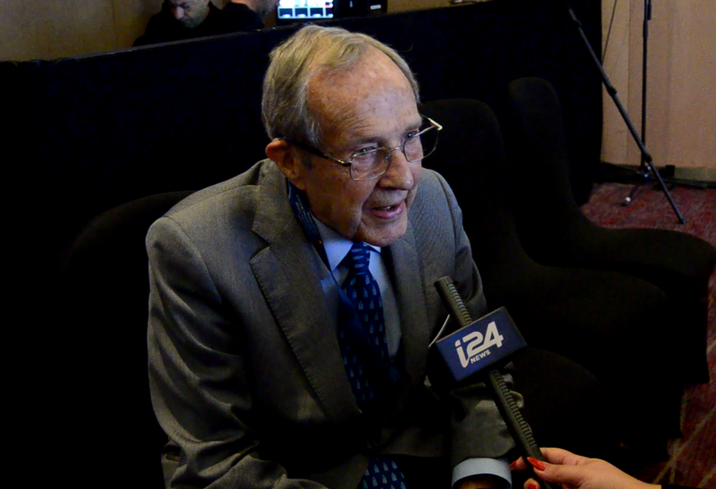 Former US Secretary of Defense William Perry is interviewed by i24NEWS in Geneva on June 12 2018.
GENEVA - As the world still looks on in slight disbelief at the handshakes and toothy grins of US President Donald Trump and North Korean dictator Kim Jong-Un during their summit in Singapore, the question is being asked: what now?
Former US Defense Secretary William Perry is one of the few who knows how long and fraught the road will be to a breakthrough with North Korea.
"The results of the summit are the best we could have hoped for," says Perry, who was defense chief under President Bill Clinton, in an interview with i24NEWS. "But it's only one percent of the process."
As US defense chief and later a personal envoy of Clinton, Perry orchestrated the 1994 Agreed Framework that obliged Pyongyang to freeze its nuclear program, bringing the Korean Peninsula the closest to peace it has ever been -- perhaps until today.
"I thought the results of the summit is the best we could have hoped for, so I'm pleased," said Perry in the exclusive interview. "But you must understand, though, that the statements in principle -- which is about all they could have done -- only takes us one percent towards our goal."
"But it's an important one percent."
On Tuesday Trump and Kim agreed to an historic, if bare-bones, agreement that committed Pyongyang to "full denunclearization" in exchange for unspecified "security guarantees" from Washington.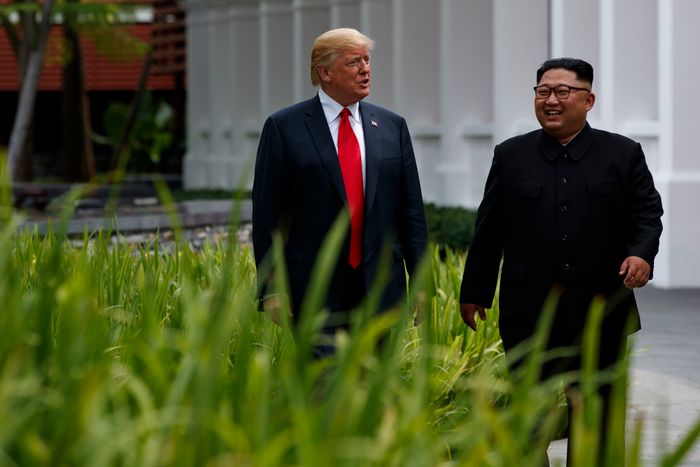 The establishment of full diplomatic ties and visits by Trump and Kim to each others' capitals were also on the agenda.
The biggest question of all is what comes next. And even though a major step forward was made Trump himself admits that a lot of the work and potential road bumps still lay ahead.
"There have to be agreements now on concrete first steps of the process," says Perry, who served as defense secretary between February 1994 and January 1997.
"First of all, what the process should be, what it consists of and secondly actually take concrete steps towards disarmament. I would expect experts to take over now," he said.
"My concern is that we went to it with too high expectations about how quickly things can be achieved. Both for political reasons and technical reasons it is going to be a long, slow process."
For technical reasons, Perry says, the process of disarmament "is [a] very complex process that will take a while, I would think a couple of years. And for political reasons as well it is going to take a lot longer."
Perry agrees that a process of full nuclearization should be coupled with moving towards the normalization of ties between Washington and Pyongyang.
"If they give up the nuclear weapons they are giving up the mean of deterring to United States, which is a very big issue with them … but if in process of denuclearization we are also proceeding in the process of normalization of relations. That helps quite a bit."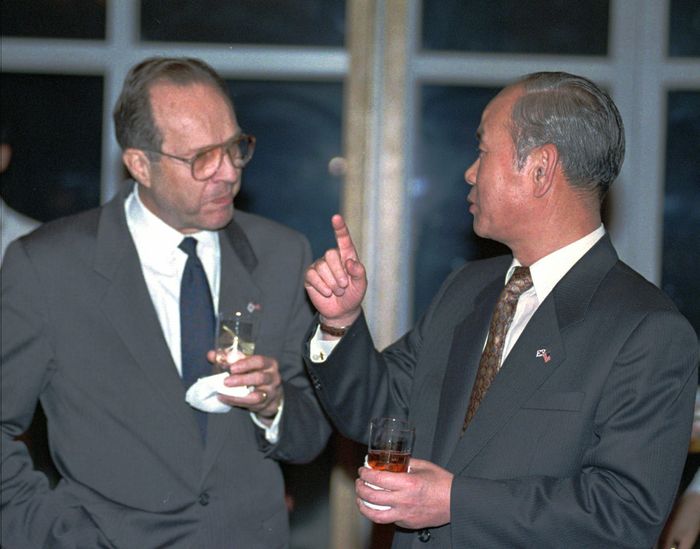 It was only recently that Perry revealed that back in 1994 the Clinton administration set up a plan to destroy North Korean nuclear facilities with cruise missiles and that he recommended to Clinton (who was ready to do so) to send an additional 30,000 American troops to the Korean Peninsula to defend Seoul from a surprise North Korean attack.
Back then, Pyongyang bestowed Perry with the title "war maniac".
But despite it all, the 90-year-old always advocated for a diplomatic solution with North Korea. This is informed by his deep experience dealing with the famously fickle regime.
"The first takeout [from previous negotiations] is understanding why North Korea has put such an enormous expense and effort in to building nuclear deterrence."
"Because their leadership, especially their military leadership, believe the United States not only have the capability of destroying the regime but also they have the intent to do so. And they also understand that their conventional forces are not capable of standing up to a United States attack."
Therefore, says Perry, they believe they must complement conventional forces with atomic weapons.
"We might discount that as being not correct but this is their belief and therefore they have built that deference, so we have to provide an alternative to the nuclear deference in order to get them agree," said the ex-defense chief, who now serves on the boards of several companies and academic institutions.
Another shot at resolving the longstanding conflict emerged in 1999, when Perry was Clinton's special adviser. He spent a few unforgettable days in Pyongyang, and got a closer, unfiltered look at the North Korean psyche.
"The North Korean leadership is not crazy. They are rational. We don't like their objectives but they are rational objectives that have been very very consistent in maintain[ing] them.
The military's advice to the government is that atomic bombs are necessary for the ruling regime's survival. Perry argues that has to be top of mind as the Trump administrations kicks off the slow process of fleshing out the leaders' agreement.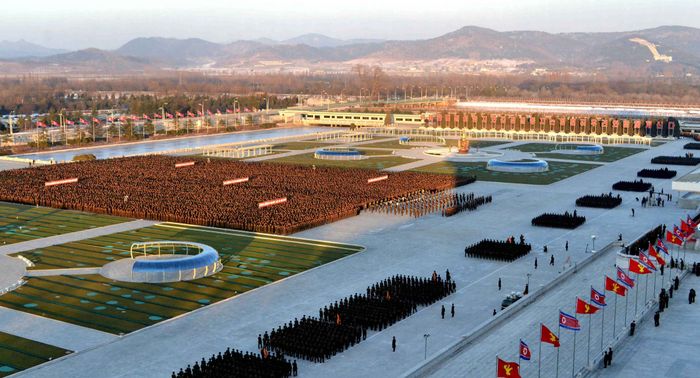 "What are their objectives? And how do we find a way of easing their concerns on their objectives while we achieve our goal of a nuclear-free peninsula?"
While hailing the focus on dynamics and chemistry in the Singapore summit, Perry believes the sought-after peace between North and South -- who only signed an armistice agreement when the Korean War ended in 1953 -- should not be neglected.
"I didn't read anything about it [normalization in the peninsula] even being discussed," Perry notes.
"That's a bit of a disappointment I'm convinced that the process of normalization has to go on and parallel to the denuclearization. The leadership there could very well come from [South Korean] President Moon and they have made a very good start on that already."
Perry, who might be considered as a member of the old guard, appreciates Trump's unusual manner.
"I think we should be open to unconventional, unorthodox diplomacy. In this case I think it was effective," says Perry, although adding that it has to be followed by the painstaking work of detailed negotiations.
He also thinks Trump has greater sway to push an agreement through the US political quagmire.
"If a Democratic president had come to this agreement he would have been under severe criticism by the Republicans in Congress, and he might not have been able to implement it," Perry suggested.
"And an example for that is when Clinton negotiated the Agreed Framework (1994) he did not get support in congress for that. I believe that President Trump … would get support in the Congress for [an agreement] and that would be very important for the success and implementation of it."
Perry concludes by noting the "interesting times we live in"... and perhaps this man, who was one of the leading actors in the last US-North Korea rodeo knows what he is talking about.
Ellie Hochenberg is senior diplomatic correspondent for i24NEWS.
You need to be logged in in order to post comments. Sign up or log in
All the experts have only one thing in common: FAILURE & personal interest.