German charged over Nazi memorial found in French field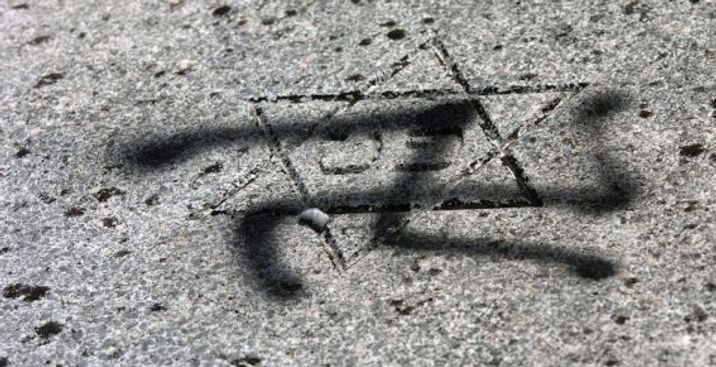 Swastika graffiti in Sarcelles, France
AFP
A suspected German neo-Nazi accused of erecting a headstone in a French field to honor a Nazi tank division has been charged with glorifying crimes against humanity, French prosecutors said Thursday.
The monument to the 17th Panzer Infantry Division, whose members are suspected of massacring 124 people in a village in central France in August 1944, was discovered in January in a field outside the northeastern village of Volmunster, on the border with Germany.
Set on private ground, the headstone was nonetheless visible to passers-by.
It read "In honor of the fallen of the 17th SS Panzergrenadier Division. Approach, Engage and Overrun!", according to pictures in French media.
Investigators working with the Office for Fighting Crimes against Humanity, Genocide and War Crimes seized the plaque and tracked down the owner of the field, a 34-year-old German living across the border in the Saarland region. 
According to the local Republicain Lorrain newspaper, "various objects, as well as computer data", were seized during a search of his home in April.
German neo-Nazis have regularly congregated across the border in the Lorraine region of France, which together with neighboring Alsace changed hands four times between France and Germany between 1870 and the end of World War II.
In 2012, authorities in Volmunster opposed renting out a local hall for a gathering of around 1,000 Neo-Nazis, mostly coming from Germany.
The gathering was held instead at a privately-owned hangar in Toul near the city of Nancy.
Several neo-Nazi "hatecore" rock concerts have also been held in the area.
French police say strict German laws banning Nazi symbols, even in private settings, have spurred white supremacists to continue their activities across the border.
In France, the police cannot break up a private party unless there is suspicion of criminal activity or a disturbance of the peace
This incident comes amid an uptick in a recent wave of anti-Semitic incidents in France that has seen the half-a-million plus Jewish population hit with a wave of emigration to Israel over the past decade.
In March of this year, 85 year-old Holocaust survivor Mireille Knoll was found stabbed to death in her apartment east of Paris before her home was set alight by the murderers in what was deemed to be an antisemitic attack.
A year earlier, 66 year-old Orthodox women Sarah Halimi, was thrown off the balcony in her Paris flat by a neighbor heard shouting in Arabic "Allahu Akbar" [God is greatest]. Her murdered was confirmed to be motivated by anti-Semitism in a ruling by judges last month.
Halimi's death reignited the debate over anti-Semitism in working-class districts in France, where Jews have been targeted in several deadly jihadist attacks in recent years.
In 2012, an Islamist gunman shot dead three children and a teacher at a Jewish school in the southwestern city of Toulouse.
Three years later, an associate of the two brothers who massacred a group of cartoonists at satirical newspaper Charlie Hebdo killed four people in a hostage-taking at a Jewish supermarket in Paris.