Anti-Semitic violence in German capital soared over 2018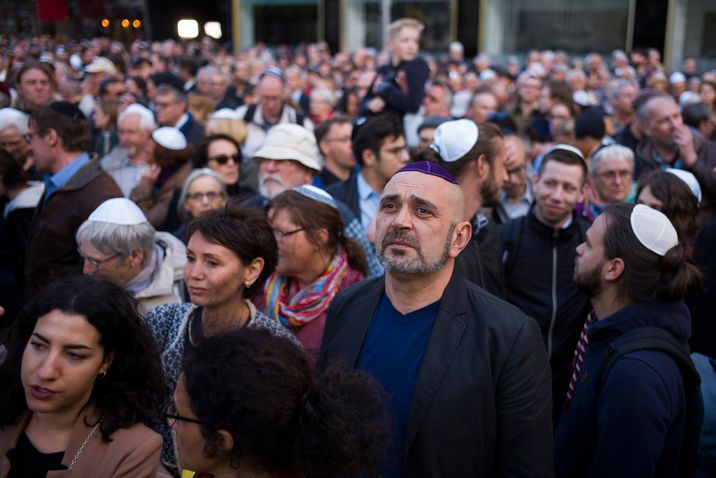 People wear Jewish skullcaps, during a demonstration against anti-Semitism in Berlin, Wednesday, April 25, 2018.
AP Photo/Markus Schreiber
Anti-Semitic violence in the German capital reached new highs over 2018, with newly published statistics showing that at least five anti-Semitic incidents were reported weekly in Berlin alone. In total, 295 incidents were reported to the authorities in 2018 by mid-December – 24 of them were violent.
The prior year, only seven violent crimes with an anti-Semitic background were registered in Berlin, out of a total of 305 incidents. The majority of cases referred to insults, sedition and property damage.
The newly-appointed anti-Semitism officer in Berlin's prosecutor's office General Claudia Vanoni, who revealed the statistics, noted that she expects the final figures for 2018 to be higher, as incidents can be reported also weeks after the fact.
Among the most publicized violent incidents was an attack on a 21-year-old Israeli wearing a kippa, who filmed his assailant beating him with a belt. The attacker, 19-year-old Syrian-Palestinian, was later sentenced to four weeks jail time.
"The police and law enforcement agencies are doing everything to investigate anti-Semitic crimes and hold the perpetrators accountable," assured Vanoni, speaking to the local newspaper Berliner Zeitung. "Unfortunately, many victims consider it useless to file a complaint, because in their view, nothing happens anyway. We must change this perception."
Vanoni attributed the high numbers of incidents in Berlin, among other things, to a greater willingness by victims to report offenses, thanks to the police's cooperation with community-based civil society organizations, like Berlin's Research and Information Center on Anti-Semitism (RIAS).
Since 2015, RIAS has been encouraging community members to share their stories of anti-Semitic incidents, including those that don't meet the threshold of a criminal offense. Its findings have repeatedly showed that the number of anti-Semitic incidents in the capital is higher than reported by the authorities.
Also for the year 2018, the numbers recorded by RIAS are higher than the official ones. In the first half of the year alone, it registered 527 incidents that included 18 attacks, 21 cases of property damage, 18 incidents of threats, 401 cases of offensive behavior and 69 anti-Semitic letters.
Last month, with the support of the German government, the initiative was expended nationwide and is now in the process of setting up hotlines for the reporting of anti-Semitic incidents in other cities as well.
According to the German Interior Ministry, 1,075 crimes with an anti-Semitic background were registered in the whole of Germany in the first nine months of 2018.
"We cannot leave fighting anti-Semitism in this country to the Jews alone," insisted Germany's anti-Semitism commissioner Felix Klein, speaking at a RIAS press conference in late December. "Every anti-Semite in this country has a problem with our democracy and with our rule of law, which effects all of us."
Polina Garaev is i24NEWS's correspondent in Germany.