Iraqi confesses in court to murder of 14-year-old German Jewish girl
The Iraqi's arrest sparked demands for Angela Merkel to call for faster deportation of failed asylum seekers
Ali Bashar, a 22-year-old Iraqi, admitted in court this week to strangling Susanna Feldman, a 14-year old German Jewish teenager whose May 2018 murder prompted outrage and spurred calls for Chancellor Angela Merkel to take action to deport failed asylum seekers.
Though admitting he had strangled the girl, Bashar--a failed asylum seeker who arrived to Germany in 2015 with his parents and five siblings-- insisted he did not know how it happened.
"Everything went black before my eyes, then it all happened," the Iraqi told the court. "I don't know how it could have happened."
Feldman was missing for a week before her body was found in the German city of Wiesbaden, near the refugee shelter where Bashar lived with his family. An autopsy showed that she was raped before being strangled to death.
Bashar was arrested in Iraq last June on the request of German authorities after fleeing with his family to their native homeland via Turkey.
Next week, Bashar will face a separate trial over the alleged rape of an 11-year-old girl.
Speaking through an interpreter at the trial this week, Bashar told the court of his family's arrival to Germany after fleeing unrest in Iraq.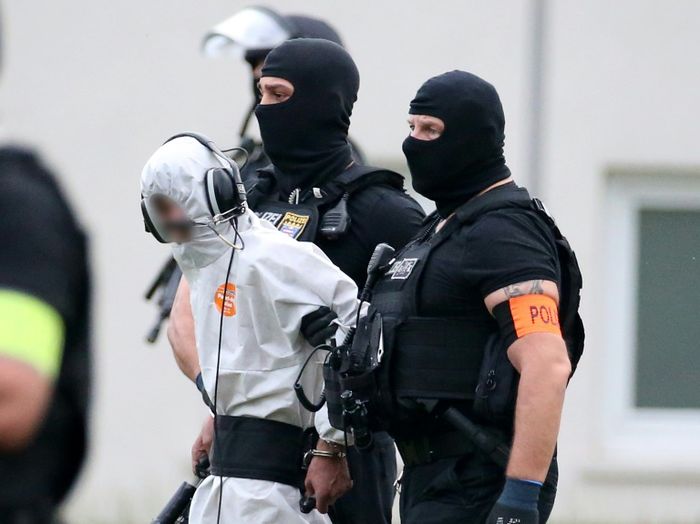 Bashar said he met Feldman through a mutual acquaintance months before the attack during which the two developed a friendly relationship.
After her body was found buried in a forest near train tracks, prosecutors said Susanna had been raped and then strangled from behind when she threatened to go to police.
Bashar insisted in the trial that he did not rape the young girl--claiming he did not know how young she was--but admitted that the two had engaged in consensual sex.
"He said that the two of them were friends but that they had a dispute, and that he killed her when the girl threatened to call the police," Tariq Ahmad, police chief for the Kurdish-controlled province Dohuk in Iraq where Bashar was arrested told AFP in June.
The case drew international attention and sparked domestic protests as Germans took to the streets to protest Chancellor Angela Merkel's refugee policy, emboldened by encouragement of the far-right populist party Alternative for Germany (AfD).
Feldman is "a further victim of Angela Merkel's hypocritical and egotistical open-door policies to refugees," said party leader Alice Weidel in a YouTube video published at the time of the murder.
The far-right marches inspired other protesters in German towns to stage counter-rallies against racism.
The incident increased pressure on German authorities who face intense scrutiny over the delays in deporting rejected asylum seekers and over how the entire Bashar family managed to leave the country with documents issued under an alias.
Bashar's asylum application was rejected in 2016, but was allowed to stay in Germany while his appeal was being reviewed. Critics say such often slow-moving appeals may be exploited by failed applicants and hinder the state's ability to implement its decisions to deport.
"It takes a long time for the judgment [on whether asylum is granted] and then appeals -- two years, if I'm not mistaken, in this case," Germany's Interior Minister Horst Seehofer said Friday, before a discussion on establishing centralized refugee processing facilities. "I'm for the rule of law and order, but we can't impinge on the ability of the state to take action."
Polina Garaev, i24NEWS Germany correspondent, contributed to this report.