Rioters in Dutch city rant against 'Jewish murderers'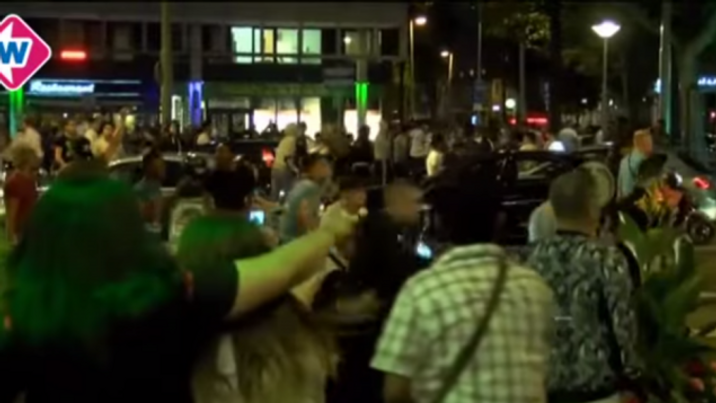 Rioters in The Hague
YouTube screenshot
Over 100 people demonstrate in The Hague following death of Caribbean man in police custody
Dozens of people hurled anti-Semitic slogans during riots that erupted in a predominantly Muslim neighborhood of The Hague following the death of a Caribbean man in police custody.
More than 100 people shouted "Jewish murderers" on Thursday night at a protest in the neighborhood of Schilderswijk, where a small number of Jews live, the Jewish Telegraphic Agency reported.
Some 200 demonstrators were arrested after clashes with police sparked by the death last weekend of 42-year-old Mitch Henriquez from the Dutch island of Aruba.
The police said the protesters threw rocks and fireworks at law enforcement officers.
Thursday's protests – which had been outlawed by police – were the fourth night of demonstrations over Henriquez's death.
Despite a call for calm from his family, the demonstrators smashed the windows of businesses, banks and a theater in the predominantly immigrant neighborhood, the police said. Many of those arrested Thursday had also been taken into custody the night before.
Henriquez died Sunday, a day after being forcefully arrested at a music festival, with initial autopsy results indicating the likely cause of death was suffocation. There was no evidence of drugs or excessive alcohol in his system.
Authorities have said it appears his suffocation was a result of the "police intervention." Police said they moved to arrest Henriquez after he claimed to have a weapon, but he resisted and then became unwell on the way to the police station.
Mobile phone footage taken by witnesses of the arrest showed several police officers restraining and sitting on Henriquez, before his limp body was put in a police vehicle.
Five Dutch police officers have been suspended from their duties over the incident.
The neighborhood of Schilderswijk has one of the highest crime rates in the Netherlands, the JTA said. Last year, riots broke out in support of the Islamic State group. During Israel's conflict with Hamas in Gaza last summer, at least two protests in the area had demonstrators calling for the slaughter of Jews.
(with AFP)