Firm whose crane was used for hangings set to re-enter Iran market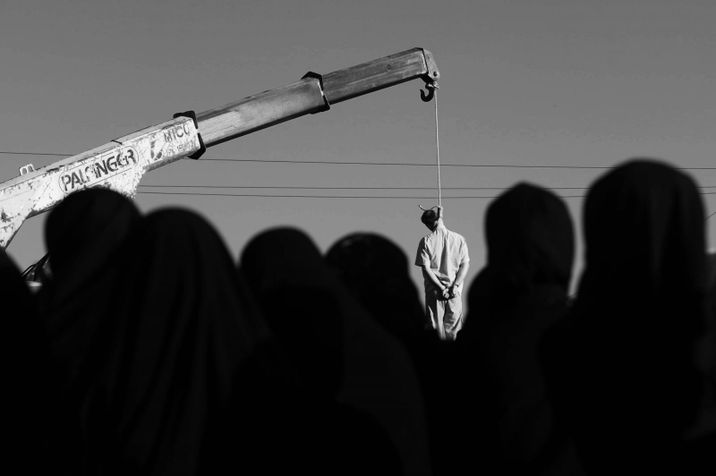 Hanging of a man found guilty of raping and murdering five women
Ebrahim Noroozi (Courtesy Stop the Bomb, Facebook)
NGO says Austrian company being encouraged by Austrian government which plans Iran business trip
An Austrian company, Palfinger AG, whose crane equipment was used to for executions, is set to re-enter the Iranian market. Company head Herbert Ortner says there is strong demand for cranes in Iran because there is no local production, the Austria Press Agency reported.

Stefan Schaden, a spokesman for the Berlin-based European coalition Stop the Bomb, said, "Palfinger is one example, which clearly shows that Austrian companies do not care at all about the disastrous human rights situation when it comes to doing business in Iran. In fact they support the regime and its inhuman policies as long as it serves their profit interests."

In response to criticism leveled at the company, Palfinger said a famed photograph showing one of its construction cranes from a man is hanging "is 25 years old. It was produced in Iran with a license. Palfinger already rescinded the license... No one can prevent customers from buying used cranes abroad and using them in Iran."
The Islamic Republic is slated to execute as many as 1,000 people by the end of 2015, and nearly 700 Iranians were executed between January and July this year, Amnesty International says. Iran is believed to execute the most people per capita.
Writing Monday in The Jerusalem Post, Benjamin Weinthal, who reports on Iranian human rights, cited Schaden as being sharply critical of Austrian politicians and business leaders for their plans to visit Iran next month. "The Austrian Economic Chamber WKÖ and Austrian politics in general encourage this attitude with the planned visit to Iran of Austrian President Heinz Fischer, Foreign Minister Sebastian Kurz, Economy Minister Reinhold Mitterlehner and WKO President Christoph Leitl. While European companies rush to do business with the Iranian regime, the Iranian population is thrown under the bus as the regime is enabled to continue with its brutal oppression."

The Austrian Economic Chamber hopes for a five-fold increase in trade as a result of the sanctions relief promised Iran in exchange for its promise not to build nuclear weapons until 2025. Austria exported about $300 million in goods to Iran in 2014.