Is the boy with the golden gun being groomed to rule Belarus?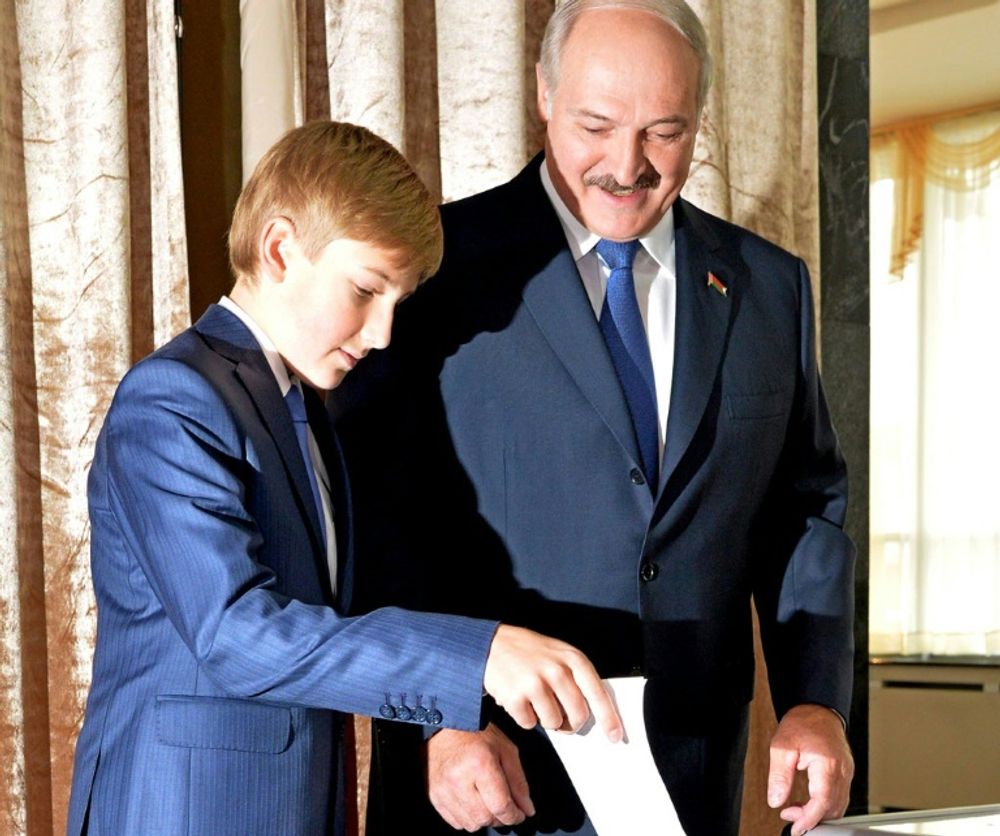 11-year-old has already attended the UN General Assembly, been photographed with the Obamas and met a pope
He is 11 years old but has already attended the UN General Assembly, had his picture taken with US President Barack Obama and met a pope -- and he has his own golden gun.
Meet Kolya, Belarussian President Alexander Lukashenko's illegitimate son who some believe is being groomed to succeed his authoritarian father, a man once dubbed Europe's last dictator.
On Sunday, the tall, fair-haired boy cast his father's ballot as the Belarussian leader -- who won a fifth consecutive term by a landslide -- voted at a physical culture institute near his home on the outskirts of the capital Minsk.
The 61-year-old strongman's ultra-close, and often bizarre relationship with his third son, the child of his doctor, has held the former Soviet state in thrall, where Lukashenko's personal life is widely discussed, albeit cautiously.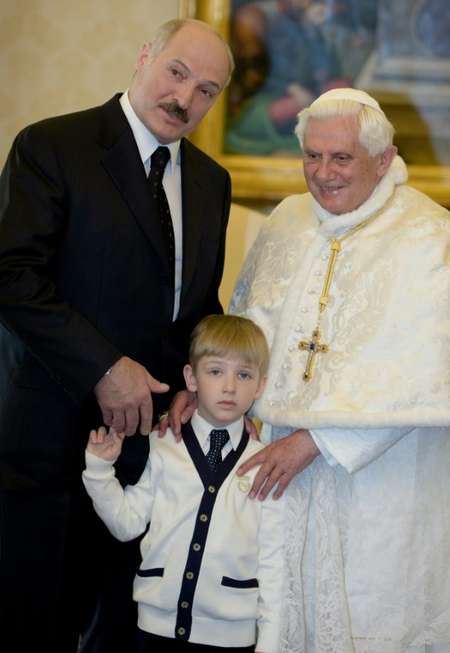 Lukashenko himself has acknowledged that Kolya is the son of a doctor, not of his wife Galina, who is hardly ever seen at his side and who is the mother of his two much older sons -- 39-year-old Viktor, a presidential aide on national security, and 35-year-old Dmitry, who heads the president's sports club.
Galina, a retired teacher, has never been a public figure, although Lukashenko has spoken gratefully of her role in helping his early career.
Kolya's mother is widely assumed to be Lukashenko's former personal doctor, Irina Abelskaya.
Kolya's existence only became widely known when he was three, according to the Belarus Partisan website. At four, Lukashenko took him to an ice hockey match.
The pair's devotion to each other is obvious, with the two often appearing in matching outfits -- whether in suits or in military uniform, with the country's top military brass saluting the boy as if he was a five-star general.
It was at war games with Russia that Kolya's now notorious golden pistol made its first public appearance in 2009, with then Russian president Dmitry Medvedev admiring it as the five-year-old strutted around proudly with it in a holster at his waist.
Lukashenko's biography page on his website provides no details of his personal life, but photographs show him walking hand-in-hand with Kolya at a World War II Victory Day parade.
Only his father could feed him
Late last month Lukashenko and his son, who was baptized Nikolai, posed awkwardly in formal suits next to the smiling Obamas at the UN in a photograph also posted on Lukashenko's website.
Kolya was also spotted by journalists sitting solemnly in the Belarussian delegation's box at the UN General Assembly, usually reserved for top diplomats.
In 2008, Lukashenko told Russian tabloid Komsomolskaya Pravda that Kolya, then four, would only let his father feed and dress him.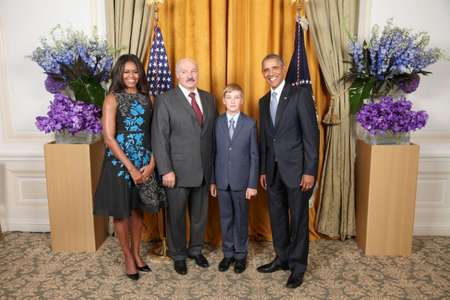 And he told US academic Grigory Ioffe -- who wrote a book about the Belarussian strongman this year -- that he is bringing up his son himself and that Kolya's mother sees him no more often that the rest of the population do on television.
Kolya, who was born a day after his father turned 50, has met the previous pope, Benedict, the late Venezuelan strongman Hugo Chavez and Chinese President Xi Jinping, among others.
After a 2011 terrorist attack in the Minsk metro, Kolya went down to survey the aftermath hand-in-hand with his father and lay flowers, state television showed.
In an interview with Russia's Rain TV last year, Lukashenko said that Kolya had met his wife several times and Kolya's mother did not mind this.
Imperious behavior
Jokes about Kolya's being groomed as Lukashenko's successor are swapped by Belarusians, who say the president will rule "until Kolya".
Lukashenko himself in 2012 told Chavez that "there is someone to take over the baton of our cooperation in 20-25 years' time."
Rumours fly of Kolya's imperious behaviour towards staff or even his older brothers.
The Belgazeta opposition newspaper wrote that state television showed Kolya "make a strange gesture -- a kind of dismissive wave -- at his elder brothers Viktor and Dmitry" at a recent church ceremony.
The paper suggested that on some level Belarussians are jealous of Kolya, as a "later and more beloved child.
"The fact that Kolya shook hands with Hugo Chavez, gave an alphabet book to Benedict XVI and was kissed on the cheek by [Chinese First Lady] Peng Liyuan, while the electorate has to go to work in the morning... just adds melodramatic fire to this love triangle," it said.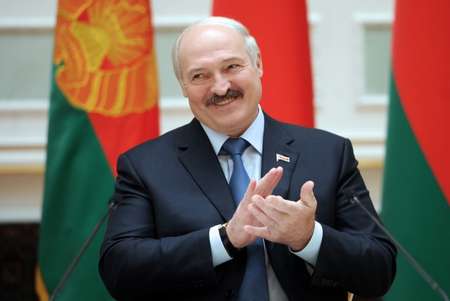 But several Belarussians told AFP they viewed Lukashenko's behavior toward his son as abnormal, saying it put enormous psychological pressure on the child.
"I think it's classic paranoia," said opposition leader Mikola Statkevich.
"The loving father's quirk is easy to understand, although hard to approve," wrote Belgazeta.
Lukashenko, whose main home is just outside Minsk, says he sends his son to an ordinary village school, and television has shown Kolya taking part in a school play.
Belarussian journalists worked out that so far this new school year, Kolya has missed a week of school on trips to China and New York.
Some attribute Kolya's high-profile status to advice from British image maker Timothy Bell, who was hired in 2008 to soften the dictator's fearsome reputation.
(AFP)
This article received 0 comments