Angry protesters greet Israeli justice minister in Berlin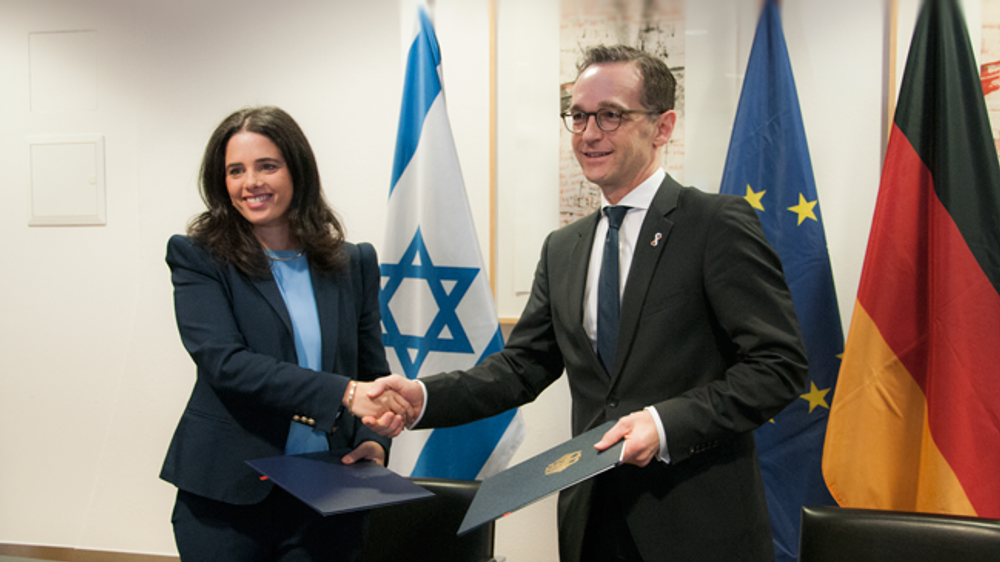 'In France she would be like Le Pen,' said one protester in reference to the right-wing politician
Israeli Justice Minister Ayelet Shaked was met in Berlin Monday by demonstrators carrying protest signs and Palestinian flags.
As Shaked began her visit to Germany in honor of the 50th anniversary of diplomatic relations between the two countries, her counterpart used the opportunity to reiterate the cooperation between the countries - but Germany's true feelings were better reflected in the rally outside.
Left-wing activists and BDS supporters gathered outside the Justice ministry, where Shaked opened a conference titled "Democracy and the Rule of Law," with German Minister of Justice Heiko Maas.
"Israel – a state of law?" wondered the demonstrators at the same time, who also held up signs containing controversial statements made by Shaked concerning Palestinians and asylum seekers.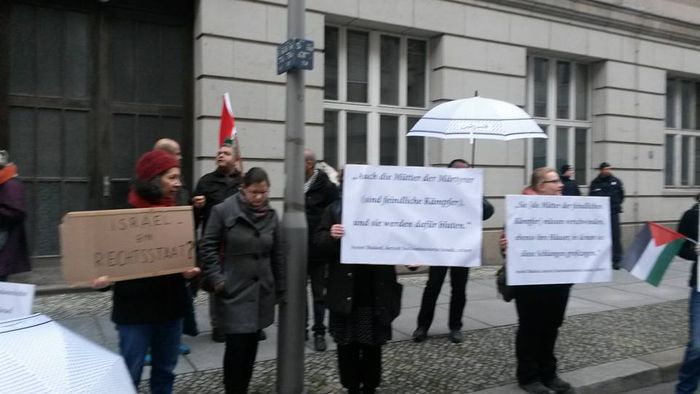 "She was talking about genocide, and in Germany, her statements would probably have landed her in jail," said Iris Hefets of "Jewish Voice for a Just Peace in the Middle East," which organized the rally alongside several BDS groups. The organization also sent letters to the heads of the Jewish Museum in Berlin, urging then to reconsider their decision to host a dinner in honor of Shaked.
"Here, even those who think so try to mask it, but she doesn't hide far-right rhetoric. In France she would be like Le Pen, and here she's like the NPD (the neo-Nazi German party). It's outrageous to me that the German government can hold a conference about democracy with Shaked, in such a non-critical way," insisted Hefets. "But I guess Germany has other criteria for racism, when it comes to Jews."
Shaked, who generated much interest in Germany following her appointment to justice minister, was previously descried in the press as a right-wing extremist.
The daily Die Zeit opined that the appointment of a justice minister who believes that "the supreme court is too liberal and judges have too much power" was evidence of how Prime Minister Benjamin "Netanyahu pushes Israel further into isolation."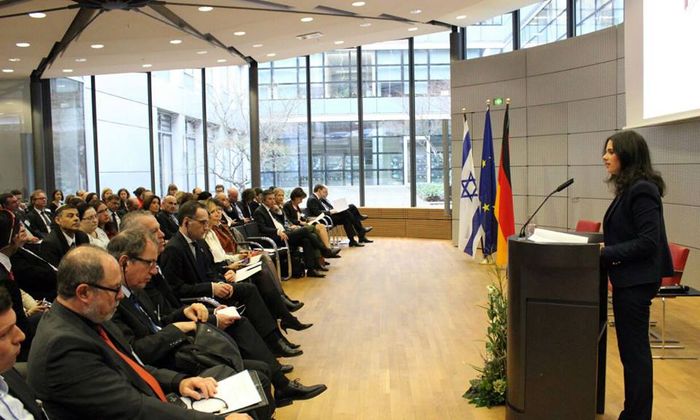 Most recently Shaked was criticized by a group of pro-Israel Bundestag members over a bill she is promoting that requires NGOs receiving more than half of their funds from foreign governments to publicly identify their backers, including on ID tags their members would be required to wear in the Knesset.
Six politically affiliated German foundations are known to donate to many left-wing groups in Israel, which this law targets. In her answer to the German politicians, Shaked defended the bill as a necessity: "Concerns were raised that the nontransparent nature of foreign governmental funding could be used as a tool to interfere with and influence Israeli politics."
But none of this controversy was evident in the welcome she received from Minister Maas. "Germany and Israel are linked by the challenges of the present, and because we are both law states and democracies, we share the same values," he said at the beginning of the conference, devoted also to combating hate crimes on the internet.
"Germany and Israel face now many common challenges," noted Shaked, referring the migration crisis and the fight against terror. She added that a clear line connects the 11 Israeli athletes murdered at the Munich Olympics in 1972 to the victims of the terror attacks in Paris. "The hate is the same hate, and the goal is the same goal: To harm all who think, dream or pray differently than they do."
Polina Garaev is the correspondent for i24news in Germany
Read More: Pro-Israel German legislators urge Netanyahu to stop 'Transparency' law
This article received 1 comments