Egypt-Israel peace treaty features in Egyptian school books for first time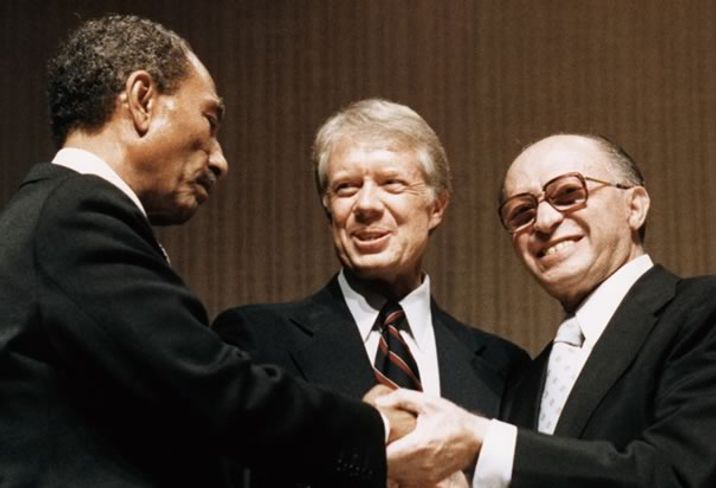 Presidents Anwar Sadat (R) and Jimmy Carter and Israeli PM Menachem Begin at signing of Israel-Egypt peace agreement
Historic treaty to be taught in Egyptian schools as ties between countries improve
Marking a first in the Egyptian education system, the peace treaty signed between Israel and Egypt in 1979 will be taught in Egyptian schools, according to a report by Israel's Army Radio broadcast Tuesday.
Until now, the historic treaty, which was signed in Washington by Egyptian president Anwar Sadat and Israeli prime minister Menachem Begin following the 1978 Camp David Accords, was not taught in Egyptian schools. 
According to Army Radio, a newly-launched schoolbook on Egypt's modern history includes a chapter on the peace deal. 
According to a reporter from the station who saw to the textbook said that the section on the treaty includes phrases on Israel and Egypt"ending the state of war" and on "each side respecting the sovereignty and independence of the other side."
Including the peace treaty in the new books, according to Army Radio, is part of a widespread overhaul of the content featured in schoolbooks for all grades announced by the Egyptian Education Ministry two years ago. 
Another significant change in the books related to Israel is the role that former president Hosni Mubarak played in the Yom Kippur War in 1973. The role of Mubarak, who served as commander of the Egyptian air force at the time, was marginalized when compared to how he was portrayed in the books while he acted as the country's president.
Egypt was the first Arab country to sign a peace treaty with Israel in 1979.
Ties between the two neighbors soured after former Egyptian President Mohammed Morsi 's June 2012 election as president following the ouster of his predecessor Hosni Mubarak in the 2011 uprising.
Morsi was ousted by then army chief Sisi in July 2013.
Later that year, the Israeli foreign ministry named Middle East specialist Haim Koren as the Jewish state's next ambassador to Egypt.
In September Israel reopened its embassy in Cairo, five years after Israeli diplomats were forced to leave when protesters stormed the building.
Israeli Prime Minister Benjamin Netanyahu welcomed Egypt's new ambassador to Israel, saying that Hazem Khairat's arrival will lead to a strengthening of ties between the two countries.
Khairat, a former ambassador to Chile, was appointed by Egyptian President Abdel Fattah al-Sisi in June, an appointment which was immediately and "deeply" welcomed by Netanyahu.
"This is an important piece of news. We appreciate it," Netanayahu said, "it's something that has been, and that is deeply welcomed in Israel and I think it's very good for cementing the peace that exists between Egypt and Israel."
Khairat became the first resident Egyptian ambassador in Israel since Morsi recalled Egypt's envoy to Israel in November 2012 to protest against a series of Israeli air raids on the Gaza Strip that killed top Hamas militant Ahmed Jaabari.
Jaabari was killed at the start of an eight-day Israeli operation dubbed Pillar of Defense in which 177 Palestinians and six Israelis were killed. The violence ended after Egypt brokered a truce.