Shoe thrown at Egyptian lawmaker who met with Israeli envoy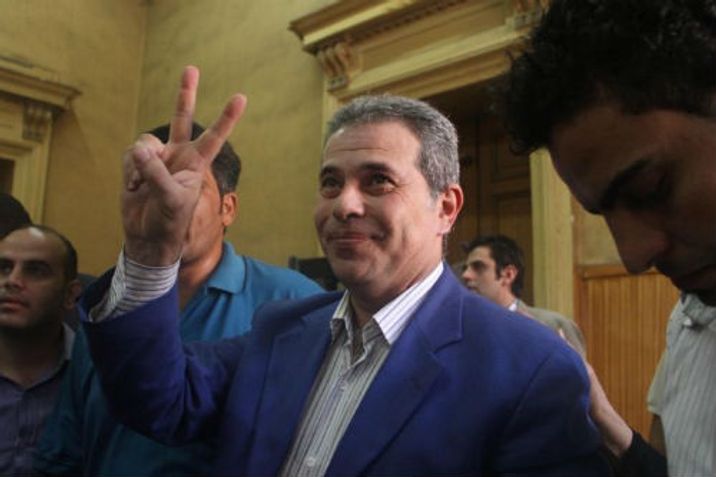 Tawfiq Okasha at his trial on September 1, 2012
AFP
Lawmaker Tawfik Okasha comes under heavy criticism for meeting with ambassador Haim Koren
An Egyptian parliament member who met with the country's Israeli ambassador was hit with a shoe on Sunday during a stormy parliament meeting to discuss his conduct, Egyptian media reported. 
Lawmaker Tawfik Okasha came under heavy criticism in Egypt when he invited Ambassador Haim Koren to his house for dinner. The two met last week to discuss politics, trade and agricultural cooperation between the countries, according to Israel's Army Radio. 
While Egypt and Israel signed a peace treaty in 1979, signs of normalization between the countries can cause outrage among officials. 
Egyptian newspaper Al-Shorouk reported that lawmaker Kamal Ahmad attacked Okasha with a shoe to his head during a special discussion about the meeting with the Israeli envoy. 
In the Middle East it is traditionally considered highly insulting to hit someone with the bottom of a shoe, which is considered dirty.
Okasha was told that he would have to appear before an internal investigation committee after over 100 members of parliament demanded that he be stripped of his parliamentary rights. 
The meeting between Okasha and ambassador Koren took place last Wednesday, Israeli news website Ynet reported. 
Egyptian legislators were outraged by the meeting, with one calling it "political prostitution" and another calling Okasha's actions "unforgivable treason" and a "shame," according to al-Ahram.
Despite the storm around the dinner, Koren told Army Radio that he welcomed the invitiation. "We gladly welcome any meeting with Egyptian officials who want dialogue with us on issues of culture, communications, economics, society and politics," Koren told the radio station.
Reports of the meeting came as Israeli President Reuven Rivlin received the credentials of the new Egyptian Ambassador to Israel, Hazem Khairat, in Jerusalem.
Khairat will be the first resident Egyptian ambassador in Israel since former Egyptian President Mohammed Morsi recalled Egypt's envoy to Israel in November 2012 to protest against a series of Israeli air raids on the Gaza Strip that killed top Hamas militant Ahmed Jaabari.
Jaabari was killed at the start of an eight-day Israeli operation dubbed Pillar of Defense in which 177 Palestinians and six Israelis were killed. The violence ended after Egypt brokered a truce.
Ties between the two neighbors soured after Morsi's June 2012 election as president following the ouster of his predecessor Hosni Mubarak in the 2011 uprising.
Morsi was ousted by then army chief Sisi in July 2013.
Later that year, the Israeli foreign ministry named Middle East specialist Haim Koren as the Jewish state's next ambassador to Egypt.
In September Israel reopened its embassy in Cairo, five years after Israeli diplomats were forced to leave when protesters stormed the building.
Egypt was the first Arab country to sign a peace treaty with Israel in 1979. Jordan followed suit in 1994.
Read More:
Israel's Rivlin receives credentials of new Egyptian ambassador
Sisi's Egypt-Israel peace comments were mistranslated: Egyptian official