Egypt uncovers massive smuggling tunnel on Sinai-Gaza border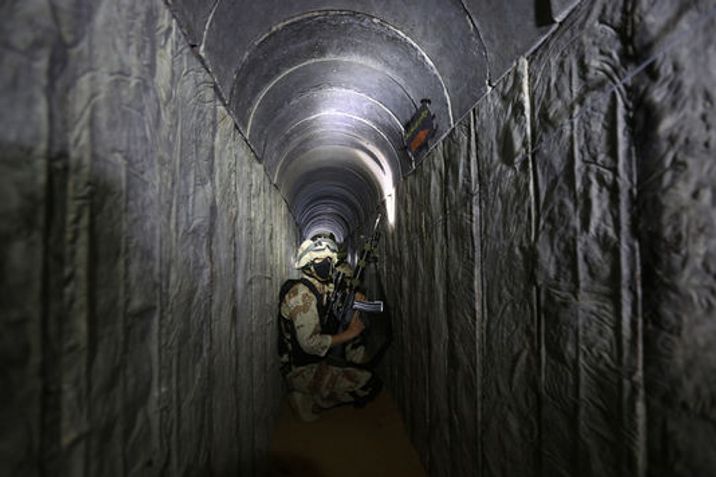 Des terroristes d'Al-Qods, la branche armée du Djihad islamique, dans un tunnel au sud de Gaza
AFP
Truck-sized tunnels reach up to three kilometers, reportedly used to smuggle weapons used by IS, Islamic Jihad
Egyptian military forces have discovered massive tunnels, reportedly large enough to drive a truck through, traversing the security zone along Egypt's Sinai-Gaza border, Egyptian security officials say.
The tunnels, some of which reportedly stretch for over three kilometers, are allegedly being used by Hamas to smuggle weapons into Sinai where they are being used by Islamic State and Islamic Jihad extremists, Israel's Ynet news agency reports.
Egyptian authorities have noted that over the past several months its security forces have discovered weapons entering Sinai bearing markings of manufacturing by Hamas's military brigades.
The Egyptian government says that Hamas-made rockets are being fired by IS at Egyptian military bases in Sinai.
Solar water heaters filled with explosive materials are being used as improvised explosive devices by IS against the Egyptian military in Sinai. The IED's are powerful enough to disable a tank, and have been used against Israel in the past, Ynet reports.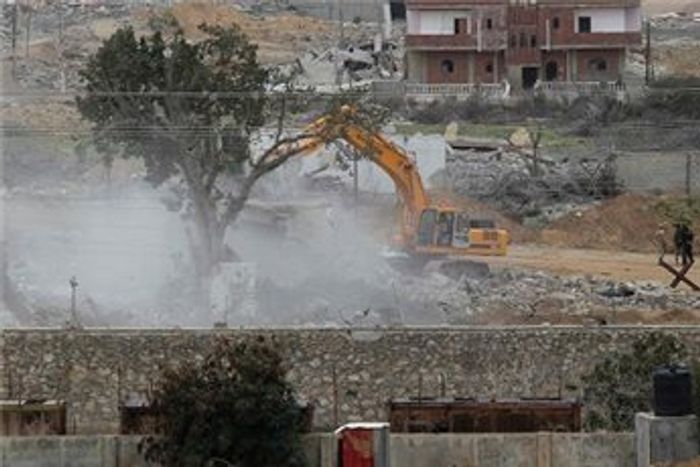 The mass export of weapons from Gaza indicates a new level of industrialization of weapons manufacturing in the Strip, according to Ynet.
Egypt's alarming discovery has sparked concern over the possibility of tunnels of this unprecedented size extending into Israel, but Israeli security officials say they are not aware that such tunnels exist.
Hamas has made no secret that it has renewed its tunnel digging along the Gaza-Israel border. A series of recent tunnel collapses in Gaza have killed dozens of Palestinians, primarily Hamas militants.
Israel is said to be developing an advanced new technology to detect and destroy underground tunnels based on seismic sensors that can monitor underground vibrations.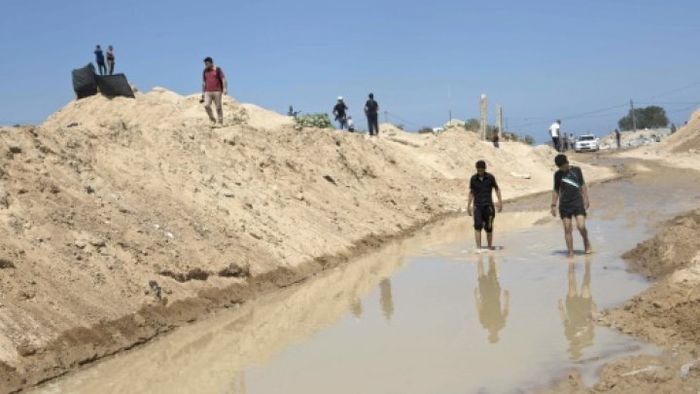 Egypt, too, has cracked down on tunnels between Gaza and Sinai in recent months, clearing the security zone -- which ranges from a half kilometer to a kilometer in length on the Egyptian side -- of inhabitants and buildings, as well as flooding the area, reportedly at Israel's request.
Relations between Hamas and the Egyptian authorities have significantly deteriorated since Egyptian President Abdel Fattah al-Sisi came to power in June 2014.
Most recently, Egypt has accused Hamas of playing a major role in the assassination of Public Prosecutor Hisham Barakat last year.
On Thursday, media outlets in Gaza reported that a Hamas delegation will be visiting Cairo soon to hold talks with Egyptian intelligence officials.
(Staff with agencies)