Palestinian teachers end month-long strike following assurances by Abbas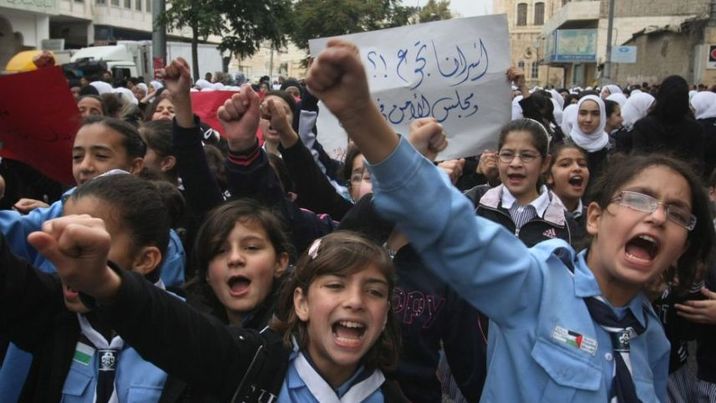 Palestinian school children demonstrating in Ramallah, 2011.
AFP
Palestinian leader pledges 10 percent pay rise, implementation of 2013 work agreement.
Palestinian school teachers on Saturday agreed to end a month-long strike following a pledge by President Mahmoud Abbas to improve working conditions, despite only part of their demands having been met.
More than 25,000 teachers in the West Bank have been on strike over pay and benefits since Feb. 10, causing chaos for schools, pupils and parents, and prompting the Palestinian Authority to deploy police on the streets of Ramallah.
"With pain squeezing our hearts, we can only thank President Mahmoud Abbas ... he came up with some new offers, even though they have not fulfilled all our needs and demands," the teachers' union said in a statement.
In a previously unscheduled television address, Abbas, flanked by Prime Minister Rami Hamdallah, promised a 10 percent pay raise, a management review and the implementation of a 2013 work agreement.
The average monthly salary for a teacher is $600. A school head with a master's degree and 25 years of service can earn $700.
The PA has been pleading with teachers to return to class, warning that pupils otherwise risk a "lost year."
Most of the promises given by Abbas on Saturday are only to take effect from September 2017 but he asked them to go back to work this Sunday, the first day of the Palestinian working week.
The PA, which spends nearly half of its budget on wages for its 180,000 civil servants, has been in chronic economic crisis for years.
The monthly wage bill of nearly $150 million is 16% of gross domestic product, one of the highest in the world.
The PA was supposed to have been an interim body and be replaced in 1999 by a sovereign state of Palestine but a peace treaty with Israel has proved elusive and foreign aid to the administration has halved over the past five years.
Of the 45,000 teachers in Palestinian schools, nearly 36,000 are in the West Bank.
In the Hamas-ruled Gaza Strip, where close to 75% of residents are refugees, the United Nations runs most schools.
(staff with AFP)