Radical Kurdish group close to PKK claims deadly Ankara attack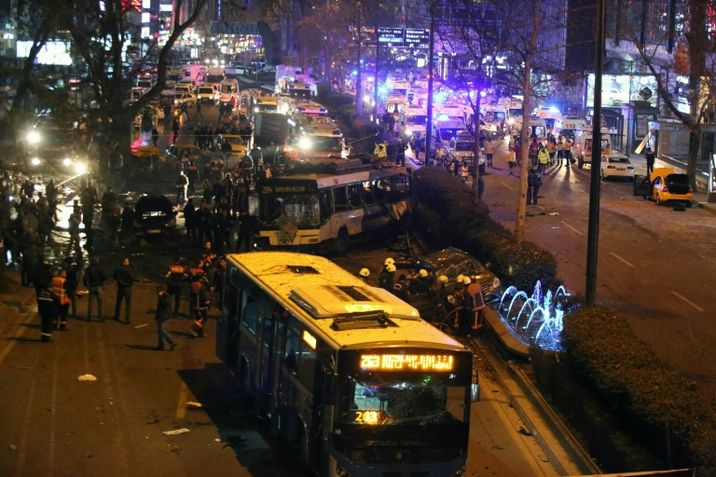 Police, firefighters and emergency services work at the site of a blast in Ankara on March 13, 2016
Adem Altan (AFP)
TAK says attack was response to operations by Turkish forces in Kurdish-dominated southeast
A radical Kurdish group with ties to the outlawed Kurdistan Workers' Party (PKK) on Thursday claimed the deadly suicide car bomb attack that killed 35 people in Ankara last weekend.
"On the evening of March 13, a suicide attack was carried out... in the streets of the capital of the fascist Turkish republic. We claim this attack," the Kurdistan Freedom Falcons (TAK) said in a statement on their website.
The group said it was a response to security operations carried out by Turkish forces in the Kurdish-dominated southeast of the country.
Meanwhile, German diplomatic missions and a school in Turkey were closed on Thursday for security reasons, the German consulate in Istanbul said, less than a week after a suicide car bomb attack in the capital.
The measure concerns the German embassy in Ankara as well as the consulate and German school in Istanbul, it said on its website.
Last January, 12 German tourists were killed in a suicide attack blamed on the Islamic State group in the heart of Istanbul's tourist district.
Sunday's attack came three weeks after a similar car bombing in Ankara killed 29 people, also claimed by TAK.
In the immediate aftermath of the latest bombing, the Turkish authorities pointed the finger at the PKK, against which Ankara has waged a relentless assault since late last year.
The government said one of the bombers was a woman in her mid-20s affiliated with the PKK and trained in Syria by the People's Protection Units (YPG), a Kurdish militia group the Turkish military shelled for several days in February.
The PKK launched a bloody insurgency against the Turkish state in 1984 for greater autonomy for Kurds, a conflict that has claimed some 40,000 lives and flared up again last year after a two-year ceasefire collapsed.
Authorities detained 11 people over the attack, Prime Minister Ahmet Davutoglu said, while Turkish jets bombed PKK targets in northern Iraq just hours after the blast.
Turkey has suffered five major bombings since July last year, killing more than 200 people, including two in Ankara in less than a month.
AFP
Read More:
Syria Kurds expected to declare federal system in move likely to anger Turkey