Syria army recaptures Palmyra citadel from IS: state TV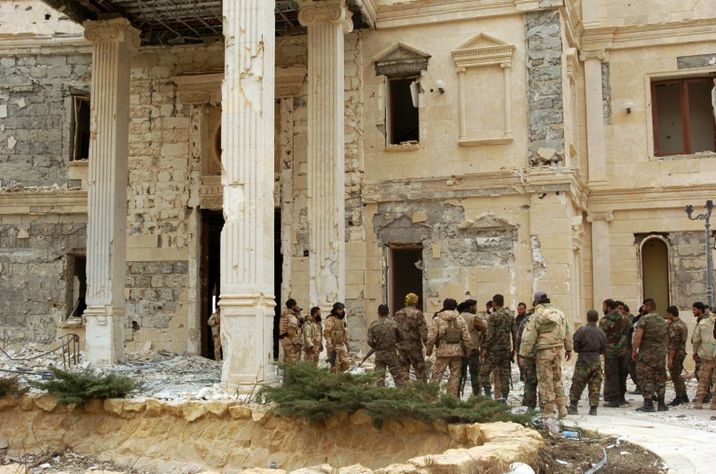 Syrian troops stand next to a mansion in the ancient city of Palmyra on March 24, 2016
AFP
Militant group demolished large number of protected ancient sites after capturing city last May
The Syrian army recaptured on Friday the citadel of Palmyra from the Islamic State group, nearly a year after the jihadists overran the ancient city, state television said citing a military source.
"Our armed forces, in coordination with the popular defense forces, have taken control of the ancient Palmyra citadel after inflicting many losses in the ranks of the terrorist group Daesh," the report said, using another name for IS.
Syrian state television announced on Thursday that troops had reached the "heart" of the city.
The militant group had earlier on Thursday called on the 15,000 or so civilians still living in Palmyra to leave as troops closed in. "IS called on loudspeakers on civilians still in Palmyra to leave as fighting reached the outskirts of the city," the Syrian Observatory for Human Rights said.
Government troops and allied militia were advancing slowly, as IS has planted explosives in the fields surrounding the city, Abdel Rahman said.
Fighting raged early Thursday on the edge of the Hayy al-Gharf neighborhood in the southwest of the city.
The government forces were backed by strikes against IS positions by both Syrian and Russian warplanes.
Soon after IS's capture of Palmyra in May, Syrian state television said the group had killed at least 400 people in the city, most of them women and children
IS's war crimes in Palmyra include the total destruction of many historically significant ancient sites.
Last August, IS published images appearing to show the destruction of the Baal Shamin temple in Palmyra.
That same month, the group beheaded the 82-year-old former antiquities director for the ancient city of Palmyra. Photos purporting to show Khaled al-Assaad's body tied to a post in Palmyra were circulated online by IS supporters.
In October, IS executed three people in Palmyra by binding them to three historic columns and blowing them up.