Pakistani Taliban claims Lahore attack that killed 72, says targeted Christians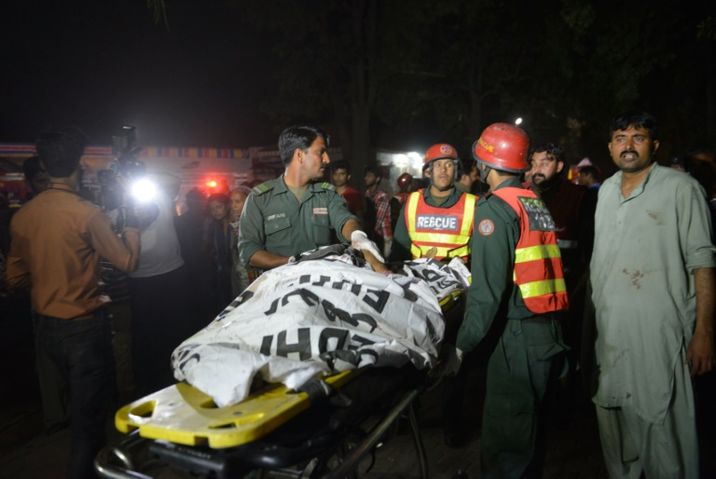 Des secouristes après une explosion à Lahore (est du Pakistan), le 27 mars 2016
ARIF ALI (AFP)
Many of the dead women and children; another 200 injured, many in critical condition
The Pakistani Taliban has claimed responsibility for a suicide attack that killed 72 people at a popular park in Lahore on Easter Sunday, saying it had targeted Christians.
"We carried out the Lahore attack as Christians are our target," Ehsanullah Ehsan, spokesman for Taliban faction Jamaat-ul-Ahrar, told AFP by telephone on Monday, adding that the group would carry out more attacks in the future, including on schools and colleges.
Officials said the bomber had detonated the explosives packed with ball bearings near a children's playing area in the popular Gulshan-i-Iqbal park.
A spokesperson for the Pakistani Taliban had earlier been quoted by NBC News, saying: "We proudly take responsibility for the suicide attack in a park in Lahore. Members of the Christian community who were celebrating Easter today were our prime target.
"We didn't want to kill women and children. Our target were male members of the Christian community," the spokesperson added.
Dozens of ambulances were seen racing to the Gulshan-i-Iqbal park, situated near the center of the city of around eight million, with many women and children among the dead and wounded.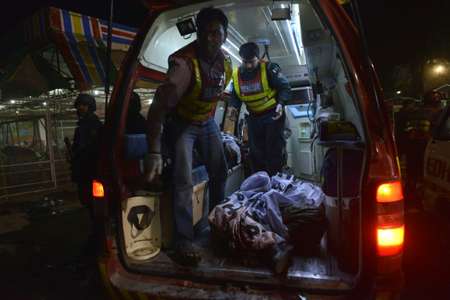 The army had been called in, he said, and soldiers were at the scene helping with rescue operations and security.
Senior police official Haider Ashraf said the blast appeared to be a suicide attack, adding that ball bearings were found at the park.
A medical superintendent at Jinnah Hospital, who gave his name only as Dr. Ashraf, told AFP the number of injured stands at more than 200 people, most of them are in critical.
"I fear the death toll will rise," he added.
He described a nightmarish scene at the hospital, with staff treating casualties on floors and in corridors.
Provincial health advisor Khawaja Salman Rafique told AFP meanwhile that authorities were asking citizens to donate blood.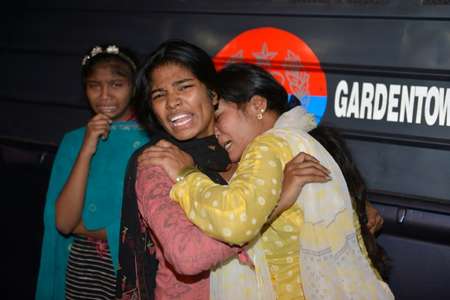 - 'Human flesh' -
Witnesses said they could hear children screaming as people carried the injured in their arms, while frantic relatives searched for loved ones in nightmarish scenes at the park near the centre of the city of eight million.
Javed Ali, a 35-year-old resident who lives opposite park, said the force of the blast had shattered his home's windows.
"Everything was shaking, there were cries and dust everywhere.
"After ten minutes I went outside. There was human flesh on the walls of our house. People were crying, I could hear ambulances."
He added: "It was overcrowded because of Easter, there were a lot of Christians there. It was so crowded I told my family not to go."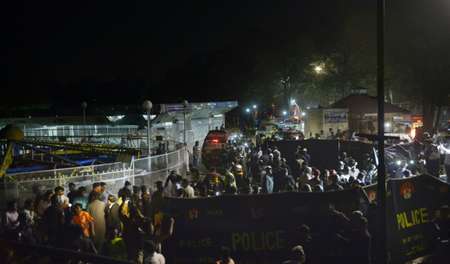 - 'Cowardly, appalling' -
Sunday's blast was condemned by Prime Minister Nawaz Sharif, who "expressed grief and sorrow over the sad demise of innocent lives," according to a statement by his office.
He was later phoned by his Indian counterpart Narendra Modi who said "the people of India stand with their Pakistani brethren in this hour of grief", according to state media.
The United States meanwhile labelled the incident "cowardly" and "appalling", while Pakistan's Nobel Peace Prize winner Malala Yousafzai tweeted: "Pakistan and the world must unite. Every life is precious and must be respected and protected."
A military spokesman described the blast as a "suicide attack", adding that intelligence agencies were chasing all leads. Lahore officials said the army had been called to the scene of the attack.
On social media Pakistanis were re-tweeting the call for blood donations, while Facebook activated its "Safety Check" for Lahore.
The government of Punjab province declared three days mourning.
Christians are a minority in the Muslim giant of around 200 million people, making up an estimated 1.6 percent of the population, and have long faced discrimination.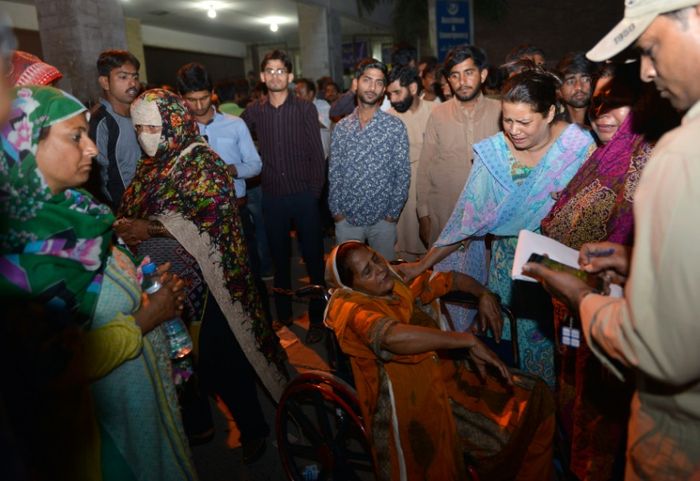 - Chaos in capital -
Sunday's blast came as the army was also deployed on the streets of the capital Islamabad after thousands of protesters clashed with police in chaotic scenes, throwing stones and setting a container on fire.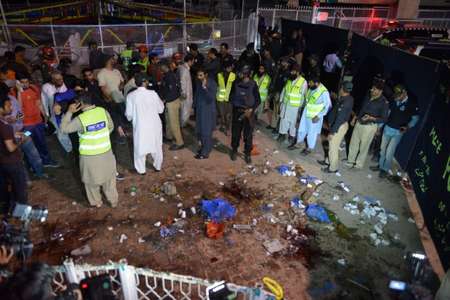 The demonstrators were supporters of Islamist assassin Mumtaz Qadri, who was hanged on February 29 for killing a Punjab governor over his call for blasphemy reform.
Analysts called the execution a "key moment" in Pakistan's long battle against religious extremism.
But it has also exposed deep religious divisions in the conservative Muslim country of 200 million.
Earlier Sunday an estimated 25,000 supporters of the former police bodyguard gathered in Islamabad's twin city Rawalpindi to offer prayers.
They then turned toward the heavily-barricaded capital, which was patrolled by hundreds of police and paramilitary soldiers.
Riot police carrying batons and shields fired tear gas to try to prevent them pushing closer to the city centre. Some protesters set fire to a container while chanting slogans.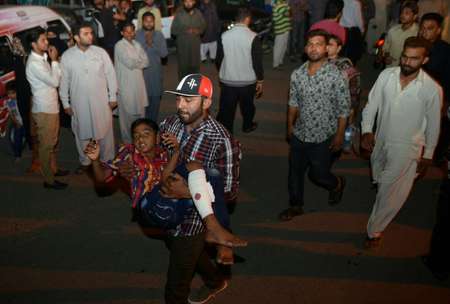 A military spokesman said late Sunday evening that the army had been deployed to secure the Red Zone around Parliament.
Nationwide, overall levels of militant violence have fallen since the army began a major offensive against Taliban and al-Qaida strongholds in the country's northwest border areas in 2014.
Last year saw the lowest number of civilian and security forces casualties since 2007, the year the umbrella Pakistani Taliban group was formed.
But militants are still able to carry out major attacks from time to time.
At least 16 people were killed and more than two dozen wounded when a bomb blew up inside a bus in Peshawar, the main city of Pakistan's insurgency-wracked northwest on March 16.
And Sunday's blast in Lahore saw the highest number of casualties since a suicide bomber blew himself up, killing 55 people at the main Pakistan-India border crossing at Wagah in an attack claimed by the Jamat-ul-Ahrar faction of the Taliban.