Hamas says it is holding four Israeli 'prisoners of war'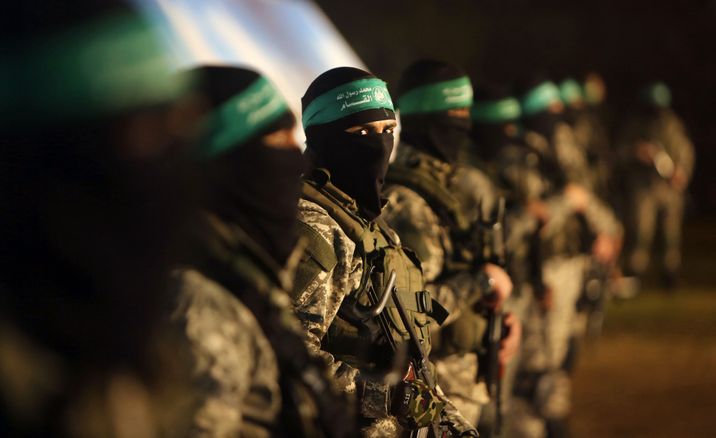 Membres des brigades Ezzedine al-Qassam du mouvement terroriste palestinien Hamas
AFP
Islamic group calls Netanyahu a 'lair' says he is deceiving the families of those Israelis missing in Gaza
The armed wing of the Palestinian Islamist movement Hamas Friday said it would not provide information on Israeli soldiers held by the militant group unless Israel was willing to "pay a price."
The movement in January had raised the prospect of exchanging an Israeli soldier declared dead in Gaza's 2014 war in return for Palestinian prisoners.
"We guarantee that there is currently no exchange or discussions concerning prisoners," Abu Obeida, spokesman for the Ezzedine al-Qassam Brigades said in a televised address Friday.
Abu Obeida said that Israeli Prime Minister Binyamin Netanyahu was a "liar", and declared that the "occupation" would have to pay a price for the return of soldiers Hadar Goldin and Oron Shaul and civilians Avraham Mengistu and a Bedouin whose name has not been made public.
In a televised statement, Abu Obeida said that Israel would have to make concessions if it wanted Hamas to provide information about the conditions of the "four prisoners of war."
Israeli soldiers, dead or alive, have in the past proved valuable bargaining chips for Hamas, which has controlled the Gaza Strip since 2007.
The bodies of two soldiers killed in the 2014 Gaza war, Oron Shaul and Hadar Goldin, are believed to be held by Hamas, which has not clarified their fate.
Avraham Mengistu, of Ethiopian descent, has been presumed held captive, since crossing into the Hamas-ruled Gaza Strip in September 2014.
Mengistu belongs to Israel's 135,000-strong ethnic Ethiopian community which says it suffers from racism and discrimination.
Information about the fourth missing Israeli - an Israeli Arab of Bedouin origin - was still under a gag order.
Staff with agencies
You need to be logged in in order to post comments. Sign up or log in
Don´t these Hamas terrorist realize, the civilized world is starting to value them second best to DAESH, because of their complete inhumanity?