New 7,000-strong undercover morality police squad deployed in Tehran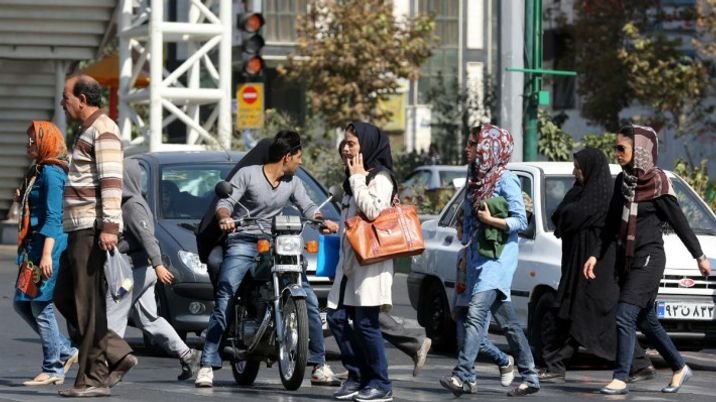 Young people crossing the street in Tehran
Atta Kenare/AFP
Iranians have a new app, Gershad, with which to try and evade the authorities
Police in Iran's capital have a new unit of 7,000 undercover agents whose job is to inform police of alleged moral transgressors in the Islamic republic, a top official said Monday.
Bad veiling — covering the head is mandatory for women in Iran — and anti-social behavior is among the crimes the force has been tasked with tackling.
The men and women's "undercover patrols will confront implicit transgressions in the city," according to General Hossein Sajedinia, Tehran's police chief.
"Confronting bad hijab and removal of veils inside cars, driving recklessly, parading in the streets, harassing women and stopping noise pollution are the priorities" for the agents, he said.
Necklaces for men and walking dogs are also on the authorities' list of no-nos, according to the Guardian.
Sajedinia's remarks were published by Mizan Online, the official news service for Iran's judiciary, along with pictures of himself and a large formation of plain-clothed agents in Tehran.
Iranians reacted angrily to the announcement of the new unit, the BBC reports, with social media users blasting the "tragic waste of human resources."
Saying that the unit is "meant to frighten people," web surfers also worried that "anyone will be able to claim to be a member of the morality police…to start disturbing women and children."
Nonetheless, Iranians have a new app with which to try and evade the authorities. Gershad, recently launched for Android smartphones, allows users to dodge morality police vans by checking their location via details collected by other users, the Guardian reports.
When in public, all women in the Islamic republic, including foreigners, are required to wear at least a loose scarf, known as hijab, which covers the hair and neck.
Since the mid-1990s, however, there has been a gradual change in the dress code with some women, particularly in more affluent northern neighborhoods, wearing colorful tight-fitting coats and loose scarves.
If the agents observe such violations they report the alleged offender to police who will then be contacted and later summoned, Sajedinia said.
The agents, bearing judicial orders, are not allowed to engage people directly and will only report to the police.