Palestinians forced to pay $3,000 bribes to cross into Egypt: report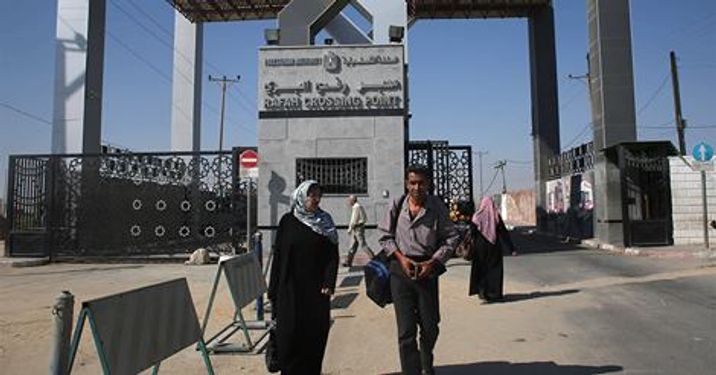 Terminal de Rafah entre le Sinaï égyptien et la bande de Gaza
Facebook
Egypt last week opened its border with Gaza for a brief 48-hour window after an 85-day closure.
Palestinians seeking to pass through the Rafah border crossing from the Gaza Strip into Egypt last week were forced to pay up to $3,000 bribes to make it onto the priority list to cross during the 48 hour window that the border was open.
Mustafa al-Sawaf, a Gaza based journalist close to Hamas, said that some Palestinians who wished to cross had to pay up to $3,000 in bribes to be allowed to cross, and those who couldn't pay were turned back, journalist Khaled Abu Tomeh reported.
Last Wednesday, Egypt opened its border with Gaza for 48 hours after 85 days of closure meant to prevent smuggling and the movement of Islamists in the Sinai Peninsula.
More than 25,000 Palestinians with "urgent needs" registered and waited to cross, the Palestinian Ma'an news agency said, quoting authorities in Gaza. Some 3,500 of these people were said to be seeking medical treatment.
The huge volume of people who wanted to cross into Egypt could not be processed accordingly and Gaza's Ministry of Interior then had to evaluate which people had the most urgent need to cross, said Ma'an.
The United Nations has registered 30,000 Palestinians as "humanitarian cases" seeking to leave Gaza.
The Arabic language PLS48.net website said that on Thursday Egypt began pressuring Gazan authorities to only send through people who had paid bribes, according to the Middle East Monitor (MEMO).
Gazan authorities reportedly refused and Egypt closed the border for seven hours until they gave in, said MEMO.
Al-Sawaf said that not only were people forced to pay bribes, but the amount differed between the authorities. Officials with Egypt's General Intelligence Directorate (GID) asked for people to pay $1,500 in order to cross. Officials with the Military intelligence, however, asked for $3,000 per person and sent those who could not pay back to Gaza. One family of three payed $9,000 to cross, said al-Sawaf.
As far back as 2009, the Associated Press (AP) has reported on Gazans attempting to bribe their way out of the Strip, usually paying middle-men to forge medical reports in order to nab a spot on a list of patients with life-threatening illnesses permitted exit.
According to AP, Rafah residents familiar with the system of bribery, known as 'Egyptian coordination', say payments can rage from $400 up to $5,000.
Depending on the sum and middleman, these residents say, bribe paying Gazans may sometimes be stamped through the crossing immediately, even when it is not officially open.
Former director of the Rafah border crossings authority, Maher Abu Sabha, responded to recent reports in a post on his personal Facebook account, admitting that such bribery has been common for several years and that he had been unable to fight it during his term as director.
Sabha called those who engaged in such illegal dealings "greedy blood traders gambling with the fate of the people [of Gaza]."
He claimed to have a list of names of persons involved, saying they included officials of various offices. Sabha called on the Attorney General to intervene and hold those responsible accountable for their actions, threatening to publish the list of names.
Egypt's government headed by President Abdel Fattah el-Sisi has for the most part kept the Rafah crossing shut since 2013, when the Muslim Brotherhood's Mohammed Morsi was ousted as the nation's leader.
Hamas, the hard-line Islamist group that rules Gaza, has denied Egyptian claims that it assists Islamist insurgents in the Sinai, who frequently target Egyptian security personnel and tourist targets.
The crossing was most recently opened in February, when nearly 2,500 left Gaza during a three-day opening for humanitarian reasons.
In 2012, nearly 35,000 travelers used the Rafah crossing each month, according to the UN. In 2015, the monthly average fell to less than 2,400.
The Hamas interior ministry said 2015 was "the worst year for Rafah in recent years" with the border crossing open for just 21 days in total.
You need to be logged in in order to post comments. Sign up or log in
Hahahahhahaha rock on, Egypt!