Iran resumes funding for Palestinian Islamic Jihad: report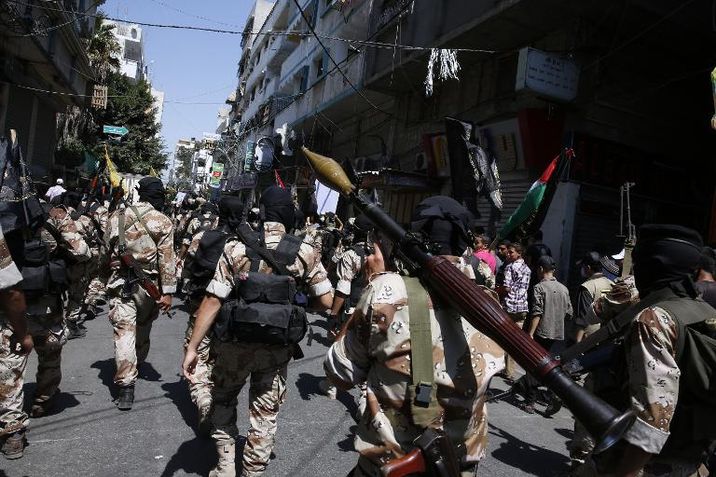 Palestinian Islamic Jihad militants parade down a street in downtown Gaza City on August 29, 2014
Roberto Schmidt (AFP)
Islamic Republic said to allocate $70m a year for the militant group after two-year hiatus
Iran recently decided to resume regular financial assistance to the Palestinian militant organization known as Islamic Jihad, Arabic-language newspaper Asharq al-Aswat reported on Wednesday.
The decision to transfer an annual sum of $70 million out of the Revolutionary Guards budget reportedly followed a visit by an Islamic Jihad delegation in Tehran last month – the first such visit in two years.
The talks resulted in an agreement to renew operations by Islamic Jihad's military wing, the Quds Brigades. Qassem Soleimani, commander of the Revolutionary Guards' elite Quds Force, reportedly decided to appoint Khaled Mansour, considered loyal to Iran, as commander of the Quds Brigades in the Gaza Strip.
Iran's funding resumed in March, Asharq al-Aswat reported, and Islamic Jihad has thus been able to pay two months' worth of salaries to members after months of financial straits.
Reports in January said that Iran had ended its funding of Islamic Jihad, according to Israeli news site Walla News.
Despite being a Sunni organization, Islamic Jihad has remained on the side of the Iranian-led Shi'ite axis in the regional power struggle with Saudi-backed elements, and members have fought alongside Syrian President Bashar al-Assad's regime in that country's civil war.
Islamic Jihad Secretary General Ramadan Shalah said recently in a public statement that no Arab countries has supposed "the popular uprising in Palestine", and that only Iran "helps the martyrs' families."