Iran begins construction on two new nuclear power plants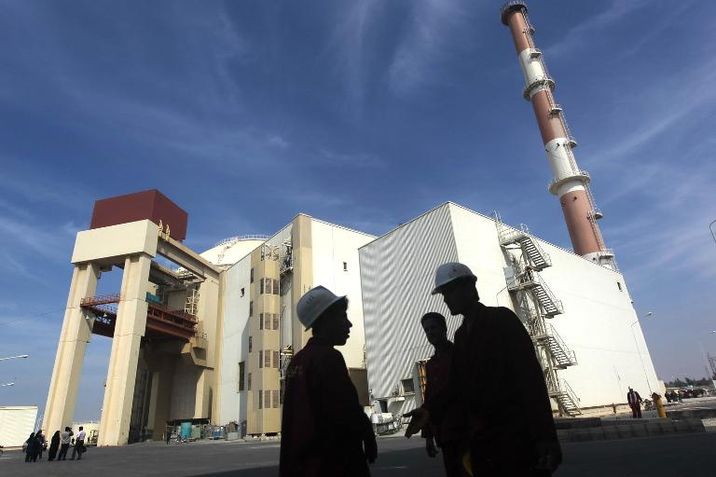 The reactor building at the Russian-built Bushehr nuclear power plant in southern Iran
Majid Asgaripour (Mehr News/AFP)
Two new plants are expected to cost some $10 billion to build, and create 1,057 megawatts of electricity
Iran has begun construction on the Islamic Republic's second nuclear power plant, state TV said on Saturday.
The existing plant became operational in 2011. Iran aims to launch the second in 2024 and a third in April 2026, with Russian help.
The two new plants are expected to cost some $10 billion to build, and create 1,057 megawatts of electricity, said the Associated Press news agency.
The current operational plant produces about 1,000 megawatts of electricity.
"When these two units become operational, 11 million barrels of oil will be saved per year and emission of 7 million tons of greenhouse gas will be avoided," project manager Mahmoud Jafari said. 
Some 8,000 workers are involved in the project, which is being led by Russia's Rosatom with Iran's Nuclear Power Production and Development Company.
"The construction of the first reactor proved that Russia always fulfils its obligations towards foreign partners, regardless of the changes in the world's political climate," Rosatom chief Sergei Kirienko said as the foundation stone was laid in Bushehr.
He said the new reactors marked "a serious step towards strengthening Russia's position in the international peaceful nuclear technology market," in comments reported by Russia's RIA Novosti news agency.
A third of the equipment will be locally sourced, Iran's state broadcaster reported. 
The Islamic republic is seeking to reduce its reliance on oil and gas with 20 nuclear facilities planned over the coming years, including nine being built with Russian firms.
In November 2014, Russia signed a "cooperation contract" to help build the two new reactors at Bushehr, along with plans to eventually construct nine more reactors across Iran.
Two of those may be built at Bushehr, which would take the total to five.
Under a historic July 2015 accord, Iran dismantled most of its estimated 19,000 centrifuges -- giant spinning machines that enrich uranium, keeping only 5,000 active for research purposes, in return for lifting sanctions.
An IAEA report in February said that Iran's stockpile of low-enriched uranium, material which can be used to fuel a nuclear power plant, has not risen above agreed level.
Throughout the 12-year standoff that preceded the deal, Iran always denied wanting nuclear weapons, saying its activities are exclusively for peaceful purposes such as power generation.
(Staff with agencies)