Russia confirms deployment of S-300 air defense missile systems to Syria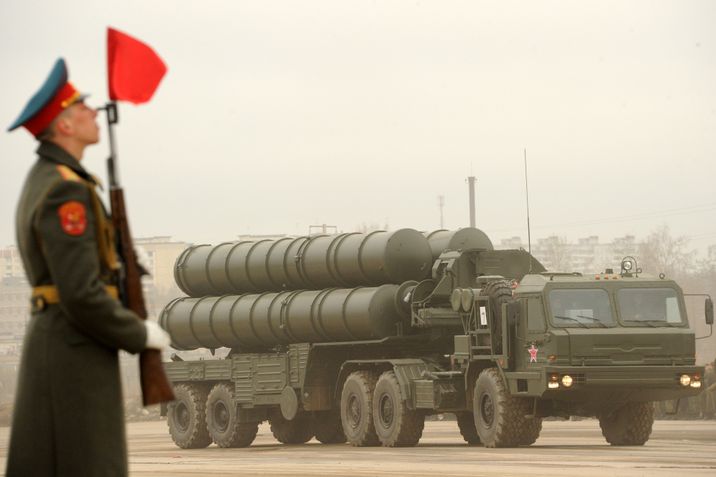 A Russian S-300 PMU2 Favorit surface-to-air missile system in Alabino, outside Moscow, last year.
AFP
US officials say system could potentially intercept American cruise missiles
The Russian Defense Ministry on Tuesday confirmed that it has deployed a sophisticated anti-missile system to its naval facility in the Syrian city of Tartus, after reports began circulating in international media.
"The S-300 anti-aircraft missile system has indeed been sent to the Syrian Arab Republic," defense ministry spokesman Igor Konashenkov said in a statement.
"I remind you that the S-300 is a purely defensive system and poses no threat to anyone."
"It's not clear why the placement of S-300 in Syria has caused such a stir among our western colleagues," he said.
Fox News reported earlier in the day that it is the first time that Russia has deployed the missile system in Syria, citing three US officials.
The news came a day after the United States announced that it had suspended all military contacts with Russia over obtaining a ceasefire in Syria – and the report noted that the system could possibly intercept American cruise missiles.
The SA-23 Gladiator system is a variant of Russia's S-300 interceptor and has a range of up to 150 miles. Components have been delivered but the system is not yet operational in Syria, the report said.
Fox noted that the militant groups Jabhat al-Sham and Islamic State do not possess manned aircraft or cruise missiles, meaning Russia may be trying to deter a potential attack by the US or its allies.
Russia has already deployed its S-400 air defense system in Syria.
The United States on Monday suspended negotiations with Russia on efforts to revive a failed ceasefire in Syria and set up a joint military center to target jihadists.
"This is not a decision that was taken lightly," State Department spokesman John Kirby said, accusing Russia and its Syrian ally of stepping up attacks on civilian areas.
Last week, a monitoring group said around 3,800 civilians had been killed in one year of Russian air strikes in Syria in support of Assad.
They are among more than 9,300 people who have died in the raids since September 30, 2015, the Syrian Observatory for Human Rights said.
The toll includes more than 2,700 jihadists from the Islamic State group and around 2,800 fighters from various rebel factions, the British-based monitor said.
At least 20,000 civilians were wounded in the Russian raids, it said.
The Observatory -- which relies on a network of sources inside Syria for its information -- says it determines what planes carried out raids according to their type, location, flight patterns and the munitions involved.
Observatory director Rami Abdel Rahman said the death toll from Russia strikes could be even higher given the number of people killed by unidentified warplanes.
Read more: Putin suspends plutonium disposal deal with 'unfriendly' US
Hospitals under 'unprecedented' attack in war zones: MSF
Syria regime advances in Aleppo, MSF decries 'bloodbath'
3,800 civilians dead in year of Russian strikes in Syria: monitor