Red Cross braces for chemical weapons use in Mosul as Iraqi forces advance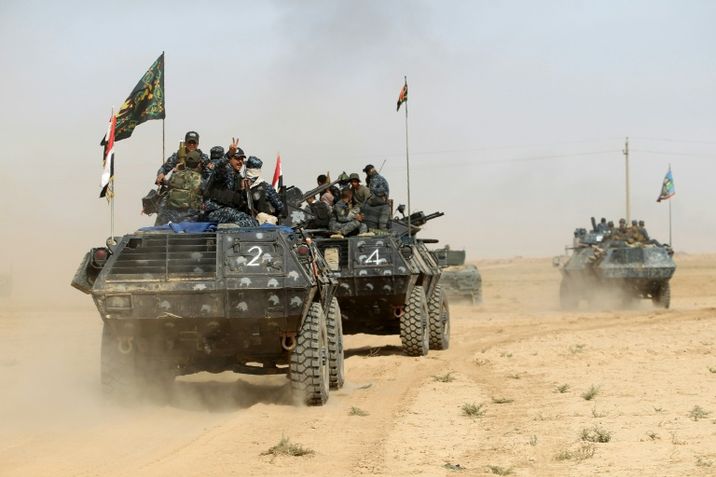 Iraqi forces deploy on October 17, 2016 in the area of al-Shura, some 45 kms south of Mosul
Ahmad al-Rubaye (AFP)
Iraqi forces backed by an international coalition are making gains in their advance on the city
International aid groups including the Red Cross said Tuesday they were preparing for the possible use of chemical weapons in the battle for the Iraq city of Mosul, as US President Barack Obama warned that the battle "will be a difficult fight" and city residents said the group was using human shields.
Iraqi forces backed by an international coalition are making gains in their advance on the city, the last major urban center in Iraq under the Islamic State (IS) group's control.
"I am confident that ISIL will be defeated in Mosul and that will be another step toward their ultimate destruction," Obama said on Tuesday. But he acknowledged that the assault on IS's final stronghold in Iraq would be anything but simple. "Mosul will be a difficult fight," he said. "There will be advances and there will be setbacks."
The Pentagon said that over 100 American troops are embedded with Iraqi forces as they advance.
There have been warnings the battle to take Mosul will be a long, bloody affair, with the jihadists expected to fight back with hit-and-run tactics, snipers, booby traps and and trenches.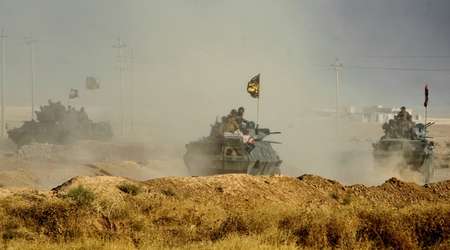 Robert Mardini of the International Committee of the Red Cross's (ICRC) Near and Middle East division warned: "We cannot exclude the use... of chemical weapons."
He told reporters the ICRC was preparing by training healthcare workers and providing equipment to health facilities around Mosul "that would be able to absorb the cases of people contaminated and offer decontamination."
"As we speak, we have a team in Iraq liaising with the health authorities and working hand-in-hand with health personnel in Iraq in order to develop this response capacity," he said.
Thomas Lothar Weiss, who heads the International Organization for Migration's Iraq mission, also voiced fears that chemical weapons might be used in Mosul, pointing to recent reports IS had used them nearby against Kurdish Peshmerga forces.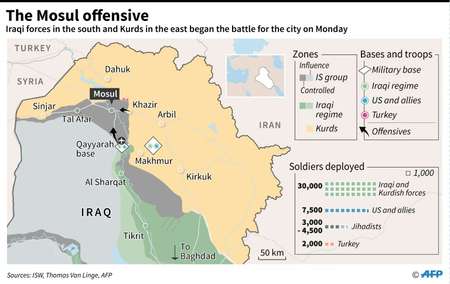 "We also fear, and there has been some evidence that ISIL might be using chemical weapons," he told the Geneva news conference, via phone link from Baghdad, using another acronym for IS.
He acknowledged that the organisation had "started to procure, within the limits of our very limited funding, ... gas masks."
The start of the assault on Monday has raised deep concerns for hundreds of thousands of civilians trapped in Iraq's second-largest city, with aid groups warning of a massive humanitarian crisis.
The UN fears that up to a million people could be forced from their homes by the fighting, with some 200,000 fleeing during the first weeks of the assault alone.
Dialogue with IS?
Jens Laerke, spokesman for the UN humanitarian agency, said they expected the exodus to begin "any minute now".
The UN, Red Cross and other aid organisations are racing against the clock to set up camps and get food, water and medical supplies ready for those who flee.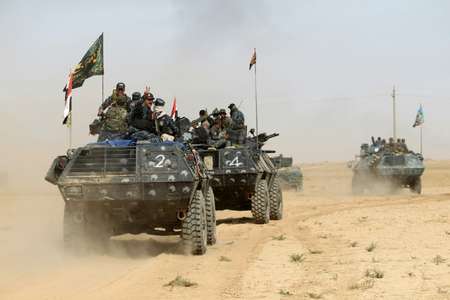 "There are real fears that the offensive to retake Mosul could produce a humanitarian catastrophe, resulting in one of the largest man-made displacement crises in recent years," warned William Spindler, spokesman for the UN refugee agency.
Mardini urged all sides to "preserve your humanity in the heat of battle" and protect the civilians trapped in the city.
He said the ICRC, which has some 900 staff in Iraq, wanted to maintain dialogue with all parties and to access all areas of detention to ensure prisoners were being treated properly.
He acknowledged that the organization had so far been unable to create such a relationship with IS jihadists, but said it was vital to do so.
"We will do everything we can to establish a dialogue with this group," he said.