i24news exclusive: Syria rebel group urges Israel to join regional security body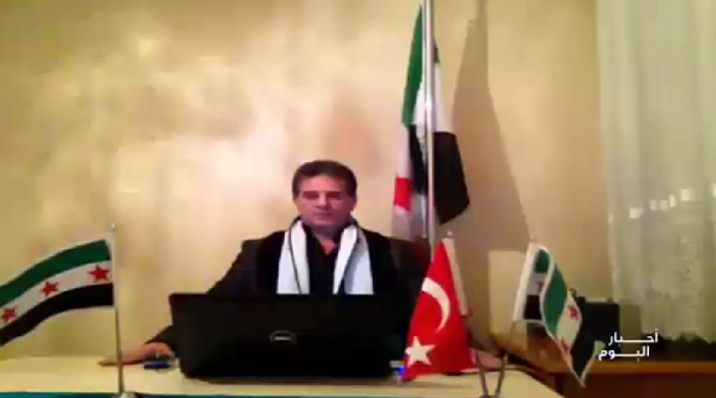 National Salvation Front in Syria
Screen capture
National Salvation Front in Syria calls on Israel to intervene against Assad
A Syrian opposition faction announced they are reaching out to Israel to ask for help overthrowing the Syrian President Bashar al-Assad.
The "National Salvation Front in Syria" group published a video calling for cooperation with Israel, appealing to Israelis to intervene on their behalf and aid them to dethrone Assad.
Fahed Al-Masri, the group's spokesperson, says in the video that "We call on all regional players, including Israel to form a UN-approved regional security council, a body where we would convene to coordinate the security of the region."
In an interview with i24news' Firas Hamed, Al-Masri said this video "has nothing to do with the reality of economy, or field developments in Aleppo or any other regions."
He added that the message sent today to the Israeli people "is not a message begging sympathy or help from Israel, but it is the reality, we want to show the facts as they are..."
Al-Masri considered it "his moral, national and humanitarian duty" to tell the truth and go to all regional and international parties appealing for their intervention "to put an end to the destruction."
"The goal is to uncover the political stance toward Israel and the region; we have said quite frankly that the new Syria will not be a hostile force toward any local, regional or international force."
Al-Masri also had a message for the Knesset and the Israeli government, asking them "to put pressure on the Israeli parties that protect Assad from falling. The Israeli parties needn't do more than lift the cover off him and this will be the biggest help, not only to the Syrian people, but for the entire Middle East!"
While the spokesperson did not cite names, the only political movement in Israel backing the embattled Syrian president is the predominantly Arab Hadash party, part of the United List faction.
"We published our message with courage and ask them lift the lid of some Israeli parties that protect Bashar al-Assad from being overthrown, and reach understanding through the Regional Council."
For Al-Masri, Assad's continuing rule represents an existential threat to the entire region.
He stressed that they published this video message throughout social media outlets, "the stage requires a new political discourse for the day after Bashar al-Assad."