Trump pressing ahead with Israel embassy move: report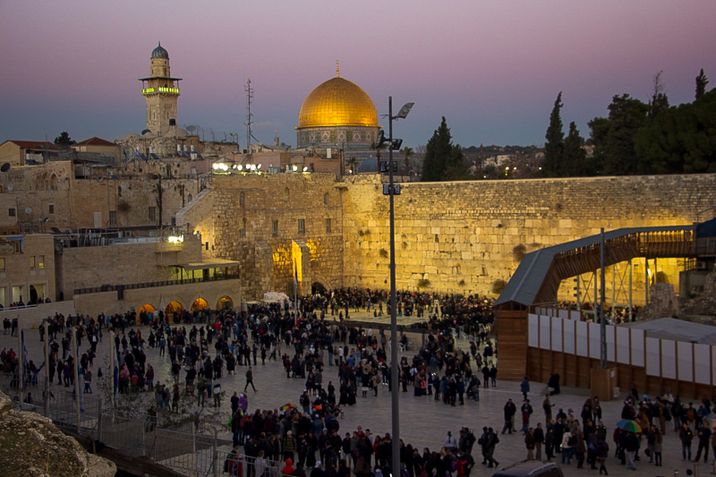 People arrive at the Western Wall for the menorah lighting ceremony on December26, 2016
Jessi Satin/ i24news
Israeli officials reportedly think the move could be formally announced as soon as May
US President-elect Donald Trump's staff has informed allies that it is pressing ahead with plans to move the US embassy in Israel to Jerusalem, CNN reported on Tuesday, despite Palestinian warnings that such a move would torpedo chances for peace.
According to the report, Israeli officials believe the Trump administration, which will take office on January 20, could formally announce such a move as soon as May 24 – the date on which Jerusalem Day, an Israeli national holiday, falls this year.
The holiday will come days before the expiration of the traditional waiver blocking the move signed by President Barack Obama. Obama's two predecessors, George W. Bush and Bill Clinton, also signed such waivers following the passage of the Jerusalem Embassy Act of 1995.
Also Tuesday, senior Palestinian official Mohammad Shtayyeh said the Palestinian leadership had been informed by diplomatic contacts that Trump could call for the embassy move in his inauguration speech on January 20.
The Palestinians regard east Jerusalem as the capital of their future state, while Israel proclaims the entire city as its undivided capital.
CNN's report comes a day after Palestinian Authority President Mahmoud Abbas sent a letter to Trump calling on him to refrain from the move.
According to Israel Radio, Abbas listed the dangers of such a move and warned the move would have a "disastrous impact on the peace process, on the two-state solution and on the stability and security of the entire region."
On Friday, US Secretary of State John Kerry warned that the move would lead to "an absolute explosion" in the Middle East.
"You'd have an explosion – an absolute explosion in the region, not just in the West Bank and perhaps even in Israel itself, but throughout the region," he warned. "The Arab world has enormous interest in the Haram al-Sharif, as it is called, the Temple Mount, the Dome [of the Rock], and it is a holy site for the Arab world."
And last week, Jordan's government spokesman warned that the relocation was a "red line," and would result in "catastrophic implications".
You need to be logged in in order to post comments. Sign up or log in
This is the day to celebrate. Commander and Chief Trump, we need a USA VETERAN SERVICES Clinic too. We need a signed Agreement between our two Country's. Possibly President Putin can also view to defend our two Country's from antagonists.