New plant opens in bid to head off Gaza water crisis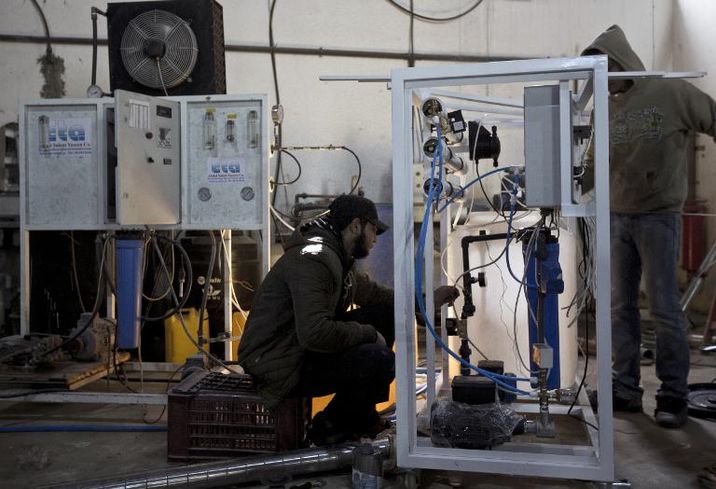 Palestinian labourers inspect a machine that makes seawater potable in Gaza city
Mahmud Hams (AFP/File)
Plant will eventually be able to provide 12,000 cubic meters of safe drinking water per day
The largest desalination plant in the Gaza Strip partially opened Thursday with international help as the impoverished and blockaded Palestinian enclave seeks to prevent a water crisis.
The first phase of the plant opened in Deir el-Balah in central Gaza and will provide around 75,000 people with safe water, Michael Kohler from the European Commission said.
The European Union has financed two phases of the project with two grants of 10 million euros ($10.6 million).
The second phase will eventually leave the plant able to provide 12,000 cubic meters of safe drinking water per day.
That will be able to help a total of 150,000 people, said Robert Piper, United Nations humanitarian coordinator for the Palestinian territories.
A 2012 UN report warned that over-extraction of groundwater from the Gaza Strip's sole aquifer could cause irreversible damage by 2020.
"Today, 96 percent of (Gaza's) water is unfit for human consumption," Piper said.
More than two million people live in Gaza, largely sealed off by a decade-long Israeli blockade and closed Egyptian border.
Israel argues the restrictions are necessary to keep its enemy Hamas, the Islamist movement which runs Gaza, from obtaining weapons or materials used to make them.
Palestinian militants in Gaza and Israel have fought three wars since 2008.
Kohler said the plant would help but wider changes were needed to find a lasting solution.
"Fundamental change to the political, economic and security situation in Gaza" requires the borders being open, he said.
UN officials have repeatedly called for the blockade to be lifted to allow for improved humanitarian conditions in the Gaza Strip.