Despite 'heavy price' of aiding Palestinians Iran will continue support: Rouhani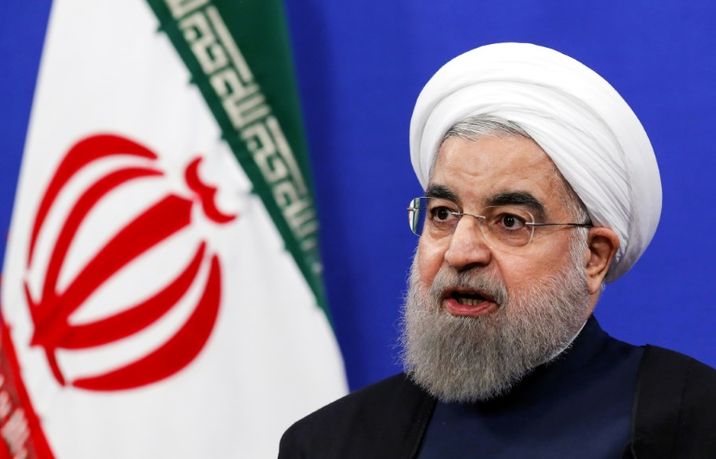 Iranian President Hassan Rouhani gives a press conference in Tehran on Jaunary 17, 2017
ATTA KENARE (AFP)
General described drills aimed at demonstrating 'power and enduring stability' as 'successful'
Despite "heavy price" paid in support of the Palestinians Iran will continue to support the Palestinian cause, Iranian President Hassan Rouhani told Palestinian National Council chairman Salim Zanoun Wednesday, the state-run FARS news agency reports.
"The Iranian nation has paid a heavy price for supporting the Palestinian nation and opposition to the Zionist regime's actions but it will continue its support with resolve and determination," Rouhani told Zanoun on side-lines of the sixth international conference in support of Palestinian intifada (uprising), one of a number of showcase events the Tehran authorities organize in solidarity with the Palestinians.
"We believe that the Muslim world should resist to restore the rights of the Palestinian nation and it should pay the needed price," Rouhani added.
Rouhani's remarks come a day after Iran's supreme leader Ayatollah Ali Khamenei called for the "complete liberation" of Palestine from the "tumor" of Israel, renewing his regime's refusal to recognize Israel's right to exist.
"This cancerous tumor, since its start, has grown incrementally and its treatment must be incremental too," Khamenei said in the speech broadcast live on state television.
Among the guests from the 80 countries taking part in the conference were the parliament speakers of Algeria, Mali, North Korea, Lebanon and Syria, and the leader of the hardline Palestinian Islamic Jihad movement, Ramadan Shalah.
Ever since the Islamic revolution of 1979, Iran has been implacable in its opposition to Israel and has provided extensive support to Palestinian militant groups.
It expressed strong backing for the two Palestinian intifadas of 1987-1993 and 2000-05.
Khamenei said the most important achievement of the Palestinian "resistance" movement had been "creating a fundamental obstacle against the Zionist project... by imposing a war of attrition on the enemy".
Also Wednesday, Brigadier-General Ali Akbar Pourjamshidian said that Israel is in no position to pose a threat to Iran, as the Islamic Republic concluded its latest series of military drills, according to Iran's Press TV.
"The message carried by these drills is preparedness and awareness. We are prepared to confront whatever threat posed to the Islamic Republic's establishment," Pourjamshidian said. "Of course, the Zionist regime [of Israel] is not of such proportions [to pose any such threats]."
The drills, dubbed the Payambar-e-A'azam (Great Prophet) 11 drills, ran from Monday until Wednesday, said Press TV, and included exercises with the Islamic Revolutionary Guard Corps' (IRGC) drone, artillery, air defense, and infantry units..
During Wednesday's Drills, the report said that the Corps' rocket fire units "launched state-of-the-art and precision-guided projectiles at designated targets."
The general described the drills aimed at demonstrating "power and enduring stability" as "successful."