Author of UN report on Israeli 'apartheid' to receive highest Palestinian honor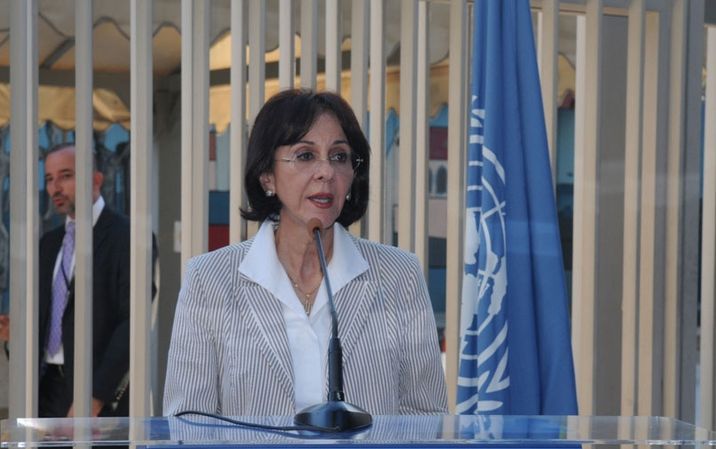 Rima Khalaf, Executive Secretary of the Economic and Social Commission for Western Asia.
UN-ESCWA
Rima Khalaf, who resigned after secretary general pulled report, to get medal for 'courage and support'
Palestinian Authority President Mahmoud Abbas has bestowed the highest Palestinian honor on a former United Nations official who resigned last week the international body's decision to pull a report by her agency accusing Israel of being an "apartheid regime",  the Associated Press (AP) reports, citing official Palestinian news agency Wafa.
Abbas told Rima Khalaf, formerly executive secretary of the UN Economic and Social Commission for Western Asia (ESCWA), that she would be awarded the Palestine Medal of the Highest Honor in appreciation of her "courage and support" for Palestinians, said the report.
The report published on and later removed from the ESCWA website said that Palestinians were subjected to a "strategic fragmentation" that allowed Israel to impose "racial domination" with different sets of laws by geographic regions.
The analysis argued "beyond a reasonable doubt" that "Israel is guilty of imposing an apartheid regime on the Palestinian people, which amounts to the commission of a crime against humanity."
Based in Beirut, ESCWA is comprised of 18 Arab countries, according to its website, which lists the state of Palestine as a full member, and works to strengthen cooperation and promote development.
UN Secretary General Antonio Guterres requested that the report be removed.
Khalaf, under-secretary general and executive secretary at the UN Economic and Social Commission for Western Asia (ESCWA), told a news conference: "The secretary general asked me yesterday morning to withdraw (the report). I asked him to rethink his decision, he insisted, so I submitted my resignation from the UN."