Hamas executes three in Gaza over military commander's murder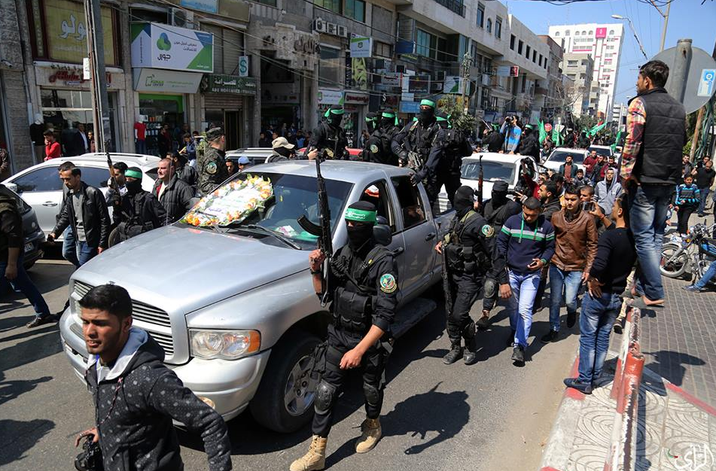 Cortège funéraire en l'honneur du terroriste du Hamas assassiné vendredi à Gaza, 25.03.2017
Official Ezzedeen Al Qassam Brigades(EQB) Twitter-Palestine.
Hamas interior ministry threatens legal action after Gaza news site live-streams executions
The Palestinian Islamist movement Hamas executed three people in the Gaza Strip on Thursday for assassinating one of its military leaders, allegedly on behalf of Israel, while a local news agency live-streamed their deaths.
One of those executed, Ashraf Abu Leila, 38, was named as the alleged assassin and hanged.
Abdallah al-Nashar, 38, and Hisham al-Aloul, 42, were convicted of being his accomplices and "collaborating with the Zionist enemy".
Nashar was shot instead of hanged as he was previously an officer of the presidential guard with Palestinian president Mahmud Abbas, who leads Hamas' rivals Fatah.
Hundreds of people were allowed to watch the executions, though the streets around the site were closed to the public.
Thousands more watched a Facebook live-stream of the execution, published by news website Gaza Now from a nearby building with an aerial view of the square. The live-stream had some 7,000 viewers, and a video of the executions remained online after the suspects had been executed.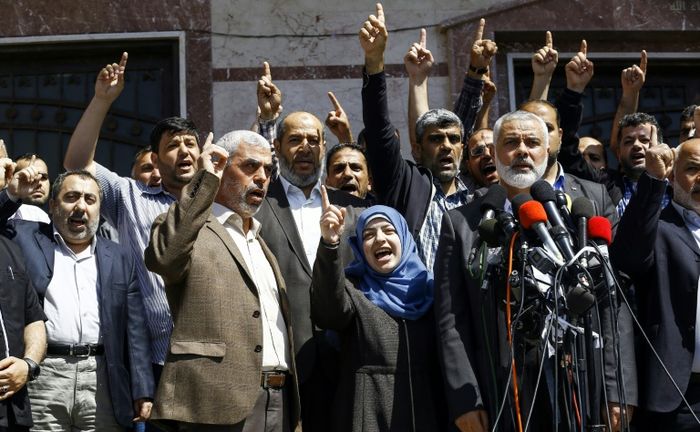 The Hamas-run interior ministry warned against publishing photos of video from the execution, threatening legal action.
"The interior ministry warns against publishing any footage or photos from the execution of the agents of the occupation involved in the assassination of the martyr Mazen Faqha," ministry said in a statement.
"Anyone who violates this will face legal measures,"it added.
The executions, which come only two weeks after the announcement of their arrests, were immediately condemned by human rights groups.
Human Rights Watch said in a statement the "rush" to kill the men "smacks of militia rule, not the rule of law".
Hamas had released alleged confessions from the three men, which rights groups said were likely obtained under duress.
In Abu Leila's alleged confession, he said he was instructed to carry out the assassination after being contacted by an Israeli intelligence officer who told him, "the moment [Fuqaha's] car enters the garage, follow him inside and shoot him in the head and chest."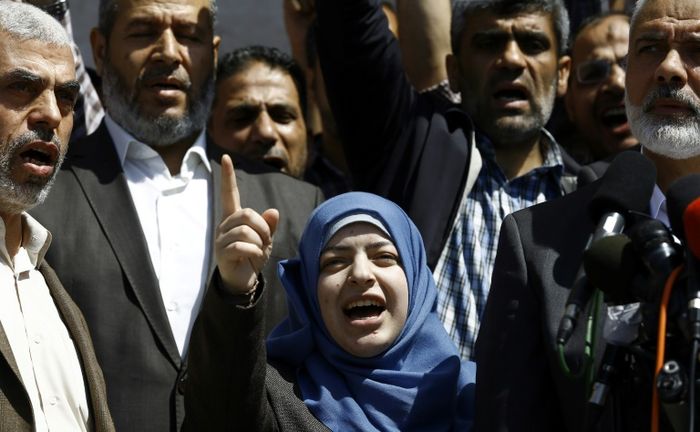 Amnesty International said the court they were tried in "utterly disregarded international fair trial standards".
Citing figures from the Palestinian Center for Human Rights, HRW said 25 people had been executed in Gaza since Islamists Hamas seized control in 2007.
Hamas military commander Mazen Fuqaha was gunned down in the Gaza Strip's Tel al-Hawa neighborhood on March 31. Thousands attended his funeral in the Gaza Strip, shouting calls for "revenge" during the procession.
Hamas immediately accused Israeli security forces of being behind the assassination. Israel has not confirmed or denied the allegations.
Fuqaha was serving life in Israeli prison for his involvement involved in a 2002 attack in Jerusalem that killed a number of Israelis. He was deported to Gaza in 2011 as part of a prisoner exchange for the release of kidnapped Israeli soldier Gilad Shalit.
(Staff with AFP)