Reporter's Notebook: On the frontlines against Islamic State in Mosul
There are still thousands of civilians trapped in their homes and being used as human shields by IS
MOSUL -- In the Iraqi army's push to recapture western Mosul, the last Islamic State stronghold in Iraq, fresh and fierce clashes have broken out across the few neighborhoods still under the jihadist group's control over the last few days.
According to coalition forces, 90 percent of Mosul has been retaken, with the worst fighting concentrated in the al-Shifa district. The nearby hospital has been surrounded by the Iraqi army.
We traveled to Erbil, the capital of Iraq's Northern Kurdish region, en route to Mosul. Though less than 100 kilometers (62 miles) away, the trip along bumpy roads lined with refugee camps and security checkpoints took close to three hours.
The checkpoints, both Kurdish and Iraqi, allegedly serve to stop the so-called Islamic State from carrying out attacks, but in fact serve another purpose -- to keep each religious and ethnic group out of each other's territories.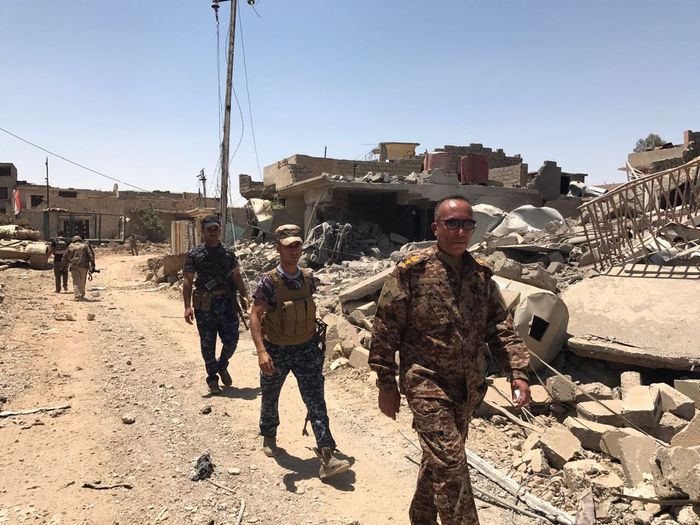 Islamic State or Daesh, as it's known in the Arab world, was driven out of the area, but made sure to leave immense destruction in its wake, bombing bridges and residential streets. The once bustling city of Mosul has been bombed into the Stone Age. Fresh attacks occur daily and two neighborhoods still under IS control have come under attack in recent days.
"We are in Mosul close to the general public hospital and within the next few we will liberate it," Ahmad Esawi of the Iraqi Federal Police tells i24NEWS. "It's urban warfare. Holes are made in the walls between houses to avoid snipers who target everything that moves, and everything that doesn't."
Iraqi forces now use the once-occupied homes as makeshift rest areas, he says.
Lieutenant Abed Azahara, in charge of this Federal Police unit shows us footage of what he says are dead IS fighters, and Iraqi civilians he says his unit freed.
As one of the Iraqi soldiers was showing us his wounds, a bomb landed close to us. It was an airstrike.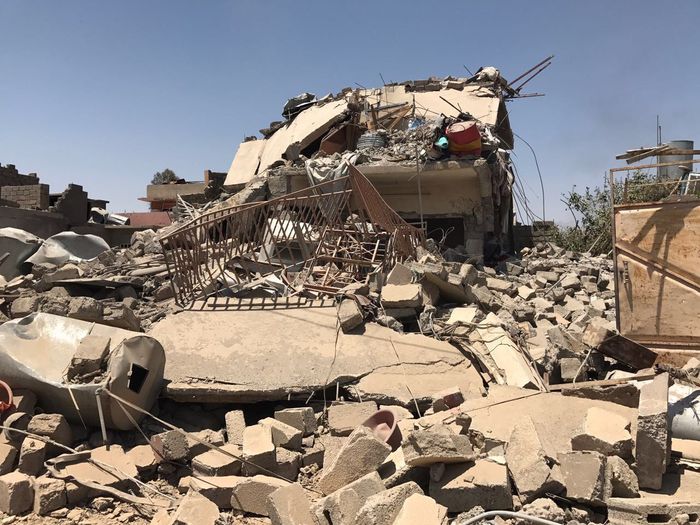 IS fighters are entrenched in the booby-trapped alleyways of al-Shifa. They shoot at Iraqi Forces and any civilians who try to flee.
There are still thousands of civilians trapped in their homes and being used as human shields by the Islamic State. It's a major reason for the slow movement by Iraqi forces.
Less than 1000 IS fighters are still inside Mosul's old city. Their dead litter the streets – testament to how ferocious the fighting is.
As we went house to house through the holes in the walls, we were enveloped by the smell of death. It's everywhere.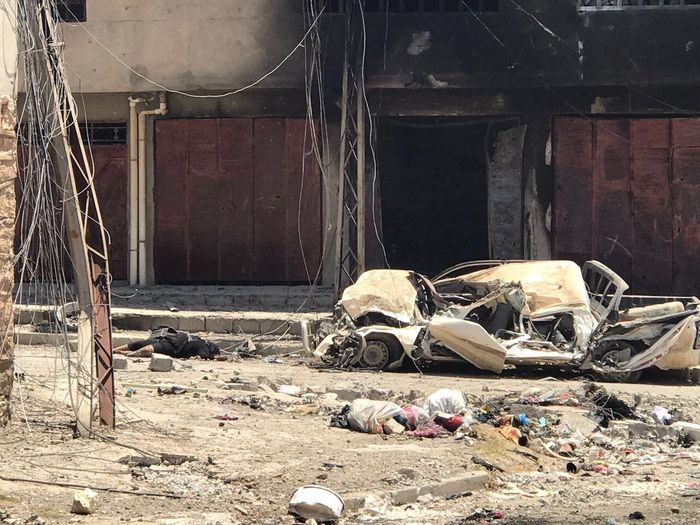 On the edge of the city, just a few hundred meters from the fighting, are Iraqi civilians who made it to safety--exhausted, thirsty and hungry--but happy. They made it out alive.
"I feel tired, and very, very happy. At the same time, I'm very sad, because my neighbors didn't survive," says Omar, a teacher who fled with 28 members of his family. They are handed a box food and water from the Iraqi army.
"We take the displaced from the front lines to the back lines or to the left side (of Mosul)," says Ahmad. "Today we moved about 7 cars, each had nine families."
The battle for Mosul is entering its final, perhaps most difficult, stage.
Iraqi government officials say their forces now control most of the city, but with thousands of civilians still trapped inside the old city, no one knows for sure when the battle will finally end.