Israel, Hamas 'very close' to reaching deal to release Israeli captives: reports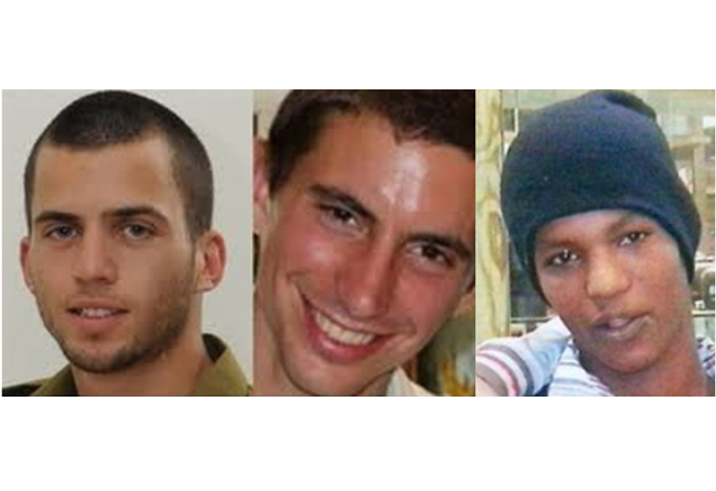 Oron Shaul (L), Hadar Goldin (C) and Avraham Mengistu(R)
Report says deal will be modeled on arrangement that secured release of Israeli soldier Gilad Shalit
Israeli and Arab news outlets reported on Saturday that Israel and Hamas are intensively negotiating and close to reaching a prisoner exchange deal involving the release of three Israeli citizens and the bodies of two soldiers being held in Gaza.
According to Lebanese newspaper Al-Akhbar, the first stage of a deal is "very close" and that Russia, Egypt and the United Nations are helping mediate between Israel and Hamas.
A Hamas delegation headed by senior official Rohi Mushata, considered close to Hamas' leader in Gaza Yahya Sinwar, is currently in Cairo, according to Israeli daily Haaretz.
Both Al-Akhbar and Haaretz reported on Saturday that a possible deal would be similar to the two-stage process drawn up to orchestrate the release of Israeli Defense Force soldier Gilad Shalit who was held by Hamas for over five years.
In order to secure the exchange, Israel was given a video showing Shalit speak, proving he was alive, in exchange for the release of twenty-five Palestinian prisoners held in Israeli prison.
However, according to the Lebanese report, the parties are very far from reaching an agreement on the second stage of the deal. The Israeli news site Walla said that Israel had "confirmed" the reports but did not cite any sources. Yet their report also cited a Hamas official as branding the reports inaccurate and that they would not cede any ground before an initial release of prisoners by Israel.
Currently four Israelis are widely believed to be hostages in Hamas-controlled Gaza, including the bodies of IDF soldiers Hadar Goldin and Oren Shaul who were killed in 2014's Operation Protective Edge.
Hamas has strongly hinted that it is holding two more Israeli citizens, Avera Mengistu and Hisham Al-Sayeed, who both crossed into the Strip while in poor mental health.
The Lebanese report mentions a fifth citizen, likely to be Jumaa Abu Ghanima, who was seen crossing into the Strip in July last year, but Hamas denied holding him. His family has not heard from him since.
Haaretz reports that in exchange for the Israelis, Hamas wants Israel to release an estimated 27 prisoners who were freed under the Shalit deal but then re-arrested in 2014 after the murder of three Israeli teenagers in the West Bank. The paper cited sources among the prisoners' families as saying there have recently been signs a deal is in the works.
Citing sources in the Strip, the paper added that beyond a prisoner release, Hamas covets are broader deal that would involve measures to ameliorate the poor humanitarian situation in Gaza, and unspecified agreements with Egypt, which also shares a border with Gaza.
The Hamas source reportedly claimed that in addition to the bodies of the two Israeli soldiers, the organization holds something else that will ensure the release of all Palestinian prisoners in Israeli jails.
In April, Hamas' political leader Khaled Meshaal hinted that his organisation was inching closer to an accord.
Read more: Report: Israel and Hamas negotiating over release of Israeli captives
Read more: Human Rights Watch condemns Hamas detention of Israelis with mental illness