Hamas elephant in the room as Abbas meets Sisi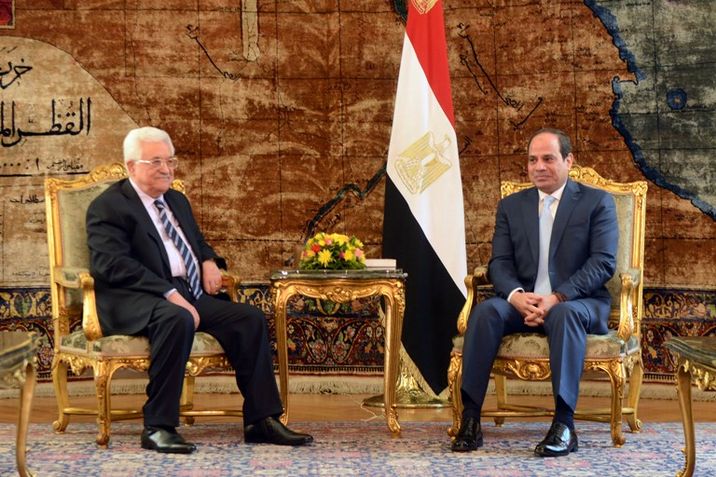 Palestinian Authority President Mahmoud Abbas meeting Egyptian President Abdel Fattah el-Sisi in Cairo, May 28, 2016
Wafa News Agency
Palestinian President Mahmoud Abbas held a crucial meeting with his Egyptian counterpart Abdel Fatah Al-Sisi on Sunday against the backdrop of a bitter feud between Abbas' Fatah and rival faction Hamas over Gaza's rolling electricity crisis. 
"Al-Sisi stressed Egypt's firm stance and its efforts to reach a just and comprehensive solution that guarantees the right of the Palestinians to establish their independent state on the borders of June 4, 1967 with East Jerusalem as its capital," a statement release by the Palestinian Authority (PA) said. 
An almost identical statement from the Egyptian President's office, quoted by Israeli news website Walla, added that Egypt sees the Palestinian issue as a high priority and will continue to promote talks between the two sides. 
The Palestinian Authority, dominated by Abbas' Fatah faction, have reportedly been growing anxious as the Egyptian government grows closer to Hamas, which controls the Gaza Strip. Egypt has previously encourgaed the two sides to reconcile, the prospect of which has shrunk as Hamas blasts the PA for reducing energy supply to the Strip in reaction to Hamas' unpaid bills.  
It has also been reported that Sisi is trying to nudge Abbas into reconciling with political rival Mohammed Dahlan, who is widely seen as coveting the latter's position. There was no mention of Dahlan or Hamas-Fatah reconciliation in the Palestinian or Egyptian statements. 
The official Wafa news agency reported that Abbas was received at Cairo airport on Saturday by just Egypt's Electricity Minister and other more junior officials.
The same reported added that Abbas also met with Egypt's Foreign Minister Samih Shukri and that Abbas told him that the PA would do everything in its power to support Egypt's "war on terrorism".
Ramallah has infuriated Hamas in recent weeks by cutting the supply of electricity, forcing 6,000 civil servants into retirement and creating obstacles for cancer patients to receive treatment outside of the Strip.