Hamas willing to disband 'administrative committee', Haniya tells Egypt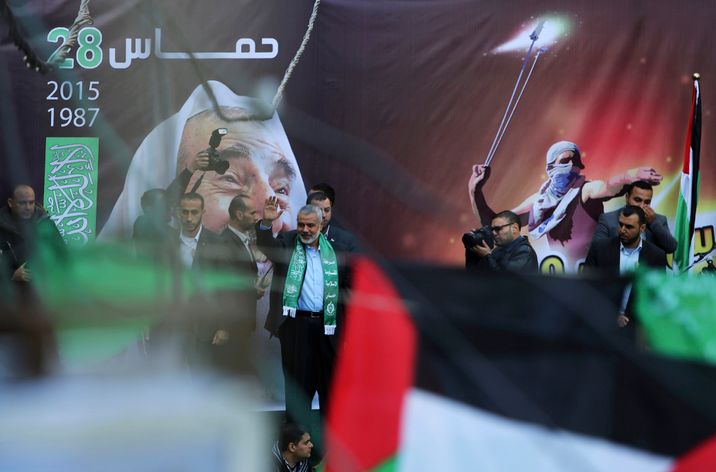 In this Monday, Dec. 14, 2015 file photo, Hamas leader Ismail Haniya, waves to supporters during a rally.
ASSOCIATED PRESS
Hamas leader reportedly says body to be dissolved to pave way for reconciliation with Palestinian Authority
Hamas leader Ismail Haniya told Egyptian officials that he would disband his group's "administration committee" if it helped advance reconciliation with the rival Palestinian faction Fatah, an official with the militant Islamist group told AFP Tuesday.
Fatah, the largest faction in the Palestine Liberation Organization, is recognized by Israel and some 100 countries as the sole representative of the Palestinian people. Hamas's formation in March of an "administrative committee" was criticized by the Palestinian Authority (PA) – the PLO-linked body that administrates much of the West Bank – as an attempt to create a rival government and scuttle moves towards a unity government that would also have authority over the Gaza Strip, currently ruled by Hamas.
Tensions between Hamas and the PA have run high in recent months, with the latter deciding in April to stop paying Israel for electricity supplies sent to Gaza. Last month the PA suspended plans to force more than 6,000 of its employees in Gaza into early retirement, which was criticized as an attempt to pressure Hamas. Many of the workers were in the health and education ministries, and aid officials voiced concern about the implications for Gaza's two million inhabitants.
The Hamas official, speaking on condition of anonymity, said Haniya told the head of Egyptian intelligence Khaled Fawzy and other officials in Cairo on Monday that they would dissolve the council without preconditions to make way for a unity government with Fatah.
Hamas, he said, wanted Egypt to "succeed in achieving Palestinian reconciliation, and I think there are no arguments now for Fatah to disrupt Egypt's efforts".
A Hamas statement published late Monday said that during talks in Egypt the Hamas delegation had "emphasized its readiness to hold negotiations with Fatah in Cairo immediately to conclude a (unity) agreement".
Fatah spokesman in Gaza Fayez Abu Aita told AFP Abbas had made it clear any stopping of the measures against Hamas was "linked to a solution for the administration committee", as well as allowing the Abbas-led government to exercise control in Gaza.
The group announced in August that it would be willing to dissolve the committee if the PA did away with "punitive measures" it imposed, according to Palestinian news agency Maan.
AFP contributed to this report.