IDF said to strike targets on Lebanon-Syria border after downing Hezbollah drone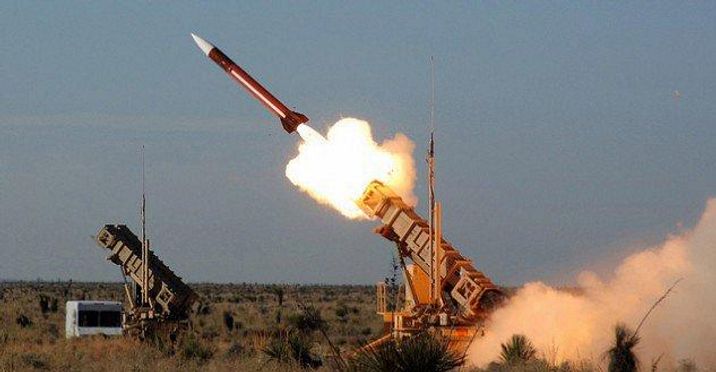 Patriot missiles
Lebanese media reports say IDF retaliates with airstrikes on targets near Lebanon-Syria borders with Israel
The Israel Defense Forces (IDF) announced on Tuesday that a Patriot missile had been fired from the north of the country to intercept an Iranian-made drone that was launched by Hezbollah from Damascus, most likely on a reconnaissance mission.
According to Lebanese media reports, Israel retaliated hours after the incident with airstrikes on targets near where the Lebanese and Syrian borders meet Israel.
There was no immediate confirmation from the IDF of the reports.
According to and IDF spokesperson, Israeli jets were scrambled to intercept the drone but did not open fire. The drone was thought to have been downed while still in Syrian airspace.
The IDF said it would act in a "sharp and firm manner" in the face of any attempts by Iranian terrorist elements, Hezbollah, Shiite militia or Global Jihad groups, to establish a presence on Israel's northern border or breach Israeli sovereignty.
Israeli Defense Minister Avigdor Lieberman commended the army's response to the incident, warning that "all those who attempt to harm our sovereignty, our security, must know that they will pay a heavy price for it. Very heavy."
"We are ready for every scenario in every sector," he added.
On September 7, Syrian state media announced that two soldiers were killed in an Israeli air strike on the Syrian Scientific Studies and Research Center, the body responsible for the development of chemical weapons, near the city of Masyaf in Hama Governorate.
Syrian state media said that at 2:42am local time, Israeli jets launched rockets towards the facility while remaining in Lebanese airspace.
In the aftermath of the reported strike, Israel's Defense Minister Avigdor Liberman said that "everything will be done" to prevent Iran creating a Shiite corridor stretching from Tehran to Beirut
Israel has carried out multiple air strikes in Syria since that country's civil war erupted in 2011, most of which it has said targeted arms convoys or warehouses.
In March. Syria launched ground-to-air missiles at Israeli jets, one of which was intercepted over Israeli territory in the most serious flare-up between the two neighbors since the Syrian civil war began six years ago.
This is a developing story