Hezbollah chief tells 'non-Zionist Jews' to go home or get dragged into war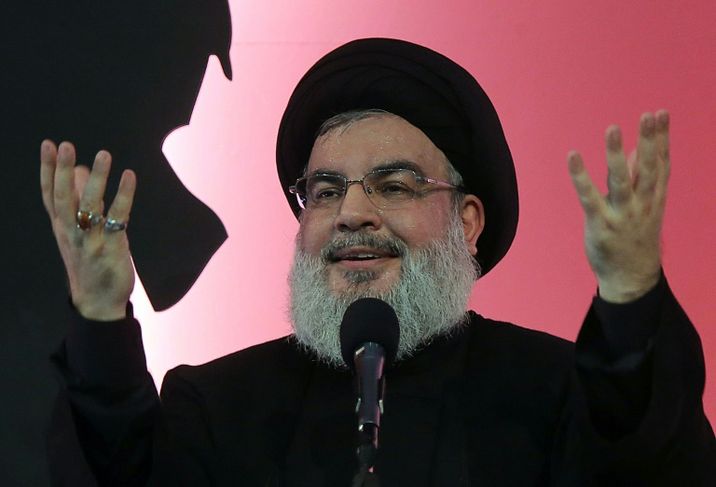 Hassan Nasrallah has headed the Hezbollah movement since 1992
AFP/File
Nasrallah, who lives in hiding out of fear of assassination, frequently levels grave threats at Israel
Hezbollah chief Hassan Nasrallah has urged "non-Zionist Jews" in Israel to return to the countries which they came from or fall victim to a war between the Jewish state and his Lebanese militia. 
Giving an address on Sunday from an underground bunker to mark the Shiite commemoration of Ashura, he called for Jews who emigrated to Israel to "leave and return to the countries from which they came so they are not fuel for any war that the idiotic [Prime Minister Benjamin] Netanyahu government takes them to".
"They will have no secure place in occupied Palestine," he was quoted as saying by Reuters news agency, referring to Israel. 
Nasrallah, who lives in hiding out of fear of assassination, frequently levels grave threats at Israel.
On Sunday he said that if Israel begins an "adventure" against Hezbollah -- which Jerusalem considers a proxy of regional rival Iran -- they would be making a serious error. 
The Israeli leadership does not possess "a correct assessment of where this war will lead if they ignite it," Nasrallah said, "They do not have a correct picture about what is awaiting them if they go to the idiocy of this war."
Jerusalem often accuses Hezbollah, members of which serve in Lebanon's cabinet, of consistently breaking the United Nations Security Council resolutions that govern the fragile peace that has reined on the Israel-Lebanon border since the conclusion of the Second Lebanon War in 2006.
However Nasrallah fired back in his Sunday address, saying Israel has a network of hidden cameras and other spy equipment rigged up in southern Lebanon, calling it a violation of Resolution 1701 and vowing to find "other means to deal with it," according to quotes carried by Haaretz. 
The usual war of words between Israel and Hezbollah has escalated in recent months as Jerusalem pushed -- with ultimate success -- for a beefed up mandate for the UN peacekeepers that are supposed to monitor the ceasefire arrangement on the border and as Israel grows anxious about swelling Iranian influence in Syria. 
Both Iran and Hezbollah, along with Russia, have thrown men, weapons and financial aid at Syria to prop up regional ally Bashar Al Assad's regime in an almost seven year-long civil war. 
But Israel has warned that it will not tolerate any permanent Iranian bases being built in Syria as the government succeeds in flushing the crumbling Islamic State organization from swathes of the country.
Read more: Israel chief of staff says Hezbollah quietly stocking up missile arsenal