Hamas elects former West Bank terror commander as political chief's deputy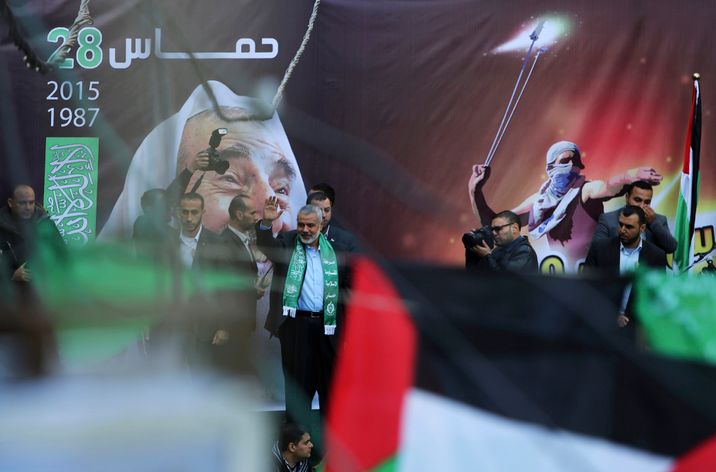 In this Monday, Dec. 14, 2015 file photo, Hamas leader Ismail Haniya, waves to supporters during a rally.
ASSOCIATED PRESS
Hamas announced Thursday that it has elected Saleh al-Arouri, a former military official who has been most recently responsible for coordinating the group's terrorist activities in the West Bank, as deputy chairman of its political bureau.
Arouri will serve as deputy to Hamas political chief Ismail Haniyeh.
Arouri was imprisoned in Israel until 2007, and has overseen the terrorist activities of Hamas' military wing in the West Bank, first from Turkey, then Qatar, and finally Lebanon, where he is now reported to live after being expelled from Doha along with other Hamas officials.
Arouri was pictured among other members of a Hamas political delegation that visited Moscow on September 19 for talks with Russian Deputy Foreign Minister for Middle Eastern Affairs Mikhail Bogdanov.
His participation in the meeting sparked anger among Israeli officials, and Minister of Jerusalem Affairs Zeev Elkin, who also holds the post of and Environmental Protection Minister, raised the issue during a meeting with Russian Foreign Minister Sergey last week.
"I told him that even in contacts with Hamas there are limits that should not be crossed, and this is a classic case in which Israel believes the limit has been crossed," Elkin told Haaretz.
Elkin presented Lavrov with a document detailing Arouri's involvement in terrorism, including his role in orchestrating the kidnapping of three Israeli yeshiva students from the Gush Etzion settlement in 2014, an event which sparked a war with Hamas in the Gaza Strip that year.
Elkin said that Lavrov was surprised by the incident and ordered an investigation into how Arouri was granted a visa to enter Russia.