Israeli delegation said to visit Cairo amid Palestinian reconciliation talks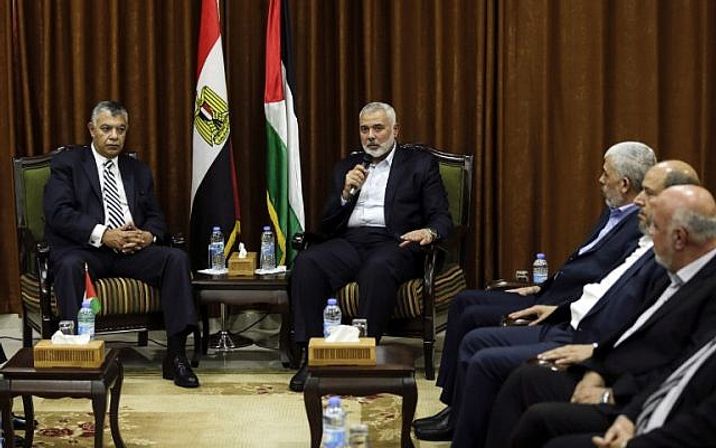 Le leader du Hamas avec la délégation égyptiennes dans le cadre des négociations de réconciliation avec l'Autorité palestinienne
AFP
Palestinian media reports say Israelis meet Egyptian officials as Hamas, Fatah discuss moves towards unity
An Israeli delegation arrived in Cairo on Tuesday for meetings with Egyptian officials as rival Palestinian factions held reconciliation talks in the city, multiple Palestinian media outlets reported.
Palestinian rivals Fatah and Hamas opened a fresh round of talks in a renewed push to end their decade-long split after a key breakthrough last week.
Senior figures in Islamist movement Hamas and secular party Fatah were dispatched to Egypt as they seek to end a division that has crippled Palestinian politics.
Hamas, which runs the Gaza Strip, and the West Bank-based Fatah led by Palestinian Authority president Mahmoud Abbas have been at odds since they fought a near civil war in 2007.
Senior Fatah figures attending the Cairo talks include intelligence chief Majed Faraj and Fayez Abu Eita, a party leader in the Gaza Strip, Palestinian official news agency Wafa said.
Abbas and Hamas chief Ismail Haniya will not attend the talks, which will reportedly be hosted by the Mukhbarat -- Egyptian secret police -- and be held behind closed doors.
Hamas seized Gaza from Fatah in 2007 in clashes following a dispute over parliamentary elections won by the Islamist movement. The split has complicated any potential peace negotiations with Israel.
Multiple attempts at reconciliation have since failed but the recent Egyptian-headed push received a major boost last month when Hamas agreed to cede civilian power in Gaza.
Palestinian Authority Prime Minister Rami Hamdallah visited Gaza last week for the first time since 2015 and his ministers officially took control of government departments there.