Source to i24NEWS: Israel, Palestinians have resumed full security coordination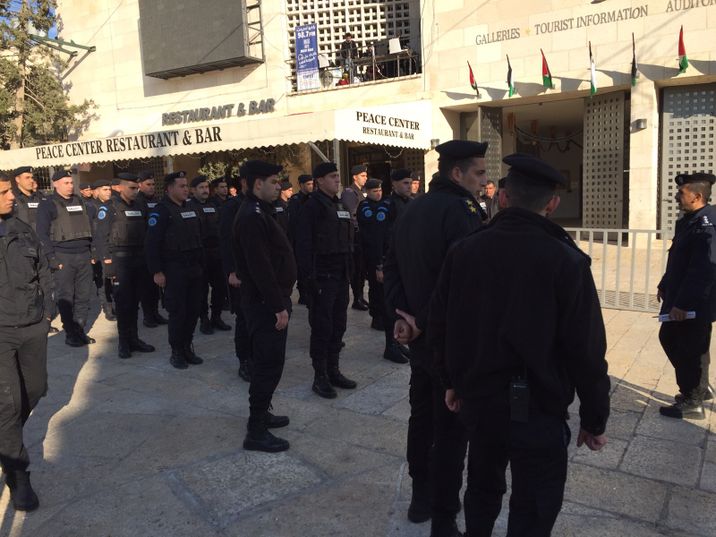 Palestinian security forces in Bethlehem on December 24, 2015
Mohamed Al Qasem
Source says decision comes as Palestinian and American officials hold intensive meetings
Israel and the Palestinian Authority (PA) have resumed full security coordination after three months, a Palestinian official in Ramallah close to the PA security apparatus told i24NEWS on Saturday.
The cooperation was suspended by PA President Mahmoud Abbas when Israeli police announced that Muslims would have to pass through electronic security gates at the compound known to Jews as the Temple Mount and to Muslims as the Haram al-Sharif. Installation of the gates, which was prompted by a deadly terror attack at the compound, sparked weeks of protests in East Jerusalem and the West Bank. Ultimately, after intensive talks involving the United States, Jordan and the PA, Israel relented and dismantled the structures.
The decision to resume security coordination came amid intensive meetings between Palestinian and American officials, the source told i24NEWS.
Palestinian officials in Ramallah are expecting the United States to soon roll out its vision of how to revive the stalled Israeli-Palestinian peace process, with Vice President Mike Pence set to visit Israel, the West Bank, and Egypt in December.
A Palestinian source in Ramallah said a meeting between Abbas and Pence was scheduled and that the two intend to discuss US proposals on restarting negotiations, which ground to a halt in April 2014.
The PA is not eager to go public about the resumption of security coordination while the Fatah movement is holding reconciliation talks with its rival Hamas.
Israel has placed several demands before it is willing to accept a Palestinian unity that includes Hamas, saying the group must give up its weapons, recognize Israel, and denounce violence.
Both Hamas and Fatah rejected the demands, saying that reconciliation talks are an internal Palestinian matter.
i24NEWS senior Middle East correspondent Mohammed Al-Kassim contributed to this report.