Satellite images reveal aftermath of alleged Israeli strike on Iranian base in Syria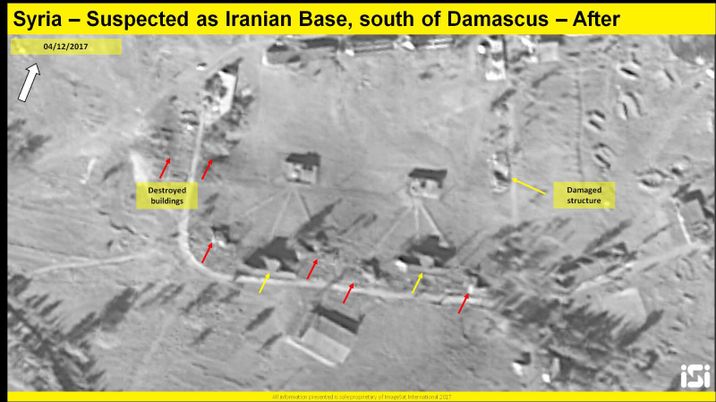 Satellite photo of Iranian base south of Damascus 6
ImageSat International (ISI) http://www.imagesatintl.com
Photos show damage of seven buildings that appear to be barracks, vehicle and weapon storage facilities
Satellite images evidencing the damage administered on the targeted Iranian arms depot in Syria were published on Monday, days following an attack carried out from Lebanese airspace which has since been attributed to Israel.
The images were provided by ImageSat International, an Israeli satellite company and depict the destruction of seven buildings on the base at al-Kiswah, 13 kilometres south of the Syrian capital of Damascus. Most of the structures appear to be barracks, vehicle and weapon storage facilities.
The photographs were taken on Monday afternoon by Israel's EROS-B satellite, the company said.
Five missiles were said to have been fired by Israel, one of which destroyed the Iranian arms depot referred to in the images, and two of which were intercepted by the Syrian government's "military position," according to SANA, Syria's state-run news agency.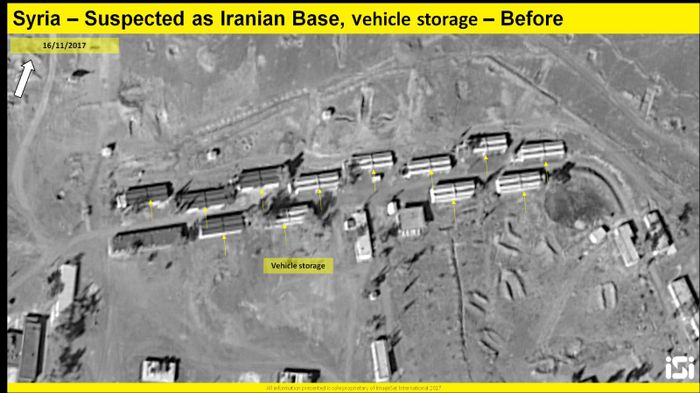 Multiple reports emerging from Arabic media hours after the attack stated that 12 Iranian military personnel were killed. The newspaper, Arab Today, directly quoting Iranian media revealed the individual names of those dead. Israeli is yet to comment on the deaths.
The construction of the Iranian military base was initially reported by the BBC last month indicating ongoing construction of some two-dozen low level buildings that they described as military barracks.
"The images of the base do not reveal any signs of large or unconventional weaponry which means if it was a base it would most likely to be house soldiers and vehicles," said the BBC.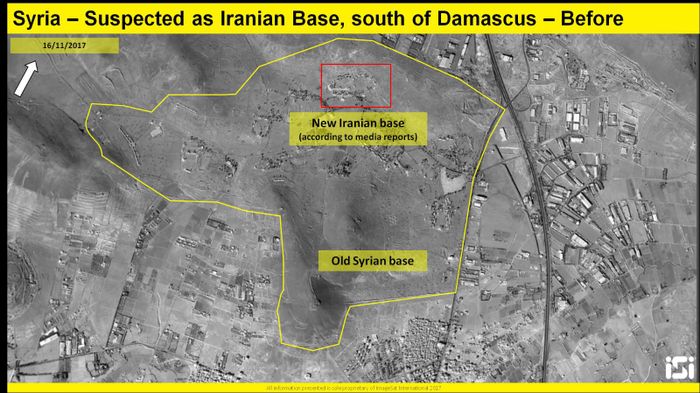 The Times of Israel citing analysis blog Intelli Times stated that the transport jeeps and trucks with attached rocket launchers seen in the footage were in fact consistent with the types used by Iran-backed Shiite militias. A few days later when the EROS-B satellite took photos, it seemed to support the BBC claim.
Prime Minister Netanyahu has previously warned that Iran was building permanent military installations in Syria, and has acknowledged carrying out repeated air and missiles strikes in Syria as a way of preventing arms deliveries to proxy Hezbollah. The head of Iran's Revolutionary Guards Corps Qassem Soleimani has, also in the past, been photographed along with other Iranian troops in the country.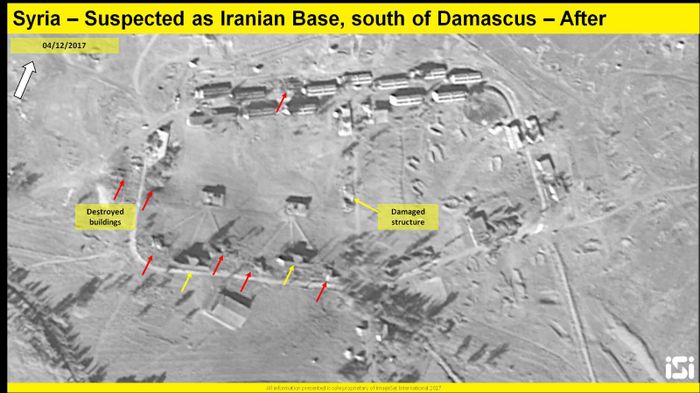 Only hours before the reported Iranian fatalities on Saturday, Netanyahu published a video that reiterated Israel's policy on Iran and delivered a harsh warning to the state.
"We will not allow a regime hellbent on the annihilation of the Jewish state to acquire nuclear weapons," he said, adding that Israel, "will not allow that regime to entrench itself militarily in Syria, as it seeks to do, for the express purpose of eradicating our state."
You need to be logged in in order to post comments. Sign up or log in
the Iranian regime and their equally murderous proxies and beneficiaries (hezbolah, Hamas, huthies) must all be wioed of the face of the Earth for their to ever be peace in the middle East!