Palestinians say Trump has given up US peace role, 'destroyed' two state hopes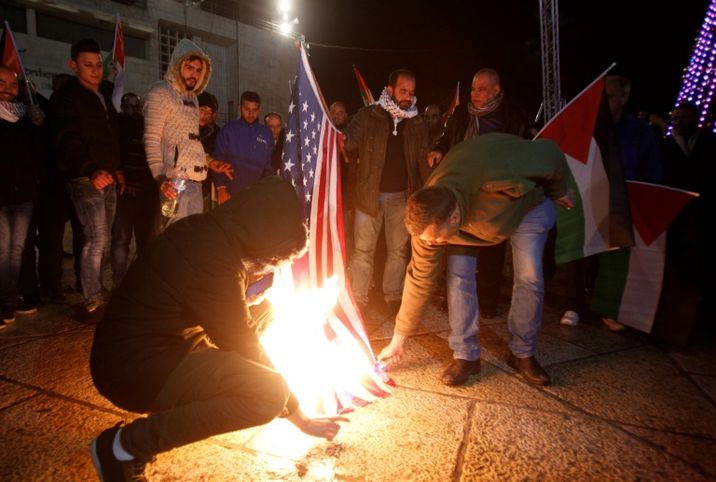 Des manifestants palestiniens brûlent le drapeau américain à Bethléem en Cisjordanie, le 6 décembre 2017
Musa AL SHAER (AFP)
Trump's declaration ends seven decades of deliberate diplomatic ambiguity about the final status of Jerusalem
The Palestinian leadership has said the American role in the peace process is over and that US President Donald Trump has "destroyed" the two state solution, after his decision on Wednesday to recognize Jerusalem as Israel's capital.
"These deplorable and unacceptable measures deliberately undermine all peace efforts," Palestinian Authority President Mahmoud Abbas said in a speech after Trump's announcement.
He said Trump's move amounted to "an announcement of US withdrawal from playing the role it has been playing in the past decade in sponsoring the peace process."
"These actions are in the service of extremist groups that are trying to turn the conflict in our region into a religious war," Abbas sternly told his television audience, adding that the "American administration has violated all international and bilateral resolutions and agreements."
Immediately after his television address, Abbas hit the phones to his counterparts in the Middle East.
He spoke to Egypt's President Abdel Fattah Al-Sisi and the emir of Qatar, according to the official Palestinian news agency WAFA.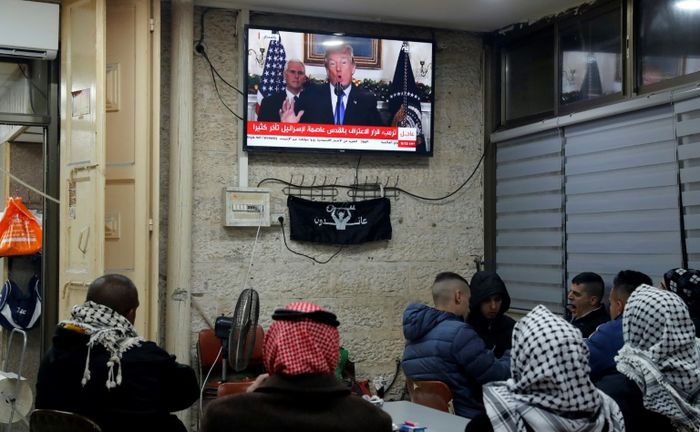 Trump's White House declaration ends seven decades of deliberate diplomatic ambiguity about the final status of a holy city, the east of which is claimed by Palestinians as the capital of their hoped-for future state.
The secretary-general of the Palestine Liberation Organisation said Trump's decision destroys any hopes for a two-state solution to the conflict.
"He destroyed the two-state solution," Saeb Erekat, who long served as the Palestinians top negotiator, told journalists after Trump's speech.
Trump "disqualified his country from any role whatsoever" in the peace process, he said.
"As a chief Palestinian negotiator, how can I sit with these people if they dictate on me the future of Jerusalem as Israel's capital," he added.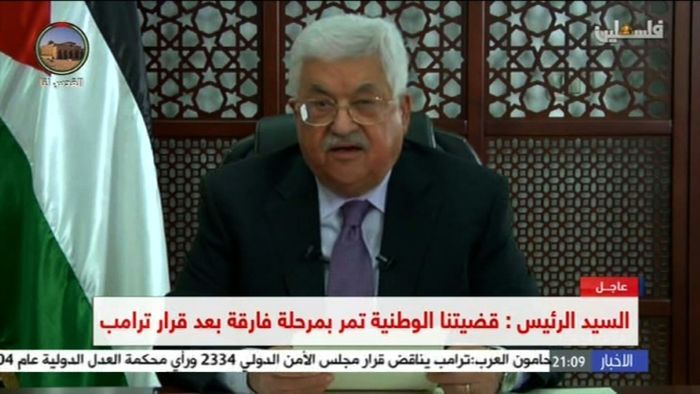 While Palestinians have been divided between armed Islamist movement Hamas and Abbas's Fatah in recent years, Jerusalem remains one of the issues that unites them.
Hamas had issued warnings in recent days as news of Trump's intentions spread, and it reacted to his speech on Wednesday with another.
"This decision will open the gates of hell on US interests in the region," Hamas official Ismail Radwan told journalists after Trump's announcement.
He called on Arab and Islamic states to "cut off economic and political ties with the US embassy and expel American ambassadors to cripple" this decision.
Separately, Palestinian officials said they switched off the lights to the giant Christmas tree in the West Bank city of Bethlehem, believed to be the city where Jesus was born, in protest.
Palestinian factions have declared a commercial strike tomorrow in Jerusalem as well as the cities of Nablus and Jenin in the northern West Bank.
(Staff with AFP)